5 Professional Santas Reveal Their Secrets, From $800-an-Hour Pay to Beard Maintenance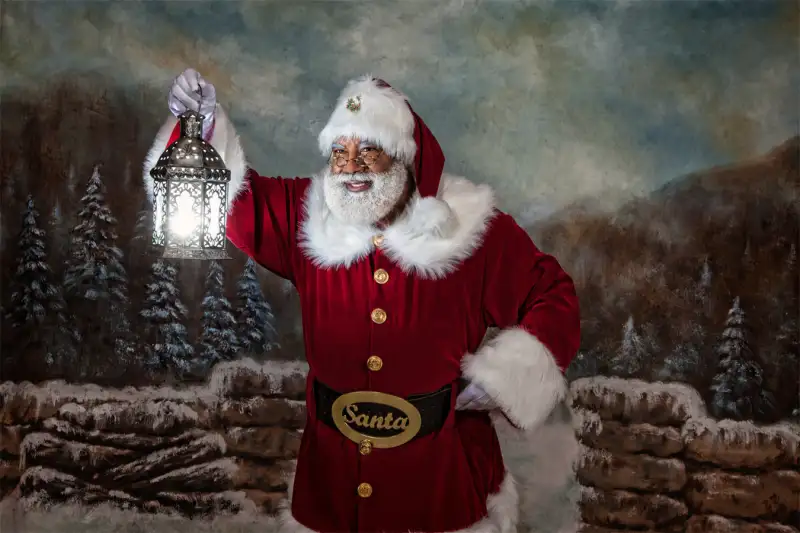 Courtesy of Larry Jefferson
Ed Taylor stumbled into becoming a professional Santa Claus.
In 2002, a friend fell ill ahead of a gig playing the Christmas icon for a holiday fundraiser in Oregon. As a favor, a reluctant Taylor stepped into the red suit and black boots.
"I did it for three hours and fell in love with it," Taylor said.
So began Taylor's storied and triumphant rise in the world of professional Santa Clauses. Many of the origin stories for these Santas are similar to Taylor's: a last-minute replacement for an event, or a friend telling them they look like Kris Kringle. Gigs and careers vary from volunteer work at local hospitals, to the traditional mall events, to commercials and television.
The more determined Santas attend a variety of schools, conservatories, conferences or take online classes to perfect their craft. They invest their own money into a number of suits, traveling around the country for high-profile gigs and, in some cases, commit to the role all months of the year.
Taylor spent his first seven years volunteering as Jolly Old Saint Nick in Oregon before moving to Los Angeles, where his career took off. "It kind of started dawning on me that I really ought to start enhancing my skills and what I can do to get better," he said. He took improv and acting classes — and even went to Santa school before he started booking about 100 jobs a year, ranging from commercials to appearances on Jimmy Kimmel Live.
Taylor now runs his own school, called the Santa Claus Conservatory, where about 1,800 Santas are members and can learn everything from mastering their own depiction of Santa Claus, to how to run their own businesses.
"They really feel like it's a cause, that Santa Claus is this ambassador of love and hope and caring and optimism," Taylor said of professional Santas. "I think that a lot of the Santas really want to embody that and perpetuate that feeling of what Santa Claus represents or maybe what Santa Claus represented to them in their youth."
Taylor is one of five Santas (and one Mrs. Claus) interviewed by Money about how to get into the business, what they do outside of the holidays and why they keep doing it. Here are the main tips, secrets and pieces of advice we learned.
Being Santa can pay off — big time
Depending on the time of year, Santas can earn a sizable chunk of change. Higher-end Santas like Taylor charge between $400 and $600 for the first half hour for a gig on Christmas Day, along with $200 more for each additional half hour. Rates lessen throughout the rest of the year, with prices closer to $250 to $275 for the first half hour and $100 for each additional half-hour (depending on the location and date, among other factors).
However, many Santas don't have quite the status as Taylor. PayScale, a salary and benefits company, found that the median pay for a Santa is $30 per hour. That jumps up significantly to $75 per hour for the Santas who make enough to land in the 75th percentile of working Santas. "This suggests that a good Santa is much better than your average Santa, and is compensated accordingly," Phyllis McNeice, a spokesperson for PayScale, told Money in an email.
To calculate their salaries for different gigs, Santas oftentimes offer their own rates on their personal websites or under platforms like GigSalad.com, where Santas can post photos, rates and reviews.
But Santas aren't paid for every gig. Each Santa interviewed by Money described volunteer and pro-bono gigs — oftentimes at children's hospitals or for foundations — as some of their most fulfilling ones.
Tricks of the trade: Real beards, diplomas and cooling vests
Jeffrey Grounds Photography
Joe Nametko is the mayor of the small town of Netcong, New Jersey, and a relatively new Santa Claus. The 65-year-old only started picking up gigs in December 2016, but swears by a few tricks of the trade.
Always have a back-up suit on hand. Bring several pairs of white gloves even for just one gig. Wear a cooling vest to prevent overheating. "I have it down to a science," the small-town mayor says of his routine.
Other Santas interviewed by Money shared similar pieces of advice. For many, maintaining an authentic and lush beard is absolutely vital. Indeed, Nametko is part of the International Brotherhood of Real Bearded Santas, an organization serving Kris Kringles with real beards that provides liability insurance coverage, scholarships and background checks "that will satisfy any client."
Bruce Arnold, who has performed as Santa with his wife Margaret Arnold as Mrs. Claus in Colorado for 14 years, is also a member. Arnold, 69, maintains his beard throughout the year — and often finds ways improve his suit collection. Margaret, who goes by Margee, hand makes many of Arnold's suits, as well as her own ensembles. While on a trip to Alaska several years ago, she purchased fur that would later become part of his coat.
Custom coats and different looks are an integral part of the character. Oftentimes for commercials or gigs, Santas are expected to bring their own suits, Taylor, who regularly works 100 gigs a year, said.
Many of these tricks and tips come from a variety of Santa schools, with students ranging from aspirational ones to the experienced professionals. At Taylor's Santa Claus Conservatory, members can either access information for free, or access higher, subscription-based memberships with more tips like business strategy and promotional techniques.
Larry Jefferson, or "Santa Larry," has attended four different Santa schools since starting his career in 1999. He finished his most recent program earlier this year in Midland, Mich., and was the first black man to play Santa at Minnesota's famed Mall of America last year.
It's not just a job — it's life
Many of the Santas interviewed by Money have carefully thought-out tactics to keep the spirit of Christmas alive, even as they're recognized as Kris Kringle in public outside of their gigs and during the warmer months.
Tom Zimecki, who plays Santa alongside the Philadelphia Phillies Phanatic over the summer, has become so entrenched in the role that his young grandchildren believe he's Santa himself. He drives around a car with reindeer antlers and a red nose on front, too.
"I never say that it's acting because I believe I am Santa," Zimecki said. "I maintain the look all year long, so with that you also have to realize there comes responsibility. You don't go outdoors when you're grumpy. If you do go out, I don't drink. I don't smoke as is, but I don't drink."
This month, one of Zimecki's grandsons learned he is not Santa — but has vowed not to tell his younger brother.
The Arnolds, who play Santa and Mrs. Claus in Colorado, carry stickers with them, rewarding children who spot Santa in public and urging them to keep their special encounter a secret. Margee says her favorite encounter with young admirers was when two boys cautiously approached Arnold while at a restaurant.
"It's absolutely incredible," she said. "Whether it's in July or May or December, the children, when they see him and his face and his hair and his beard, they take a second look."
And it's not just getting recognized. Working as Santa has influenced the perspective many of these professionals have on their own lives — taking lessons from the Christmas star's jolly demeanor and spirited outlook.
"I let the portrayal of Santa bring out the best part of me in everyday and every minute of my life that I can," Taylor said. "I really think what would Santa do: a guy that's generous, and kind and considerate and jolly. I have this identity of what Santa would be like, and I try to live that the best I can."
Having a career in public service helps
Courtesy of Larry Jefferson
Professional Santas range from part-time, to full-time, to retirees making a few bucks here and there. But common among many of them is a history of work in public service, which can translate well to a job that focuses on the aspirations of children and serving a community.
Jefferson, an Army veteran, plays Santa part-time while also working at the Urban Inter-Tribal Center of Texas, a Dallas-based non-profit dedicated to serving Native Americans living in the area. "When I was hired on a new job, I told them up front that I'm a professional Santa Claus, so I'll need two weeks off in December." That's when he heads to Minnesota to work at the Mall of America — a gig he went viral with last year.
Arnold, of Aurora, Colo., once drove a handicap-accessible transportation bus through the city before becoming Santa full-time. Arnold, who also learned American Sign Language to communicate with deaf children as part of his job, said driving around that vehicle gave him "a big taste of being able to work with kids and adults just like that" as Santa.
Nametko plays Santa during the holiday season while serving as mayor — often making a few quick, free stops at the city's local businesses as Santa to spread joy, as he says. And Taylor, of Los Angeles Santa fame, was a professional public speaker before this career change (and you can tell by the articulate and jovial tone in his voice).
"I decided I wanted to step away from some of the things I had been doing business-wise, and I just spent weeks and weeks and months meditating and thinking on what I wanted to do," Taylor said. "It always kept coming back to me: Santa."