How to Watch the Ball Drop on New Year's Eve for Free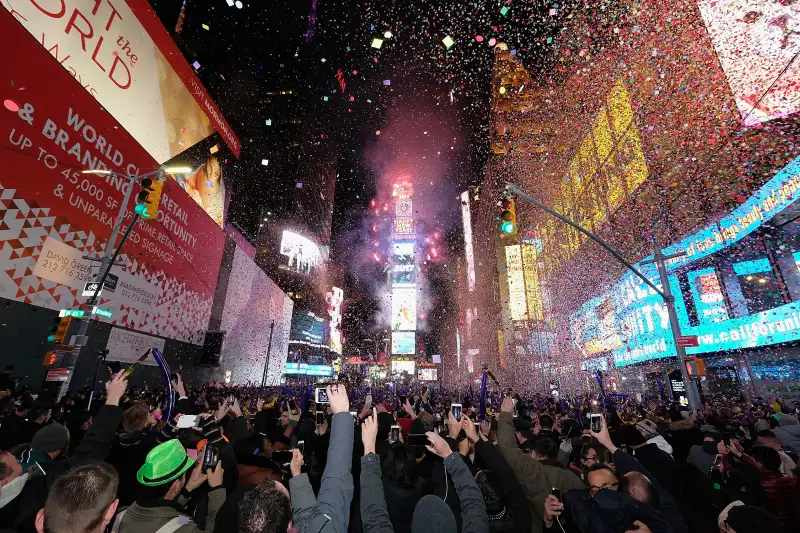 Dimitrios Kambouris—Getty Images
Imagine standing in a crowd of tens of thousands of people, for countless hours in freezing temperatures, just to watch the New Year's Eve Ball drop in New York City's Times Square.
Doesn't sound like your cup of tea? Don't worry. You don't have to endure that experience to witness the iconic New Year's celebration in New York City at midnight. This year, Tarana Burke, the founder of the #MeToo movement, will push the ceremonial button to begin the 60-second countdown to 2018.
For the millions of viewers hoping to catch a glimpse of the event outside of Times Square, there are a number of ways to watch the Waterfold Crystal Times Square New Year's Eve Ball drop starting at 11:59 p.m. on Sunday, Dec. 31.
How to watch without cable and for free
For those without cable or a cable log-in to watch online, there are still options to catch the kick off to the new year.
Several online platforms live stream videos of the ball dropping each year, including Times Square's official website, with live video starting at 5 p.m. (E.T.). Viewers can also watch the ball drop through the Times Square Alliance with their official app, which is available for free. The organization will also air the ball drop on their Facebook and Twitter pages.
Earth Cam will also air coverage of the ball drop in Times Square, as well as at other cities around the world.
How to watch with cable
A number of cable networks will air coverage of the 2018 New Year's Eve ball drop.
ABC's coverage of the New Year's Eve events, called Dick Clark's New Year's Rockin' Eve with Ryan Seacrest, will start at 8 p.m. (E.T.) Ryan Seacrest will once again host the live broadcast, with the help of Jenny McCarthy.
NBC will air New Year's Eve with Carson Daly, with coverage of the ball drop starting at 11:30 p.m.
Anderson Cooper and Andy Cohen will lead CNN's New Year's Eve coverage from Times Square starting at 8 p.m. (E.T.). Cohen is replacing comedian Kathy Griffin, who was ousted from the New Year's Eve special after she was in a controversial photoshoot earlier this year where she held what appeared to be President Donald Trump's bloodied head.
And Fox will air its New Year's Eve Special with first-time host Steve Harvey, with ball drop coverage staring at 11 p.m. (E.T.)