A Town Is Asking This Family to Pay $2,000 a Day Because of Their Massive Christmas Lights Display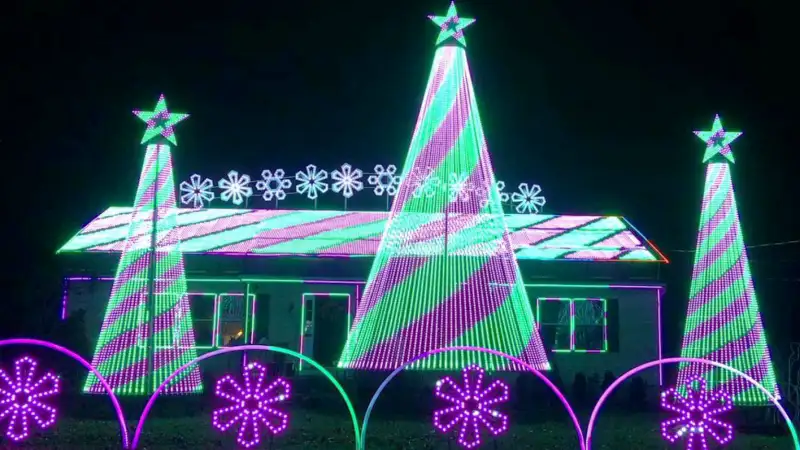 Courtesy of Thomas Apruzzi
Every year for the last 15 years, the Apruzzi family in Old Bridge, N.J., has decorated their home with more than 200,000 lights to create a dazzling, holiday-themed display.
But now, the enormous light show is at the center of a costly dispute.
Old Bridge Township officials say the extravagant light show, which draws a growing group of admirers from Dec. 1 through Jan. 1 each year, has resulted in complaints from some neighbors — and costs the township tens of thousands of dollars in security expenses.
So officials are asking the Apruzzi family to pay about $2,000 a day to cover overtime pay for police officers who are on duty at the light display, as well as other security costs, according to NJ.com.
Thomas Apruzzi, however, is not interested in paying for these costs out of pocket, according to NJ.com. He has posted a GoFundMe fundraiser — with a $75,000 goal to cover these added expenses — on the Facebook page for his light display. And he plans to start the light show on Dec. 1, per usual.
"It is my First Amendment rights," Apruzzi told NJ.com. "It has to do with my religion."
Apruzzi and officials from the Old Bridge mayor's office did not respond immediately to a request for comment from Money.
The holiday light show, known as T&A Sprinklers Light Show, features a slew of beaming displays that light up to the tune of music. Apruzzi has collected donations from visitors for the charity "Home for Our Troops," which builds custom homes for injured veterans across the country. He told CBS that he has received "probably over $30,000" in donations.
Certainly, the potential security costs this year are just another expense incurred by the enormous light show. It's unclear how Apruzzi funds the annual event, but he told CBS he has paid "nearly $150,000" over the course of 15 years.
Apruzzi's light show even appeared on ABC's "Great Christmas Light Fight" in 2014 — drawing a national audience to the New Jersey-based show, and visitors from New York and Pennsylvania. Apruzzi has claimed the intent from township officials is to shut down his light display. But Old Bridge Township Mayor Owen Henry told NJ.com officials are instead aiming to make Apruzzi responsible for keeping the area safe.
"We have to make sure it's as safe as we possibly can," Henry told NJ.com.