Meet the Screenwriter of Netflix's "A Christmas Prince," an Emmy-Award-Winning Journalist Who Cashed Out Her 401(k) at Age 40 to Pursue Her Dream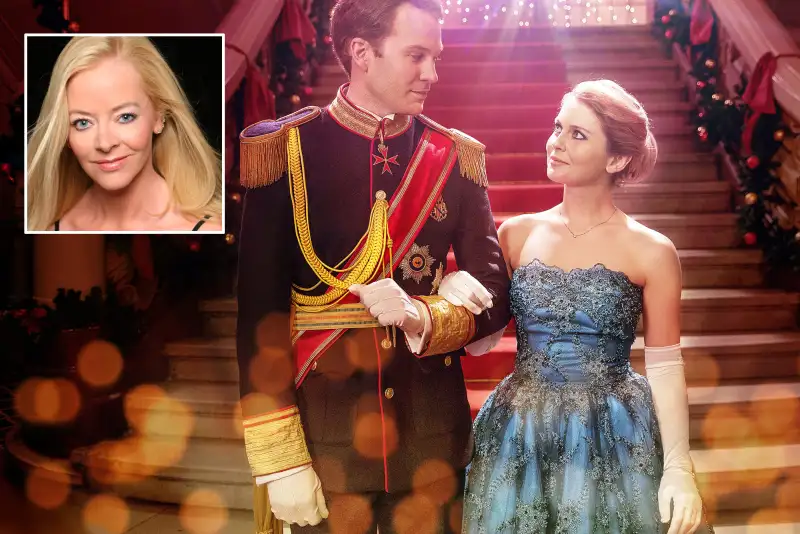 (inset) Courtesy of Karen Schaler; (A Christmas Prince) Courtesy of Netflix
Karen Schaler loves all of your jokes about that infamous Netflix Christmas movie she wrote.
The screenwriter behind Netflix's A Christmas Prince says she purposefully wrote the movie in a formulaic, instant-classic, made-for-TV way that viewers can watch with their friends and family — and wine, if preferred.
"If you're doing a drinking game to it," Schaler tells Money, "I want to be invited."
While Netflix declined to reveal streaming numbers, the network recently told Reuters the movie "wildly exceeded our expectations." Now, the Christmas Prince and his betrothed have returned in a Netflix sequel, A Christmas Prince: Royal Wedding. But Schaler, the mind behind the original story, didn't write it. She was instead working on two other Christmas movie scripts and two Christmas-themed books — all of which were spurred by the Netflix film's success and completed over 10 months in 2018.
It's been a busy year for the screenwriter — and it required decades of financial, emotional, and professional sacrifice to get here. For the majority of her career, Schaler was an Emmy-award-winning broadcast journalist who bounced around markets in Montana, Idaho, South Dakota, Arizona, Boston, and Washington, D.C., and embedded with troops in Afghanistan and Bosnia to produce documentaries.
But, in late 2007, she realized she wanted to tell uplifting stories rather than the devastating ones she had grown accustomed to — and she quit. She moved to New York City at age 40 on a whim — "like a student fresh out of college," she says — and cashed out a portion of her 401(k) to make ends meet. Three weeks later, the market crashed, and over the course of the next several years, she cashed out the rest of her 401(k) and picked up various jobs, started her own travel brand, and freelanced, working seven days a week regularly.
"I didn't come from money. I had little savings. I can't just put a toe in and hope it works," Schaler says. "Some think I'm crazy. But that's the only way I can live."
Still, her newfound success hasn't been incredibly lucrative so far. She could not share details of her earnings from the popular A Christmas Prince due to various contracts she signed, but it's safe to say it wasn't much. She's still figuring out the business of Christmas — and has found more agency (and more cash) in her latest movie on Lifetime, Every Day is Christmas, which stars Toni Braxton, and through her various book deals.
For Schaler, creating these fantastical holiday stories comes naturally. Her birthday lands on Dec. 19, and, when appropriate, her friends refer to her as "Christmas Karen." She has seen every Hallmark Christmas movie, using them as an escape during particularly challenging times in her life. Her writing, she hopes, could provide a similar escape for others — particularly at such a tumultuous time in American politics.
"In our world, we don't know the ending. Things are scary," Schaler says. "Watching formulaic movies and reading formulaic books — we need that right now. They bring people together. That's why I'm writing them."
'It's expensive to follow your dream'
Growing up outside of Seattle, Schaler says she didn't come from money — and she did not acquire much of it over her career. Both of her parents were school teachers, and her mom worked shifts at a local grocery store to help earn extra cash. Schaler earned $9,600 a year in her first job as a broadcast journalist in Billings, Mont., and only received a couple thousand more with each new job she got, with the hope that she would make at least $30,000 by age 30.
She did work her way up the ladder in various markets and won three Emmy awards, which honored documentary specials on troops in Afghanistan and missions in Bosnia that she pitched and produced. When she returned from Afghanistan in 2007, she felt ready for a lifestyle change.
"I'm a 1 or a 10. No middle gear," Schaler says of her sudden move to New York City. "I'm all in or completely not."
But, when she moved, "plans B, C, and D exploded with the economy," she says. She sold her car to pay for her apartment. By 2010, she had cashed out her entire 401(k) savings — an amount she declined to detail and a move that jeopardized her future retirement security.
"It's expensive to follow your dream," Schaler says.
By then she had already launched Travel Therapy, a brand she conceived that resulted in a book, trips to 68 countries, and numerous television segments. But that wasn't enough to sustain her full-time. She took a gig with Fox News — a network she says she frequently competed with throughout the years — and wrote in the basement of their Manhattan building for correspondents.
"It was a moment of embarrassment — but I needed a paycheck," she says. "I was ready to pay the price. I'll do whatever it takes."
Breaking into a new industry mid-career
Schaler considered Hallmark the mecca for romantic comedies when she wished to start writing them herself. She watched the network spill Christmas TV movie after Christmas TV movie, happy ending after happy ending, love story after love story — and thought her work should suit the network's preferences.
"I studied it like a formula and really went after it like an investigative reporter," Schaler says. "What producers are making them? What producers do I like? How do you handle a lower budget? Whose message did I like?"
She wrote a spec script — a non-commissioned screenplay — on her own and sent it around to countless agents to no avail. She eventually found a producer who thought the script was Hallmark-esque. But he wanted a royal storyline, so she wrote the script to A Christmas Prince over the holidays in 2014 and found an agent. She thought the film would end up at Hallmark and was stunned when Netflix snapped it from the production company instead. (Motion Picture Corporation of America, the production company, did not respond to a request for comment.)
Schaler had little to do with the film's production beyond her screenplay. "Being new to Hollywood, you create the party but you're not invited to it," she says. The film went on to become one of Netflix's first original Christmas movies when it premiered in November 2017. A year later, Netflix has released four more original Christmas movies ahead of the holidays, including the Christmas Prince sequel.
Despite A Christmas Prince's massive popularity on social media, it's unclear exactly how many people have watched it and how much Schaler earned. (Schaler declined to detail her earnings due to a confidentiality clause.) To be clear, nowadays, a spec script for a television movie doesn't go for much — especially if you're not a part of the Writers Guild of America, which guarantees a minimum for screenwriters along with numerous other benefits. Schaler isn't a member of the union but says she hopes to join to secure better pay and benefits moving forward.
On top of this, about a quarter of her earnings from her screenplays go to her entertainment lawyer and agent who play crucial roles in her success in the industry, she says.
"It's a tough business," Schaler says. "Standing up for yourself costs a lot of money."
But the movie did give her a bigger following and ample opportunity. When Lifetime secured Toni Braxton for a holiday film, Schaler threw her hat in the ring and scored: Her interpretation of A Christmas Carol titled Every Day Is Christmas premiered on Lifetime on Nov. 24.
She also landed two book deals and an internationally released movie for one idea: Christmas Camp. This week, Schaler traveled to The Phoenician hotel in Scottsdale, Ariz., to host a week-long, real-life "Christmas Camp," filled with activities like baking and décor classes for participants. She is already chatting with other resorts around the country about developing their own week-long programs ahead of Christmas each year — further monetizing the concept.
Ultimately, this year has been a "crash course" in the industry. "You either give up," Schaler says, "or you get stronger."
Now, it's time to pay herself back
With her emergence over the last year, Schaler is now paying herself back after taking such a financial risk.
"I need to stop saying it's not about the money," Schaler says of her career. "Money is power and money could help me do the things I want."
Moving forward, she hopes to only do projects in the entertainment industry as part of the union — which would ensure compensation minimums, benefits, and a better safety net in such a precarious line of work. She only wants to "work with people who I can have at my Thanksgiving table." And each Christmas moving forward, she wants to produce a new book and a new movie.
"Everything I've worked for I've struggled for financially," Schaler says. "It's now my moment — and I'm running hard. I have a short chance to make it up and make what I need to do."