8 Tips for Managing Snapchat at Work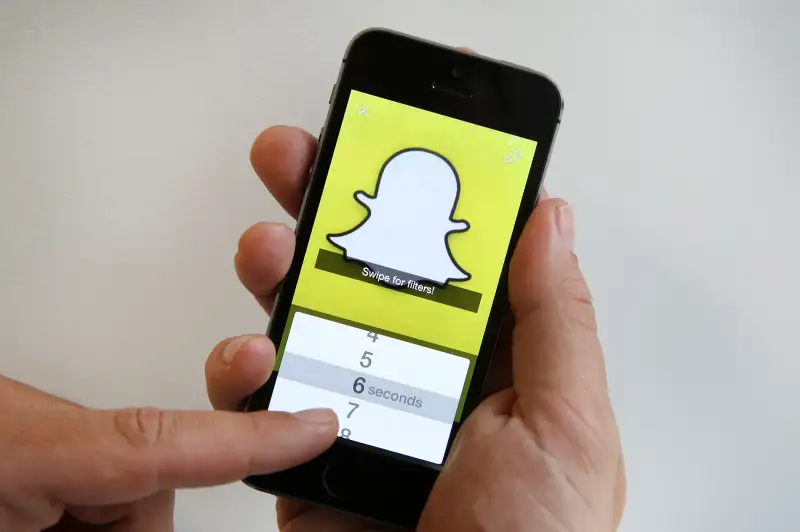 Peter Macdiarmid—Getty Images
So you've mastered LinkedIn and have managed to pull off that somewhat delicate balance of having work friends on Facebook. Then a coworker finds you on Snapchat. What now?
Snapchat is becoming a must-have for companies that want to connect with the coveted 25-and-under demographic, so even if you're not on it (or not really familiar with it) yet, there's a pretty good chance you will be in the near future.
Because the photos and videos users send to one another have a built-in "self-destruct" feature, it's easy to forget that snaps, like Facebook posts, tweets, blog entries and the like, can circulate far longer than you intend. Here's what career experts advise when it comes to the intersection of Snapchat and work.
Avoid coworkers entirely. If you're not under any obligation to use Snapchat for work but you want to play around with it anyway, some experts say you might be better off designating it a work-free zone. "As with any social media channel, think twice before you connect with someone from the office — especially your boss," says Amanda Augustine, career advice expert for TopResume. "Snapchat revolves around sharing raw stories in the moment… It won't allow you to carefully manage or build your brand."
Let them contact you (not the other way around). "It's best to be selective when extending social media requests to those you work with, as not everyone is comfortable connecting with professional contacts through channels other than LinkedIn," says Brandi Britton, district president, OfficeTeam. In an OfficeTeam survey, 62% of respondents said they would be uncomfortable getting a Facebook friend request from an underling, and 68% would be uncomfortable getting one from their boss.
Limit yourself to real-life friends. "Go on a case-by-case basis, and let those social connections be the organic extension of your closest at-work relationships," says Rusty Lindquist, vice president of human capital managment strategy and intellectual property at software company BambooHR. This does, however, take a little bit of delicacy to pull off, which is why some experts advise taking an all-or-nothing stance to connecting with coworkers on social media.
See what the norm is around the office. "Check out whether colleagues have other employees in their networks," Britton says. The cultural norm will give you a feel both for whether or not you should reach out to other colleagues as well as what an appropriate response would be if you get a friend request. "If their lists are limited to favorite work pals, they may not be eager to connect with a wider group of coworkers," Britton points out.
Think about what you make public. "Be careful with what you put out," says Tyler J. Anderson, founder and CEO of social media marketing firm Casual Fridays. "With Snapchat, your posts disappear within 24 hours, so it's very easy to get caught up in the moment and post items… You never know who is going to see that snap within those 24 hours."
Read next: 7 Social Media Mistakes Most Likely to Cost You a Job
Realize that you're committing to upholding a higher standard. "We have one set of standards at work, and another outside of work [and] the reality is that whether you say yes or no to a friend request, you need to choose the highest set of standards to be the common denominator," Lindquist says. Again, this is true up to a point for other networks like Facebook, but the highly visual nature and the deceptively fleeting glimpses users share on Snapchat ups the ante considerably.
Don't try to be besties. Even among friends (real-life or digital), you don't want to be intrusive. "Depending on the relationship you have with the person, you may want to limit your interaction and let him or her make the first move," Britton says. Don't dive into their personal life too much. Liking a coworker's photo on Instagram could be safe, but you don't want to cross the line or make the other person uncomfortable by overdoing it with the engagement.
Double-check your privacy settings. Make sure the privacy settings on all social media platforms you use are set so people outside your circle can't see your posts, Augustine says. "Carefully consider whom you want to add to your friends list on Snapchat. You also can opt out of the find friends feature on Snapchat so it's more difficult for people to find you," she advises.