Marriott Is Promising Cheaper Hotel Rates For Rewards Members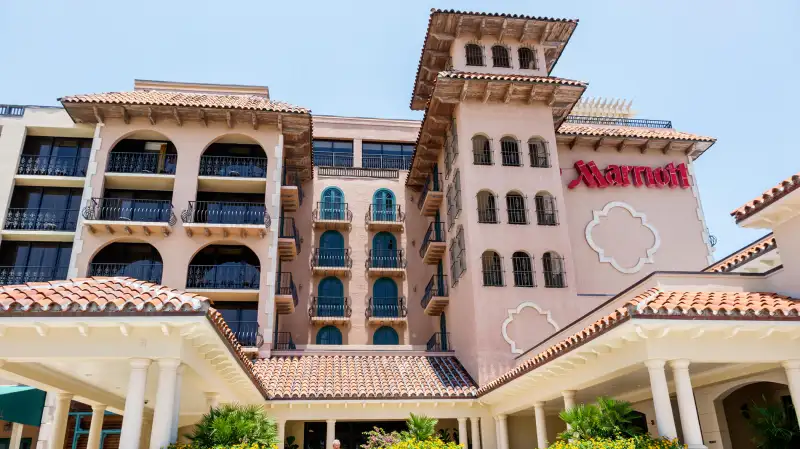 Rosa Irene Betancourt—Alamy
Marriott Rewards members are about to be rewarded again: The chain has announced it will offer new lower booking rates exclusive to subscribers to the loyalty program.
Starting April 11, the hotel chain says it will provide cheaper rates to Marriott Rewards members who book directly with the company, either via Marriott.com, the mobile app, its call centers, or some corporate travel professionals and travel agents.
The new rates apply to more than 4,200 participating Marriott hotels worldwide, but it's unclear how much cheaper prices will be for reward club members. Marriott also isn't even stating unequivocally that reward members will always pay less for rooms. Instead, the company promises vaguely that "you'll always get the best rate available when you book directly with Marriott."
This is a claim that many hotel companies have made for years and years. The new changes stipulate that if someone finds a cheaper rate within 24 hours of making a reservation directly with Marriott, the company will match it and provide an extra 25% discount.
The new system is yet another tactic Marriott is using to boost direct bookings--hotel companies make more money this way, because there's no middleman to pay--and help "dispel the myth that other travel websites offer better rates for our hotels," Karin Timpone, Marriott International's global marketing officer, said in a news release.
Hotel companies have long sought ways to take business back from third-party booking sites. Last year, Marriott negotiated the right to lower commissions paid to external travel websites like Expedia and Booking.com, Skift reported. Marriott launched a digital campaign in August to publicize its cheaper rates, which included a video series, called "#itpaystobookdirect," starring YouTube star Grace Helbig.
Marriott's move is also an effort to compete against rival chains like Hilton, which launched in February the largest campaign in company history to encourage consumers to book directly. Hilton previously negotiated lower commissions on travel websites as well.
Read next: Best in Travel Awards 2016: The Best Hotel Chains
For Marriott loyalists, the changes may make a good rewards program even better: A study last year found that Marriott is the the most generous of all hotel companies, paying loyalty members back $9.40 for future room stays for every $100 spent.