The Danger Lurking in Your Medical Bills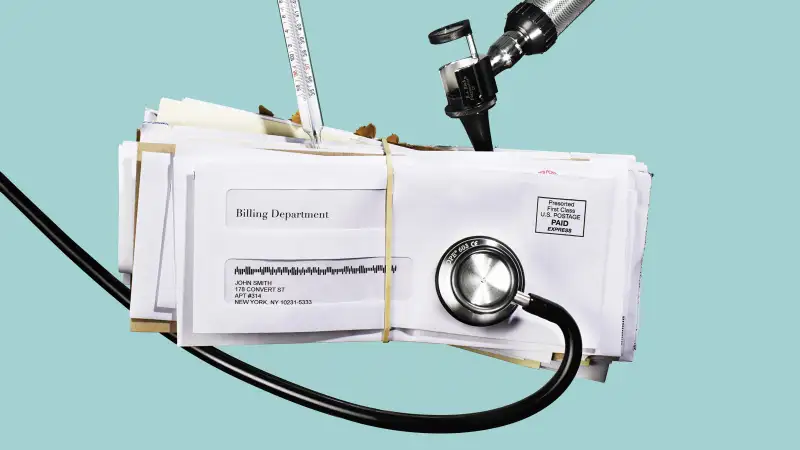 Odds are, there's a mistake in the medical bill that's in your mailbox. A recent NerdWallet analysis of 2013 hospital audits by Medicare found that an average 49% of bills contained errors, and that some medical centers messed up on more than 80% of claims to Medicare.
Such errors now matter more than ever to consumers: Greater health insurance cost sharing means that a mistake can take serious money out of your pocket. "If you're responsible for the first $5,000 or $10,000 of your care, you're going to want to be more attentive," says Stephen Parente, a professor at the University of Minnesota's Carlson School of Management who studies health finance.
But billing errors can be tough to spot, and tougher to remedy. Disputes can go on for months, and if you don't take the right steps, your account could be put into collections in the meantime—a recent report by the Consumer Financial Protection Bureau found that a whopping 52% of all debt on credit reports is due to medical bills. Follow these steps to ensure a clean bill of health:
Understand your bill
Step one is knowing exactly what you're being charged for. Can't tell from the bill? Ask the provider for an itemized statement, says Pat Palmer, CEO of Medical Billing Advocates of America, a professional organization that assists individuals and companies with medical costs and disputes. Doctors use standardized numerical "CPT" codes to categorize treatments, and you can Google the numbers to find out what they stand for.
Question discrepancies
If the price strikes you as high for the services rendered, "follow your gut and investigate," says Mark Rukavina, principal at Community Health Advisors, a hospital consultancy. Your insurer may offer an online price transparency tool. If not, try Guroo.com, a website that shows the average cost by area for 70 non-emergency diagnoses and procedures. A big discrepancy suggests that you should start asking questions.
Next, compare the bill to the explanation of benefits you get from your insurer. If these differ on the amount you owe, that can be another red flag, says Erin Singleton, chief of mission delivery at the nonprofit Patient Advocate Foundation.
Source: Consumer Financial Protection Bureau
Diagnose errors
Even if you don't have sticker shock, give your invoice a close read. Some common mistakes can be easy to spot. They include services that weren't performed, tests that were canceled, and duplicate charges, says Kevin Flynn, president of HealthCare Advocates.
Palmer says one of the more frequent errors she sees is providers charging patients separately for things that are supposed to be under one umbrella, such as a tonsillectomy and adenoid removal. Ask your provider about this if you are billed item by item for something that might be one procedure.
Remedy the problem
When you spot an error, ask the billing department to start a formal dispute. Put your concerns in writing. Include any documentation you have and request that the provider support its claim as well, says Palmer. Also, notify your insurer, which can be a good ally if the company will be on the hook for part of the charge.
Typically you don't have to pay disputed charges until the investigation is complete, but do pay the rest of the bill. And always respond promptly to billing communications so that charges aren't sent to collections. That's a very real risk; one in five credit reports is married by medical debt, with an average of $579 in collections. Fortunately, relief is on the way—the three major credit agencies recently agreed to institute within the next few years a 180-day grace period before adding medical debt to credit reports (now there is no official grace period) and to remove debt from a report if the insurer pays the bill.
Rukavina says that, with persistence, you should be able to resolve most disputes on your own. But if you've been fighting to no avail for more than a month or so, consider hiring a medical billing advocate to work on your behalf. Find one via billadvocates.com or claims.org. You'll likely pay an hourly rate starting at around $50 or a fee of about 30% of what you'll save. But that could be pocket change compared with what you'd owe otherwise, not to mention what a ding to your credit score could cost you.
Read Next: The Debt You Don't Know You Have