Medical Debt May Have Just Been Wiped Off Your Credit Report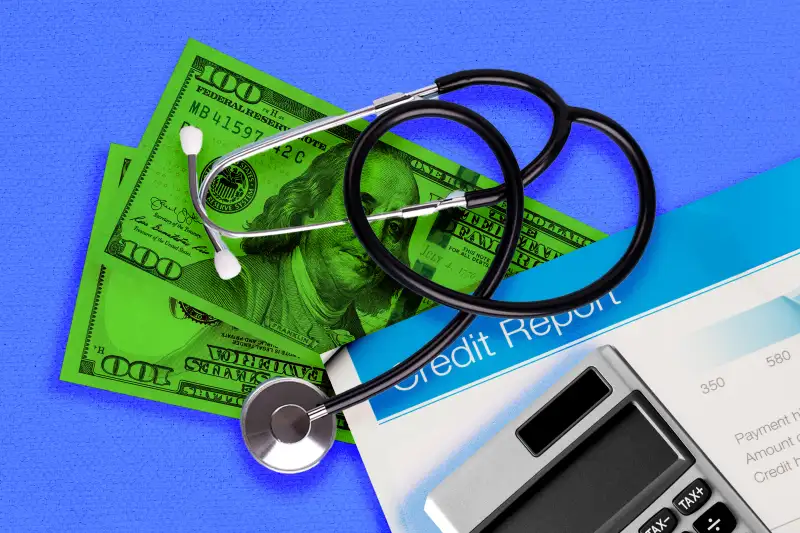 Eddie Lee / Money; Getty Images
Medical collections debt under $500 should no longer appear on your credit report, potentially boosting your credit score.
The three major credit bureaus — Experian, Equifax and TransUnion — said last week that they have finished scrubbing credit reports of any medical debt that went to collections for an initial balance under $500. This long-awaited action by the credit bureaus is part of a larger overhaul of how medical debt is now treated on credit reports.
Overall, the bureaus say this latest move has eliminated 70% of medical collections debt tradelines from Americans' credit reports.
A tradeline is industry jargon for an account that appears on a credit report. An individual may have several tradelines of medical debt under $500, and each instance should have been removed. Tradelines for medical collections debt above that amount will still appear.
Key context
In March 2022, the big three credit bureaus unveiled plans to drastically reform how they treat medical debt on the credit reports that they produce.
The plan consisted of three core changes:
Paid medical debts were removed from credit reports in July 2022. Previously, medical bills that went to collections could blemish credit reports even after the debt was paid off.
Also that July, the bureaus implemented a new rule that extended the period of time for medical debt collections to post to your credit report. Before the change, unpaid medical bills in collections could start damaging your credit after six months. In July 2022, that period was permanently extended to a full year.
As of Tuesday, the bureaus implemented the final phase by wiping away each instance of medical collections debt under $500 that appears on their credit reports.
The credit bureaus' reforms followed intense scrutiny by the federal government. In April 2022, the Consumer Financial Protection Bureau (CFPB) sued TransUnion for "deceptive marketing, regarding its credit scores and other credit-related products," calling the company an "out-of-control repeat offender."
Just before the lawsuit, the CFPB released a report finding that 43 million people had roughly $88 billion worth of medical debt on their credit reports, and that 58% of all collections debt on credit reports stems from medical bills.
"It's hard to call medical debt a real debt," CFPB Director Rohit Chopra said about the report. "Few people choose to take on medical debt, and typically, patients have no idea how much they will be charged for a service or a procedure."
In a follow-up report analyzing the credit bureau's changes, the CFPB said the $500-tradeline rule "will result in the majority of individual medical collections tradelines being removed from credit reports. However, in terms of dollar amount, a large majority of reported medical collections likely will still remain."
In other words, even with a 70% reduction in the tradelines of medical collections debt, the majority of the $88 billion plaguing millions of Americans' credit reports will still show up — because many people have lingering medical debts far over $500.

What it means for you
While some medical debt may still remain on credit reports, the recent changes are nonetheless significant. And following the removal of medical collections debt from credit reports, millions of Americans could see an improved credit score.
If you had medical collections debt under $500 on your credit report, pull your credit reports from the three credit bureaus to ensure that it no longer appears. If you had multiple instances of medical debt in collections, each instance should be removed so long as the total amount was under $500.
You can check your credit report for free each week with the three bureaus at AnnualCreditReport.com until the end of 2023. Be wary of scam sites when checking your report, and never pay if you don't have to. AnnualCreditReport.com is the only site authorized by the federal government.
After you receive your reports, verify the medical debt was removed. Be on the lookout for other errors, too. If you notice incorrect information, you can dispute those errors and the credit bureau will have to investigate.
You can also submit credit reporting complaints to the CFPB online or by calling (855) 411-CFPB.
Keep in mind that the changes only affect what appears on your credit report and that the underlying medical debt has not been forgiven. You will need to pay any debts you still owe.
More from Money:
Hospital Bills Are Confusing and Expensive. Here's How to Advocate for Yourself
An Opaque Web of Credit Reports Is Tracking Everything You Do
Dollar Scholar Asks: What Factors Make My Credit Score Drop?