Medicare Open Enrollment Starts Today. Do These 2 Things Now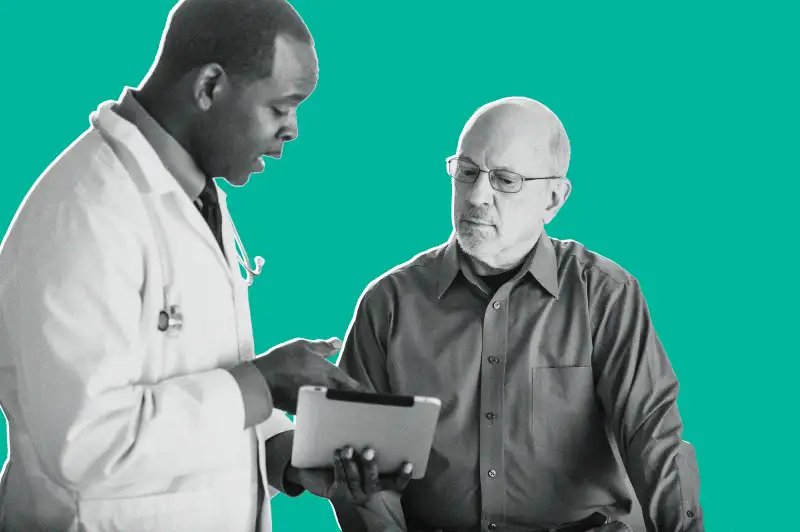 John Fedele—Getty Images/Blend Images
They're familiar rites of mid-October: the MLB playoffs and the start of Medicare open enrollment 2019. You can tune out baseball if you choose, but you can't afford to do the same with Medicare. New players have entered the Medicare Advantage market this year, existing plans have made changes to their lineups, and going with the wrong coverage could cost you thousands of dollars over the course of next year.
Medicare open enrollment dates are Oct. 15 to Dec. 7. Now's the time to decide whether to keep your current coverage or to make changes that will be effective January 1, 2019. During this time, beneficiaries can pick a new Medicare Part D drug plan, a new Medicare Advantage plan, or switch from original Medicare (coverage managed by the federal government) into a Medicare Advantage plan (coverage managed by private health plans that contract with Medicare, also known as Part C -- or vice versa).
Just remember: Medicare supplement plans are not part of open enrollment; you can apply to switch your Medigap policy at any time, but outside of certain circumstances you might be charged more or denied coverage due to your health status. Medicare Part A, which covers inpatient care, and Medicare Part B, which covers doctors appointments and other outpatient care, are also not part of open enrollment.
"If you don't shop around, you're doing yourself a disservice," says Chris Hakim, general manager of eHealthMedicare.com. You can research Medicare Plans for 2019 on the Plan Finder tool on Medicare.gov, the official government site.
Check for Changes
By now, you should have received a mailing from your Part D drug plan or Medicare Advantage carrier. Called the "annual notice of change," this document outlines any changes to your coverage for next year. Read it. Yes, it's tedious, but it's also important. "A lot of people never open these things up," says Mary Johnson, a Medicare and Social Security policy analyst and researcher for The Senior Citizens League, a nonpartisan lobbying organization.
That notice will tell you whether your drug plan has stopped covering any of your drugs, for example, or has moved any to a different coverage tier -- if your medication drops out of a preferred tier, for example, you'll have to pay more for it. Your Medicare Advantage plan notice should inform you of any changes to the network of doctors and hospitals who participate in the plan. Here, too, you may encounter tiers, Johnson says. "Check to make sure your doctor is still a preferred doctor, not just a participating doctor," she says.
Explore Your Options
Even if you don't see any changes and you're happy with your coverage, you should still explore your options to make sure there's nothing better out there for you, experts say. Within the same county, there can be big variations in how much drugs cost under different Part D drug plans. Some of the biggest differences come between plans that cover a given drug and plans that don't. For example, the price of Advair Diskus, an inhaler, ranged from $37 in a plan that covered it to $1,880 in a plan where the drug wasn't on the formulary, as the plan's list of covered drugs is called, according to an analysis Johnson made of Part D plans in her county in rural Virginia.
You don't need a Part D drug plan if you have Medicare Advantage. The vast majority of Medicare Advantage plans include drug coverage. There are about 15% more Medicare Advantage plans on the market for 2019, as carriers like Aetna expand their footprint nationwide, Hakim says.
What's more, the government is allowing Medicare Advantage plans to offer expanded benefits for 2019, such as adult day care services, bathroom grab bars, and therapeutic massage. You won't automatically get these benefits as a result of your enrollment however--you'll still need to get a doctor to certify that you need them.
You can find Part D drug plans and Medicare Advantage plans on Plan Finder, where you'll be able to compare your total costs for each offering. But to drill down to particular coverage details -- for example, if you want to investigate Medicare Advantage benefits or see a drug plan's formulary -- you may need to contact carriers directly.
If that all sounds like too much, you could seek free, independent help from your state's State Health Insurance Assistance Program, also known as SHIP. "They're doing this all day long," Johnson says. "And they're unbiased because they're not making a commission."
Insurance brokers do make a commission — they're paid by the insurance carrier you select. They can also be a good resource, but make sure the one you select works with a wide range of carriers. Otherwise, you might get steered into a plan simply because your broker has a relationship with the carrier. You can check on Plan Finder before you visit one so you have a sense of all the offerings in your area.