These Meghan Markle Lookalikes Are Making Thousands Per Gig — And They're Booked Into 2019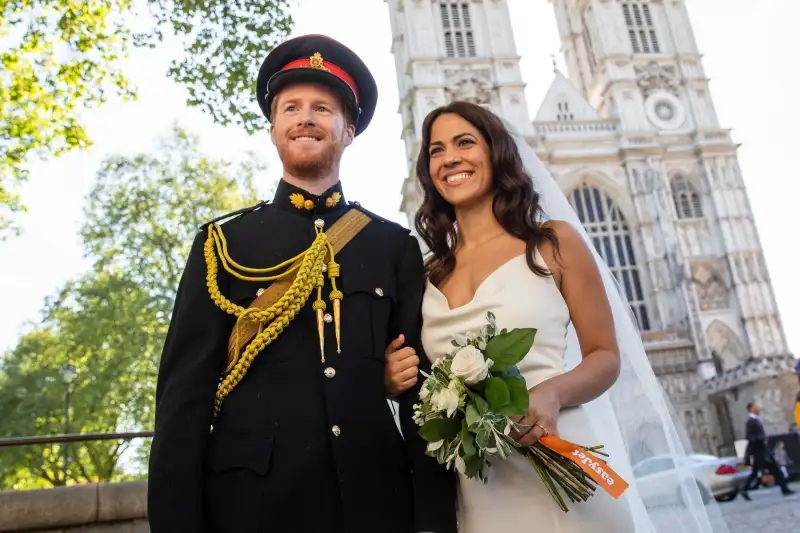 Rob Pinney/LNP—REX/Shutterstock
Has anyone ever told you that you look just like Meghan Markle? If so, that might be more than a compliment — it could be a royally weird job opportunity.
Business is booming worldwide for anyone who can believably impersonate Markle, the 36-year-old American actress set to wed Britain's Prince Harry on May 19. Talent agencies in both the U.S. and the United Kingdom say Markle lookalikes are in high demand due to skyrocketing interest in the soon-to-be newest member of the royal family. If you can walk and talk like Markle, you can earn hundreds of dollars an hour.
And judging by the continued success of Duchess of Cambridge doubles, the cottage — or should we say palace? — industry isn't going to die out anytime soon.
"It's a bit of a frenzy," says Dot Findlater, the founder of California-based celebrity lookalike agency Mirror Images.
courtesy of Mirror Images
Finding That Markle Sparkle
Landing a job as a Markle impersonator isn't as easy as you might think.
At Findlater's company, for example, she says the first step is submitting photos of yourself (if you're selling yourself as Markle, you'll need almond-shaped eyes, long brown hair and freckles, among other attributes). The Mirror Images team will set up a phone call or a Skype interview with you, and if you pass muster, you'll be professionally photographed. Only then will the firm start promoting your availability for bookings, which can include anything from a photoshoot in a tea shop to a British Invasion corporate event.
Mirror Images has two Markles, one in the U.S. and one in the U.K. Both joined the agency within the last year.
"It's hard. Lookalikes aren't on every street corner," Findlater says, ticking off deciding factors like height, weight and posture. "Our business is illusion — not to trick anybody, but to make sure if a client is hiring a lookalike that they get the closest thing possible."
Authenticity is critical for Markle doppelgängers like Lukwesa Morin, a 26-year-old graduate student who recently won a Markle lookalike contest on beautifulpeople.com. Morin says she often gets stopped on the street in Washington, D.C., by people who mistake her for the actress — and that has been a deciding factor for her to try and jump into the world of Markle lookalikedom.
For Olivia Marsden, a 22-year-old who lives near London, nailing the Markle look involves dressing almost exactly like her. The daughter of a Madonna impersonator, Marsden says she's assembled a second wardrobe modeled after ensembles Markle has worn.
"I have the engagement outfit pretty much down to a T," adds Marsden, of Ofavision Talent Management.
Marsden used to have blonde highlights, but she dyed her hair back to its natural color so she'd look more like Markle. Perhaps the biggest challenge for her is mimicking Markle's American accent, which she says can be "a little bit tricky."
courtesy of Lukwesa Morin
Interest in an American Idol
Findlater says she's seeing more requests for Markle than she did for Kate Middleton ahead of her 2011 royal wedding to Prince William. And she has a theory as to why.
"There's a lot more interest in the U.S. now because Markle's American," Findlater says. "They're feeling closer to the royal family because of that."
In the U.K., where much of the public is already obsessed with the royals, Helena Chard tells Money she's getting up to 20 calls a day from clients who want to book Markle doubles.
As the casting director for Susan Scott Lookalikes, Chard says many customers are artists hoping to see "Markle" from a certain angle or social secretaries planning mixers. The agency offers up its talent for bachelor parties, bar mitzvahs, movie nights, conferences, anniversaries, reality shows, weddings and more.
Some companies even use doubles to stage PR stunts: "They'll have Harry and Meghan [lookalikes] in front of the palace and film them walking through, and everyone goes completely mad and swarms them and takes photographs," she adds.
Her agency's website boasts 18 Markles, as well as 20 Harrys. If you want to complete the set, you can choose from seven Queen Elizabeths, 22 Kate Middletons, 19 Prince Williams, 9 Prince Georges and two Princess Charlottes.
courtesy of Mirror Images
The Princess and the Gs
Posing as Markle can be a lucrative gig.
Findlater says her lookalikes generally earn between $800 and $1,200 for up to three hours of local work. If the client wants the talent to travel out of town, fees start at $2,000, and customers are generally responsible for hotel, transportation and meal costs. In some cases, the price can reach $20,000.
Findlater's agency typically takes 20% of whatever the Markle clones make on a gig.
Chard says her Markle impersonators usually make about £400, or about $540, for a few hours, but it depends on the booking.
"I think more people are realizing there's a market in being a lookalike, especially of the royals," she says. "These events are such fun that the artists go to. It's more than the money. They can go along, they actually have a good time, and they meet some incredible people on these high-profile jobs."
Lookalike Marsden declined to discuss her rates, but she did say she has Markle events booked into 2019 — a solid indication that the fervor won't die off once the royal wedding is over. Marsden jokes that hiring her for lookalike work is "not cheap, but it's a lot cheaper than the real thing."
For people like Marsden, whose day job is being an airline cabin crew member, capitalizing on the Markle mania is an ideal way to make extra cash.
"Before I became a Meghan lookalike, I would sit at home, thinking like, 'I need another job,'" Marsden says. "It's great to have a side job I really enjoy doing, and I get something out of it."