Meet Jack Brooksbank, a 31-Year-Old Tequila Brand Ambassador Who Just Married Into the Royal Family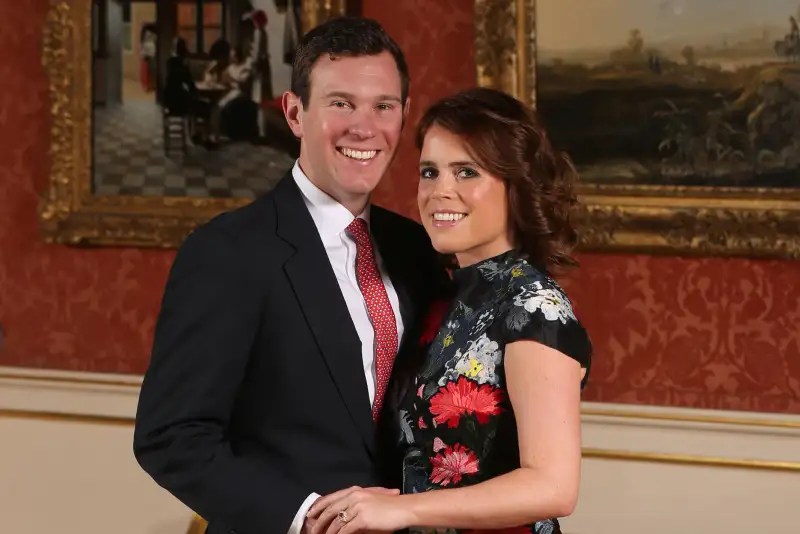 Princess Eugenie is getting married on Friday in yet another lavish royal wedding in 2018. But unlike when Prince Harry wed American actress Meghan Markle earlier this year, Eugenie's soon-to-be husband isn't already famous in his own right.
In fact, unless you're an avid British tabloid reader, you might not know him at all.
Who is Jack Brooksbank?
Jack Brooksbank is Eugenie's 31-year-old boyfriend of eight years. The two are distantly related — but that didn't keep the royal family's official Twitter account from misspelling his name as "Jacksbrook" on Thursday.
Jack Brooksbank and Princess Eugenie, who is ninth in line to the throne, met back in 2010 while on a ski trip in Verbier, Switzerland. She wasn't quite out of his league: A Stowe School alumnus, Brooksbank can trace his lineage back to royal baronets as far back as 1919.
OK, on to the interesting part: Jack Brooksbank's money, and how he might know George Clooney.
Because he's a private citizen, Brooksbank's net worth isn't publicly known (Eugenie's net worth, on the other hand, is estimated at $4.7 million). But we do know that his parents live in a gated building outside of London, as the Telegraph reported. Brooksbank himself recently moved in with Eugenie in the three-bedroom Ivy Cottage at Kensington Palace.
Brooksbank doesn't have a college degree, but he's built a successful career in hospitality. Often called "Barman Jack" by the British press, Brooksbank has held a variety of service-related jobs, doing everything from bartending to serving food to managing the nightclub Mahiki. He even once told the Daily Mail it was his goal to own and operate a franchise.
"I want to create a chain of pubs. It has been my dream since I was 18," he said. "I have fond memories of Sunday roasts in pubs with log fires, and it's something I want to recreate. I love pubs and often go to my local for a pint."
Brooksbank is now European brand ambassador for Casamigos, the tequila company George Clooney co-founded in 2013 and recently sold for $1 billion. He also started Jack Brooksbank Ltd., a wine, beer and spirits wholesaler that had net assets of $18,000 in August 2017, according to Endole.
Because Eugenie is not counted as a working royal, meaning she doesn't have specific public duties that bring in a taxpayer-funded salary, it's unclear what Brooksbank's role will be as her husband.
But the couple's schedule is certainly set for Friday: They'll wed before their friends, family and lucky guests to a whole lot of fanfare.
"A total embrace of goodness and joy," Eugenie's mother Sarah Ferguson, the Duchess of York, tweeted after their engagement. "We love Jack, and I am so excited to have a son, a brother and a best friend. Eugenie is one of the finest people I know, and so together it will be pure harmony."