This Stunning Mansion With a Recording Studio and 6 Wet Bars Just Set a Record for Most Expensive Ever Sold in Miami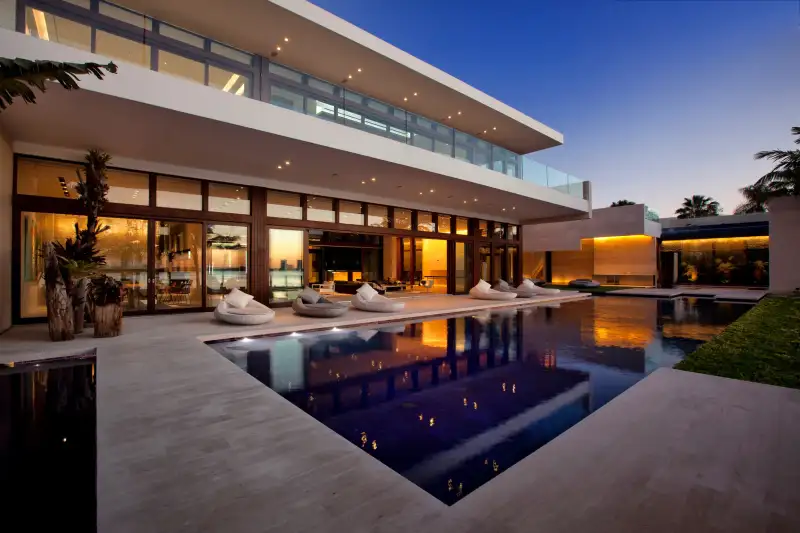 Courtesy of Douglas Elliman Real Estate
An extravagant mansion on Biscayne Bay is being called the most expensive single-family home ever sold in the Miami-Dade area — for the second time in the past decade.
The 10-bedroom, 14-bathroom mansion at 3 Indian Creek was sold in an off-market deal to an undisclosed buyer for $50 million on Feb. 5, according to a Douglas Elliman Real Estate press release. The modern mansion, which measures nearly 20,000 square feet, last sold for $47 million in 2012 — a record-setting price at the time.
Courtesy of Douglas Elliman Real Estate
So what does $50 million get you in Miami? The home comes with such luxuries as a recording studio, a 3D theater and a 100-foot swimming pool, according to Douglas Elliman. There's also a rooftop jacuzzi, a waterfront gym and not one, not two, but six wet bars. A beach area outside the home comes with "pink sand imported directly from the Bahamas," according to the press release.
At $50 million, the purchase is the most expensive single-family property sold in Miami — though it does fall short of the $60 million hedge fund founder Ken Griffin spent at Miami's Faena house in 2015. Those two units were never combined and are currently being sold separately.
Courtesy of Douglas Elliman Real Estate