Here's Where Milk Is Cheaper Than Water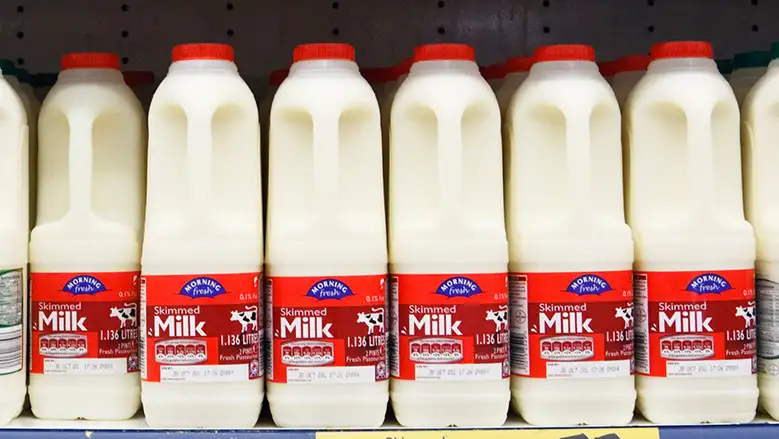 Got Milk? Europe does—so much milk, in fact, that it's currently selling cheaper than water.
An oversupply of milk responsible for the fall in milk prices can be chalked up to a host of factors, including a removal of milk production quotas on EU farms for the first time in three decades earlier this year, a drop in milk demand from China, the Middle East, and North Africa, and a retaliatory food embargo introduced by Russia in 2014. China is the world's largest milk importer—and prior to the embargo, Russia imported a quarter of the EU's butter exports and nearly a third of their cheese exports.
Wholesale milk prices are down about 20% to just 37 cents per liter in Europe, CNN Money reported Tuesday, and prices paid by consumers at the supermarket have fallen around 5% across the European Union. Lately in places such the UK and France, a liter of milk might cost the equivalent of around $1 on store shelves. At the same time, a one-liter bottle of water will cost roughly $1.50 in England, and a bottle of mineral water runs $1 in France.
Europe's lactose overdose is proving to be an economic disaster for dairy farmers, who have become increasingly vocal about their dissatisfaction in recent months as many have had no other choice but to sell milk at a loss. France and Belgium have seen protests complete with fruit and milk throwing throughout the summer. In early August, UK farmers cleared milk from supermarket shelves, blocked shop entrances and roads, and—in one instance in Stafford—led two cows and approximately 70 protestors into a supermarket. On Monday of this week, farmers from across the continent took to EU headquarters in the Belgian capital of Brussels to protest, reportedly throwing a thematically-appropriate combination of eggs, hay and (perhaps less fittingly) fireworks at riot police.
Meanwhile, the British National Farmers Union gathered for an emergency summit Monday, and is now urging supermarkets to increase prices to match production costs. The European Milk Board is similarly calling for the restoration of production quotas to boost prices back to an economically viable level.
CNN Money reported that the EU has pledged 500 million euros—about $555 million—in emergency economic relief to these farmers as of Monday. France announced plans for a 600 million euro support package to its farmers back in July. While the milk situation remains bad for European farmers, dairy-loving consumers continue to soak up super cheap milk prices.