This 31-Year-Old Saves $8,000 a Year Clipping Coupons. Here Are Her Secrets to Success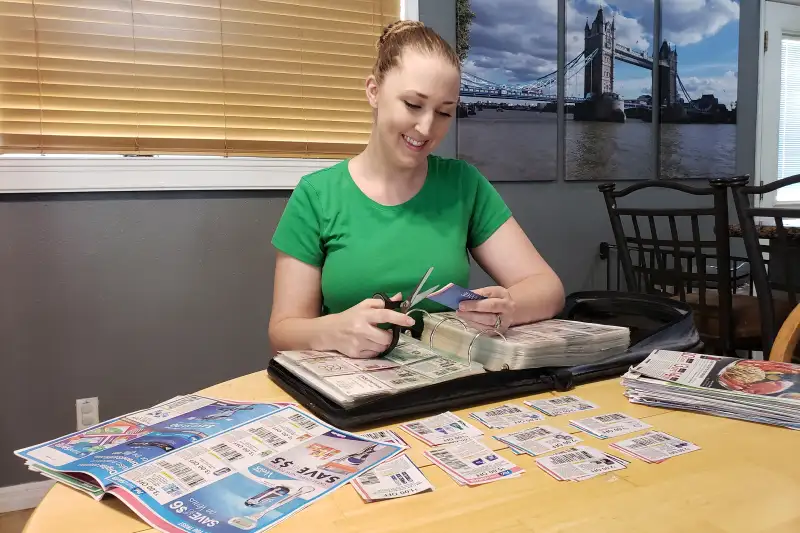 Courtesy of Katie Hernandez
In 2009, Katie Hernandez had just graduated college in the middle of a recession. Like many millennials she was broke and looking for a way to pay back thousands in student loans. Today, she's a debt-free mother of one with a successful online business.
The secret to her success is in some ways more Greatest Generation than gig economy.
Hernandez, 31, says she saves hundreds of dollars a month by taking an extreme approach to a money-saving tip you might well have learned from your grandparents: clipping coupons.
Initially, she and her future husband Ernest were looking to trim their spending. It became a personal calling.
"I thought if I could save even 30% that would give us some breathing room," she says. "It turned everything around in our finances."
While Hernandez's approach may seem unique, she's hardly alone. As coupons have migrated from the Sunday newspaper to store web sites and mobile apps, millennials have followed the savings.
On average today, more than half of millennials search for coupons on the Internet before shopping, according to a recent CouponFollow report. Another survey, from PRRI, indicates that by 2016, 48% of millennials used online coupons – that's even more than 39% for Gen Xers and 32% for Baby Boomers.
Of course, saving money – much less enough to put a dent in your budget – is never an easy feat. Hernandez, who blogs about couponing at her website, Kouponing with Katie, spends three hours a day running her business and scouring for deals to post about. She spends another 90 minutes each week doing her own personal couponing.
In other words, couponing is work. But the good news is, with even a small fraction of Hernandez's effort, you can still reap savings.
How She Does It
Hernandez first began couponing after watching the now-canceled TLC show, "Extreme Couponing." While the show turned out to not be very realistic, she was immediately impressed by the steep discounts she could achieve. "At this point, unless we're saving about 90% on an item, it doesn't come into our house," she says.
So how exactly do you save that much? The trick is what Hernandez calls "stacking," or combining several offers – like a discount from a store sale with coupons from a manufacturer. (Many large retailers allow shoppers to combine at least one store-issued coupon with one manufacturer-issued one, but limit further combinations. To check your favorite store's policy, look on their corporate website.)
She then adds to those savings with rebates from independent cash-back apps, like Ibotta or SavingStar. These cash-back programs, which pay out anywhere from a few cents to several dollars when you upload your store receipts, are used by large retailers for market research and marketing. (To get the rebates, you agree to allow them to share your spending data.)
The results of all this careful strategizing can be dramatic: When recently buying food for her son, for example, Hernandez was able to get $1.50 Once Upon a Farm Baby Food Pouches for only $0.37. The coupons she used included a $0.50 off coupon from the manufacturer, a 25% off coupon from Target's website. She then applied a rebate from cash back app SavingStar.
She always pays less than a dollar for a bag of Tide Pods from CVS – which normally cost $4.94 when on sale at CVS. By using three manufacturer coupons for $3 off each, and then applying the CVS Extra Care Bucks discount of $5 off when you spend more than $15 at the store, the final price for three bags is $0.27 each.
Hernandez says they typically spends 50 cents for cereal or pasta sauce, and 25 cents for toilet paper. Razors and Mayonnaise are always under a dollar. She gets many items completely free after using digital coupons or cash back apps: shampoo, deodorant, pasta, and BBQ sauce.
Before Hernandez started couponing, she and her husband spent an average of $800 per month on food and household items. Now, they spend just $100 – even with a house, a baby, and two pets. That works out to annual savings of $8,400. She paid down her college debt by 2013, and is now paying off her mortgage and putting money into retirement accounts.
Of course, those savings come with foresight -- and some sacrifices.
"I bought the first year of diapers and wipes for my son before he was born," she says. Although by combining coupons with money she earned from cash-back mobile apps, Hernandez says she actually made $20 on the purchases, when all was said and done.
Hernandez also lets her family's dinner menu be driven by where the deals are: "The hardest part is developing a stockpile and planning ahead: replenishing is absolutely key."
She stocks up on one protein at a time, like 20 lbs. of chicken last week -- or, the week before that, 4 lbs. of shrimp. That means plenty of frozen food, although Hernandez says she happily splurges on fresh food and vegetables and prides herself on her cooking.
"We don't eat ramen and hotdogs on our budget," she says.
Kouponing with Katie
Six months after Hernandez first started couponing, her friends and coworkers were so impressed, they convinced her to start a class to teach them how to do it. By 2014, Hernandez created her own Facebook group, called 'Kouponing With Katie,' and by 2015, her own blog (with the same name) to accompany it.
Finding a supportive group to belong to is key, Hernandez says, which is the main reason why she launched the online community. Although the group started locally, today it has almost 10,000 members, with all 50 states represented. "If I had to do my wedding over again I would invite a lot of these people – I've met some amazing friends."
While she's kept her day job as an office manager, she says the blog and support group supplement her income by several thousands of dollars per year.
There are several key things to remember when trying to get the most savings from coupons, according to Hernandez:
Go for brand names, not store brands
"The reality is I can't afford to buy items that are store brand," she says, "because the name-brand items – which have a perfect storm of sales and savings – will save me 90%, whereas store brand will only save me 30%."
But don't get attached to one brand name
For maximum savings, don't be brand specific, because it's important to buy the brands that happen to have coupons available at any given time.
Start slow and steady
For beginners, it's important not to overwhelm yourself. This means being precise and buying the right size of item that corresponds with your coupon. When Hernandez first started couponing, she remembers, it was incredibly difficult to keep track of everything. "When I first discovered coupons, I printed out a list of 50 items and went to Walmart... They didn't have half the items and the other half of the coupons weren't working right, so I was sitting there crying in the aisles."
Hernandez has come a long way since then – from extreme couponer to extreme saver, she says. "I'm a pedal to the medal kind of person."