Mint Budgeting App Review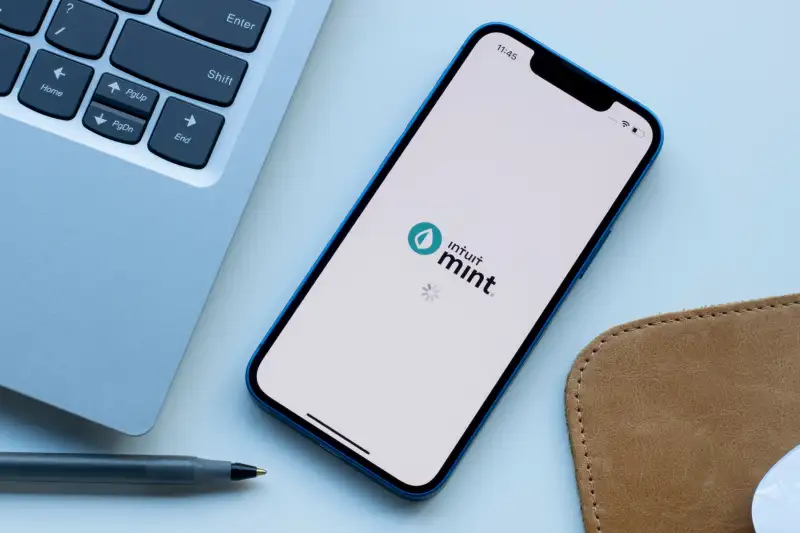 If you're looking for a budgeting app to help you track your spending and stick to your budget, Mint is a good free option. Mint automatically categorizes your finances with colorful graphics to help you track your spending, creates customized reminders so you don't miss payments and gives you free access to your credit score. We've outlined Mint's features to help you decide if it's right for you.
Mint Budgeting App Pros and Cons
While there are a few drawbacks like ads, not being able to create joint accounts, and some glitchy integrations, we found the benefits that Mint offers far outweigh these issues. Here's what you need to know about Mint's pros and cons.
Pros
Automatically categorizes spending
Custom reminders and alerts
Free credit reports available
Cons
Lots of ads
Can't create joint accounts
Integrations are glitchy
Pros explained
Categorizes spending automatically
Mint pulls your transaction records from your financial institutions and automatically sorts them into categories like shopping, gas, gym and more to show you where your money is going. Mint offers hundreds of default categories to choose from, or you can make your own custom categories to suit your spending style. You can also go a step further to distinguish purchases by adding tags to group them.
Custom reminders and alerts
Mint shows you all of your bills, tracks due dates, monitors your upcoming payments and alerts you when they are due. This saves you from late fees and protects your credit score from being negatively impacted due to late or missed payments.
You can also customize Mint to send alerts when you go over budget, get hit with an ATM fee, or if there is unusual spending on your accounts. Mint will even alert you when a recurring fee increases so that you can update your budget accordingly.
Free credit report
If you enter your social security number when creating your Mint account, the app will automatically provide your credit score and display it on the dashboard. Mint also gives you a credit report summary. This provides visibility into trends in your score over time and insight into what is driving it up or down. However, Mint does not give you access to your full credit report.
Cons explained
A lot of ads
While the app is free, Mint's parent company (Intuit) uses your information to advertise financial services and products to you. This means you'll encounter a lot of ads as you use the app. However, you can upgrade to either Mint's ad-free service (for $0.99 a month) or premium service (for $4.99 a month), the latter of which gives you access to more features than the free version.
No joint accounts
Since Mint is designed for individual users, there is no way to create joint accounts. However, you and your financial partner can each create your own Mint account, then sync any joint accounts you wish to track in order for you both to see the same information within the app.
Glitchy integrations
Mint sometimes has trouble syncing with financial institutions. The app requires users to repeatedly sign into their accounts with those institutions within the Mint app to continuously sync. Mint says it is constantly improving the app and advises users experiencing sync issues to disconnect and reconnect their financial accounts. If that doesn't work, Mint recommends users uninstall the Mint app and reinstall it to force through any updates to the app.
Mint Budgeting App Plans and Offerings
Mint's free version gives you a powerful financial planning tool to meet your financial goals. Its premium version sweetens the pot with extra insights and services to put you firmly in control of your finances.
Free financial plan
You can use Mint for free to create a financial plan for yourself, including a budget and savings goals, all while tracking your spending to help you reach these goals. Once you've linked your financial institutions (banks, credit cards and investment accounts) to the app, Mint makes it simple to track your spending with colorful graphics to show you how much you're spending in each category.
Mint helps you set up a personalized spending plan; if you need to adjust your budget, you can easily do so anytime. Likewise, you can set up a savings plan within the app and chip away at your goal with automated monthly contributions. You can also use Mint's partner Billshark to negotiate savings on what you pay for each month, giving you more discretionary funds and helping you grow your savings.
Paid financial planning
Mint's premium plan includes help with canceling existing subscriptions, projecting future spending and understanding your spending habits. Specialized data visualization creates spending projections with breakdowns within each category and visual indicators to warn you if you're slated to overspend.
At the premium level, you can also download your data, play exclusive games that teach you savings tips, compare your spending to other Mint users and gain valuable insight into how your habits stack up.
Mint Budgeting App Pricing
There is no fee to use the basic version of Mint. However, if you decide you don't want to deal with the ads that come with the free version, you can get the ad-free version of the app for $0.99 a month. If you want to upgrade to Mint's premium version, which is also ad-free, it will set you back $4.99 a month.
Mint Budgeting App Financial Stability
Mint is owned by Intuit, Inc., which is also responsible for TurboTax, QuickBooks, Credit Karma and Mailchimp. Intuit reported a 32% revenue increase in 2022, with more growth projected for 2023. The Mint app appears financially stable and is here to stay, so you don't have to worry about it being shuttered and losing all of your budget plans.
Mint Budgeting App Accessibility
Mint is not available worldwide, and its customer support is limited to chat, but the sleek app is easy to use and offers a graphically pleasing way to manage your finances.
Availability
Mint is unavailable outside the United States and Canada, so you will want to choose another budgeting app if you live overseas. Likewise, it cannot manage more than one type of currency, so if you have income or expenditures in more than one currency, Mint may not be the app for you.
Contact information
Though it does not have a phone number, Mint does offer customer support through an online chat portal that is available from 5:00 AM to 9:00 PM (Pacific Time) seven days a week. If your email or phone number changes and you have trouble getting into your account, the app has a dedicated online account recovery form that you can fill out to regain access to your account.
User experience
Mint is very user-friendly and offers users an easy and comprehensive way to create budgets and manage finances. Mint's interface is also pretty intuitive, and the graphics make budgeting easy to understand, making it a good option for teaching kids budgeting.
When you open the Mint app, you'll see your dashboard with a graphic-driven depiction of your finances, including all of your accounts and assets, upcoming bills, a spending chart and your current credit score. From there, you can navigate to view different slices of your finances, including transactions, credit score, trends and tax information. Since it is integrated with TurboTax, it can import up to three years of tax returns, making it a snap to track refunds and filing status.
Mint Budgeting App Customer Satisfaction
Overall, users are happy with the Mint app, as reflected in its solid reviews in the Apple (4.8 stars) and Google (4.3 stars) app stores. Users love being able to quickly see an overview of their finances and track their budgets in an aesthetically pleasing way. They also appreciate the benefits and insights Mint can offer by analyzing their spending habits and trends.
Though users' reviews of Mint are overwhelmingly positive, some have reported snags and frustrations with the app beyond the cons listed above. While having it automatically categorize spending is handy, some users lament that it doesn't let you collapse or group subcategories of expenses to tailor them to fit your lifestyle. You also can't group recurring payments to categorize things you pay for each month (or every few months), which some users say makes it harder to get a more granular look at their discretionary spending.
Mint Budgeting App FAQ
How can I use Mint for budgeting?
You can use Mint to create a budget by setting a spending limit within each customizable category the app provides. Then connect Mint to your financial accounts, allowing it to track your income and spending within those categories.
Is Mint budgeting app safe?
Mint is safe to use, and its bank-grade security does an excellent job of protecting your personal and financial information. The app cannot access what you type when connected to your financial accounts. It stores usernames and passwords in a database protected by multilayered hardware and encrypted software. No transfers or payments can be initiated from within the Mint app, and multi-factor authentication keeps your account safe.
Is there a monthly fee for Mint?
Standard access and use of the Mint app are completely free. If, however, you want to get rid of the ads, you'll have to pay $0.99 a month. You can upgrade to Mint's premium version for $4.99 a month to get additional features like spending projections and spending spotlights to help you understand your spending habits.
How We Evaluated Mint Budgeting App
When evaluating Mint, we looked at the app's plans and offerings, ease of use, pricing, security, accessibility and customer satisfaction. We also looked at the perks and integrations it offered, including access to your credit score, spending trends and tax support.
Summary of Money's Mint Budgeting App Review
It's not always easy to find something free that's valuable, but Mint has done it. Mint makes it incredibly easy to set up an account, link your financial accounts and instantly start learning about and managing your spending and finances.
Mint's graphics make it easy to see where your money goes each month, and the app's budgeting tools simplify the process of setting and sticking to your targets. Moreover, its reminders and alerts save you time and money. Not bad for a free app.
Sure, you might have to put up with a stream of ads, and you could encounter glitches that force you to disconnect and reconnect your financial accounts, but overall, those issues are a minor nuisance compared to the free financial tools you gain from using Mint.