3 Things You Really Should Know About Mobile Payments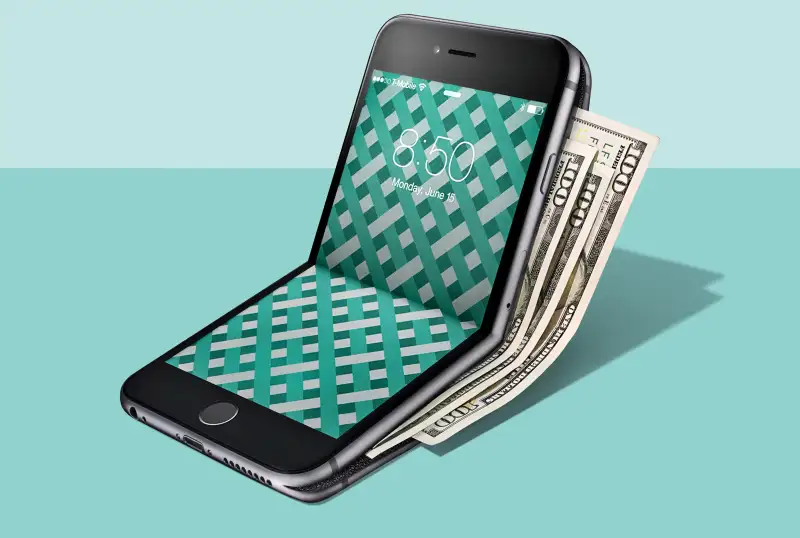 Tech companies and retailers seem convinced that you'd rather wave your smartphone at a store register than pull out a debit card, credit card, or cash. Apple made a big splash when it unveiled its mobile-payment system, Apple Pay, in 2014. Now Samsung has announced that its newest phones will come with proprietary payment software. And a consortium of stores that includes CVS, Target, and Wal-Mart also plans to roll out a payment app in 2015.
Mobile payment is super-hot—except with consumers. While about half of mobile users are comfortable using their phones for banking, only 13% have used their devices to pay at a restaurant or store, the Federal Reserve found. Just a third feel mobile payments are safe.
Over the next few years, though, you're likely to see a shift: While in 2014 consumers made $4 billion of in-store purchases via mobile devices, Forrester Research expects that by 2019 that figure will swell to $34 billion. So is now the time to ditch your old-fashioned wallet for a newfangled digital version? Here's some help with the decision.
Pro: Mobile payment is easy to use

The mobile-payment options available today basically all work the same way, says Ron Shevlin, research director with banking consulting firm Cornerstone Advisors. You enter your credit card or debit card info into an app ahead of time. Then, at a store, you launch the app and have the cashier scan it, or you tap your phone on the pad. The phone is a proxy for your card. "It's just different ways of executing the transaction," Shevlin says.
Some retailers, such as Starbucks and Dunkin' Donuts, have their own apps. Other systems let you pay at multiple retailers; Google Wallet and Apple Pay, which come on Android devices and recent iPhones, respectively, are the biggest of this kind. Apple has made the process particularly seamless: At a store, the phone wakes up automatically, and you simply wave or tap it at the register, then approve a purchase with your thumbprint.
Pro: It's safer than plastic
Despite consumers' fears, paying with a mobile device may actually be safer than using a credit card, says Bryan Yeager, an analyst who covers emerging digital trends for eMarketer. Most apps generate a unique bar code for each transaction instead of sending card digits into the ether. Apple Pay doesn't store your credit card info at all; your device is linked to your card with a special code. At the register, the phone sends a one-time-use security code, or "token," to the merchant that would be meaningless to hackers; you authorize the purchase via fingerprint, which provides extra protection.
Still, no system is perfect, and some mobile-payment apps are relatively untested. Fortunately, all credit and debit fraud protections do apply to mobile transactions.

Con: You can't use it everywhere
The biggest problem with mobile-payment apps: You can't count on being able to use them. Which system you have access to depends on what phone you have, and you're also limited by what stores will accept.
Apple Pay and Google Wallet are the most widely accepted right now. Theoretically you can use either at any retailer equipped with the latest contactless credit card terminal. By October, most stores will have to update their machines anyway in order to be compatible with new chip-enabled credit cards. So many stores will also buy terminals with the contactless technology. But just because a retailer can accept mobile payment doesn't mean it will. With plans to launch their own payment system, Wal-Mart, CVS, and Target are among the large retailers blocking Apple Pay and Google Wallet on their terminals.
Verdict: Hang on a bit
Within three years "we're expecting a few major players to take large parts of the market," says Mary Monahan, research director of mobile for Javelin Strategy & Research. For now, however, there's too much fragmentation for mobile payment to practically replace cash, credit, and debit. And other than earning you cool cred, there's no advantage to rushing in. Paying with your phone is no faster or easier than using a card—though eventually mobile-pay providers may use rewards to motivate you. "Retailers seem to think that if you just offer mobile capability, people will use it," Shevlin notes, "but they're going to need to give consumers a real benefit."
Read next: Apple Pay Is Creaming Walmart in the Mobile Payment Wars