Money Makeover: Fix Our Mix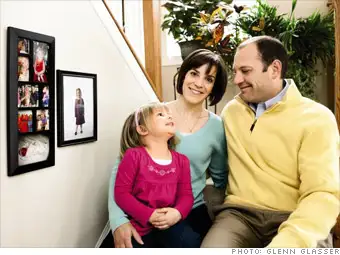 Robert And Sharon Nelson have no trouble saving. They're setting aside nearly 14% of their income for retirement and have amassed more than $250,000 overall. And since Robert is an instructor at Penn State, the couple's 4-year-old daughter, Olivia, is nearly set for college -- the school will pay 75% of her tuition if she attends.
But Robert, 40, and Sharon, 37, a sales commission manager, want to retire once Olivia is out of school, and they're not sure if they're on track.
For one thing, the Nelsons don't know whether their money is in the right mix of investments.
"It seems like we're doing stuff, but I don't know if it's the right stuff," Robert says.
Adding to their challenge: The Nelsons have four 401(k)s and one 403(b) plan at various employers, making it hard to keep track of their overall allocations. Robert has a great state pension that will make it easier to retire early, but he knows they'll need to change their investing plan to make up the rest.
The solution
1. Cut back on cash.
The Nelsons have $80,000 in emergency cash. That's 20% too much, says adviser Lee Pelko of Lancaster, Pa. Plus, only $15,000 of their rainy-day fund needs to sit in savings and money-market accounts. The rest can go into higher-yielding options like laddered CDs and short-term bond funds.
2. Boost equities.
A 50% stake in stocks won't let them retire early. Pelko suggests raising it to at least 60% and investing in small-cap and foreign stock funds. Though Robert has the security of a pension, that's as aggressive as he wants to be.
3. Consolidate old 401(k)s.
By rolling over old accounts into one IRA, they can simplify while increasing their investment options.