Who Can You Get Away With NOT Tipping Around the Holidays?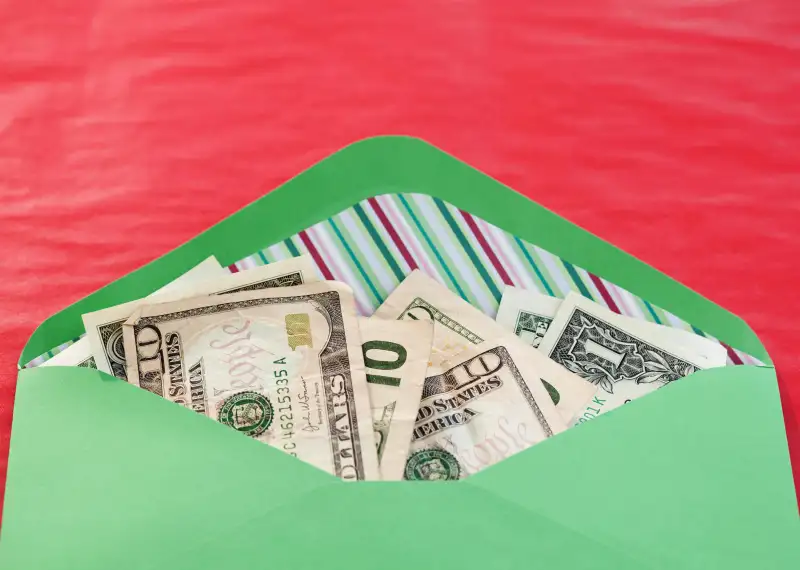 Tipping, fraught as it with misconceptions and confusing "rules," is an especially stressful prospect around the holidays, when tips are expected to represent a year's worth of gratitude for the people performing services in our lives. Still, there's hardly any consensus on how much to give. According to a Care.com survey, 31% of people give no holiday tips whatsoever, while 14% of say they spend less than $50 on holiday tips, 45% spend more than $150, and 17% are heavy tippers that drop more than $300.
What's more, even though the issue of holiday tipping arises annually, there are still thorny questions that pop up. Sure, you can look up what you're supposed to tip your hairdresser or pet sitter at a guide like this, but what about instances in which it's unclear if you should tip, or situations when certain kinds of tips may be inappropriate or send the wrong message.
Here are a few tricky situations—and answers from etiquette experts.
Are there people I should avoid tipping altogether?
Tipping isn't always appropriate in certain circumstances, depending on someone's position. "You have to think about who's receiving it, and what potentially a tip could say in that situation," says Lizzie Post, author and spokesperson for the Emily Post Institute. "For instance, staff at a nursing home might not be allowed to receive cash gifts because it might look like a bribe."
Likewise, it's bad form to tip high-paid professionals with cash or a cash equivalent, such as a gift card. "You don't tip dentists or doctors or accountants or lawyers," says Diane Gottsman, national etiquette expert and founder of the Protocol School of Texas. "That's a commonly asked question that people don't really understand." If you really want to give them something, go with homemade holiday treats, a gift basket, or bottle of wine, along with a nice handwritten note.
In other situations, employers may enforce strict guidelines on what workers can receive. United States Postal Service employees, for instance, are not supposed to accept cash or gift cards, and holiday gifts valued at more than $20 are not allowed either. Cash tips might also be limited for delivery drivers, school bus drivers, teachers, and flight attendants. A quick Google search or a call to the employer will generally shed light on the situation. If there's someone you'd like to tip who cannot accept cash, consider a nice note, a gift card or a small (thoughtful) gift within permitted value limits.
Everyone knows you tip the doorman if you live in a city. Who do you tip if you live in the suburbs?
If someone comes to your house to perform a service regularly, that's someone you should at least consider tipping. Who these people are will differ depending on your lifestyle and where you live. "In Vermont, one of the biggest people you have to tip is the plow guy," Post says. For others, the top household service category for tipping might be the landscaping company.
Two people regularly clean my house, but occasionally a third person joins them. Do I tip all three? Equally?
It's appropriate to tip the third person in relation to her time at your house. "If they accompany the other two cleaners a quarter of the time, for example, you can give them a quarter of what you pay to have your house cleaned," says Jacqueline Whitmore, an etiquette expert and founding director of the Protocol School of Palm Beach, who recommends a holiday tip amount of roughly the cost of one cleaning.
Do I tip my new nanny/babysitter as much as one who has been with our family for years?
Remember: A holiday tip is a gift. It's not mandatory, and it greatly depends on your relationship with that person. You probably wouldn't give a friend you'd just met an extravagant holiday gift, and you're not obligated to give an extra week's pay—the fairly standard holiday tip amount for a nanny or sitter—to someone who's only worked for you for a month or two. "You want to be courteous and generous, but within your budget and within what feels comfortable to you," Gottsman says. "You might want to give half a week's salary or a gift card or gift from your child, which might be something you know they need or want."
Should I tip the personal trainer? The workers who babysit my child at the gym? The school crossing guard?
If you feel these people make a big difference in your life, or that they go above and beyond what's expected on the job, by all means tip. For personal trainers, a holiday tip is traditionally up to the cost of one session. Daycare workers at the gym will appreciate a small gift, but it's by no means mandatory. School crossing guards aren't traditionally tipped, so that one's up to you. "If there's someone that you see and you would like to make their season brighter, go for it," Post says. "You're looking to say 'thank you for all you do.'"
Obviously you don't tip the boss, but is a gift appropriate?
Again, it's not mandatory, and depending on where you work, it may not be remotely expected. When a gift does seem like a good idea, it's best to give your boss something from the group of workers as a whole, etiquette gurus say. "If you want, you can bring your boss something special that you know he or she likes, like a package of ground coffee or a box of fruit or something you've made from home," Gottsman says. "But you're not going to give him or her anything personal, like a sweater or a tie."