Drivers May Soon Get More Money Back From Car Insurance Companies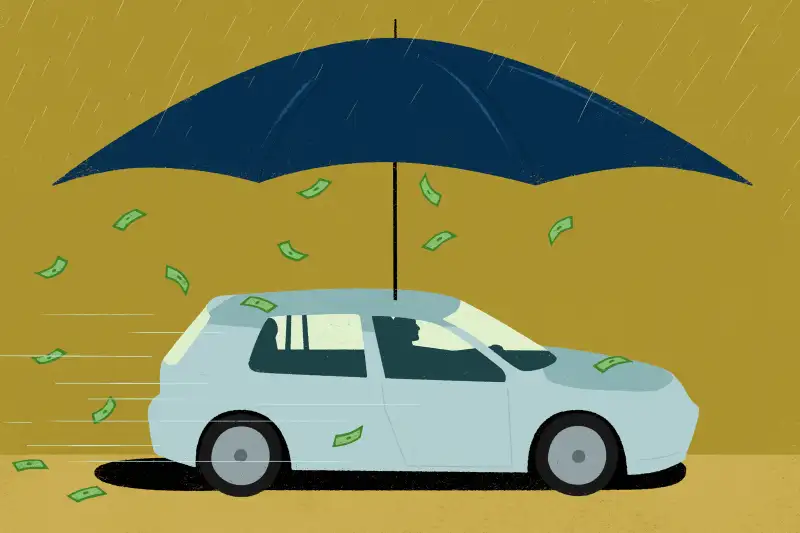 If you welcomed last year's givebacks on your car insurance, you'll be happy to know the breaks on those costs may not be over.
After the pandemic prompted Americans to be at home more and behind the wheel less, most major car insurers returned around 15% of drivers' premiums for at some months of 2020. The givebacks totalled roughly $14 billion. Consumer advocates applauded the move -- but also said the amounts returned were not enough.
Now more money will be back into the pockets of at least some drivers. One influential state insurance regulator has agreed that insurers didn't go far enough in last year's givebacks. And some fed-up drivers are pinning their hopes on a class-action lawsuit to reclaim the money they paid.
Consumer advocates hope this is the beginning of a reckoning for car insurance companies that will lead to premiums being returned to drivers across the board.
Here's what's underway now that could eventually result in more of your 2020 insurance premiums being returned to you.
One state regulator delivers
Car insurance is regulated at the state level. And so far, regulators in only one state have demanded additional givebacks. But it's a big and influential state, and the move is an important first step, say experts.
Earlier this month, the California Insurance Commissioner ordered insurers to dig deeper into their pockets, after determining that the average rebates issued from March through September to drivers in the state should have been double what drivers actually received, which means further rebates or 15% or so are possible. Officials found that both the number and cost of claims fell during those months, even as several insurers reported earnings that included big increases in what they made from car insurance.
It isn't yet clear when and how the premiums will be returned to drivers; the California commissioner gave insurance companies until April 30 to announce a plan for the givebacks.
"The profits these insurance companies reported for their auto lines have been historic," says Douglas Heller, an insurance expert with Consumer Federation of America. The amounts they returned, he says, were tiny by comparison.
California's move won't help out drivers in other states right away, although Heller says it is a step in the right direction. "At the moment, we have not seen the kind of response from other state insurance commissioners that consumers need and deserve," he says.
Heller is hopeful that other state insurance commissioners will follow California's lead and push insurers to deliver additional refunds to the many people who curtailed their driving as a result of the pandemic. "This was a nationwide event," he says. "That reduction in our risk meant that we were overpaying for auto insurance in every corner of the country."
Class-action suits loom
Some drivers aren't waiting for state insurance officials to take action. They're taking to the courts instead.
In February, a Las Vegas-based law firm filed 10 class-action lawsuits on behalf of drivers in Nevada it says were overcharged by car insurance companies. The suits against Geico, State Farm, Progressive, Allstate, Nationwide, USAA, Farmers, Travelers, Acuity, and Liberty Mutual charge that the refunds these companies issued didn't constitute "fair or meaningful relief."
Jacob van Cleef, consumer watchdog associate at U.S. PIRG, has mixed feelings about the legal challenges.
"It's good in that it will bring more focus on the issue," he says, but he adds that consumers are better served by regulators looking out for their interests. "I don't want consumers to be the ones to have to put in the money and time to get something they're already owed," he says.
Also, legal actions can take a very long time to play out, van Cleef adds. "Mandating these types of refunds is much quicker than going through the courts."
What drivers can do
Heller urges people to pick up the phone and urge their state's insurance regulator to revisit last year's premium refunds. If you're still working from home or have circumstances that otherwise restrict your driving, he also recommends checking your current policy to make sure that you weren't renewed using your old, pre-pandemic mileage estimate.
For his part, van Cleef predicts that the brighter spotlight on this issue will mean it's only a matter of time before other states can no longer look away. "As this builds up steam, I wouldn't be surprised if other states at least take a look at this," he says. "California's kind of been at the forefront. What I think it can do is it'll show other states that this is something they can and should do."
More from MONEY:
Car Insurance Costs Dropped Due To The Pandemic. What Do Experts Predict for 2021?
The Best Cheap Car Insurance for 2021
Your Car Insurance App Can Be Incredibly Helpful After an Accident