Here's What Every Single Person in a $200M Movie Gets Paid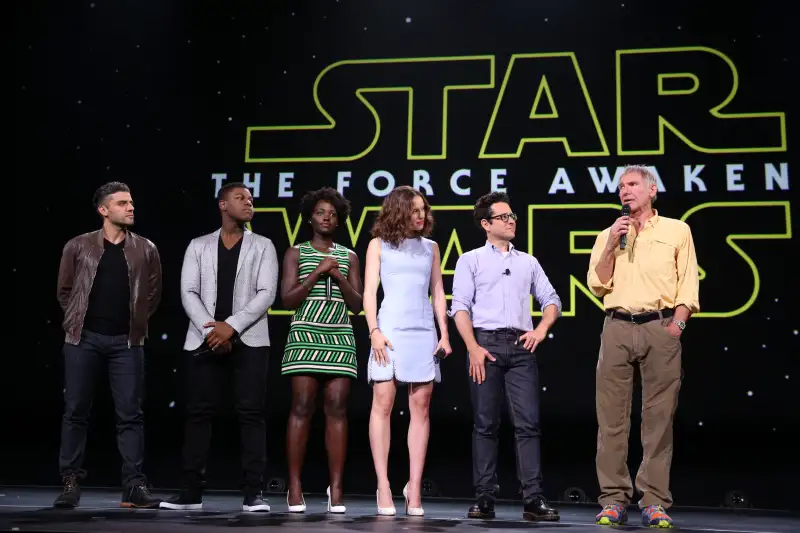 Jesse Grant—Getty Images/Disney
The list of credits at the end of a massive summer movie is very long—a $200 million budget buys you a lot of labor. If you've ever wondered who makes how much in a movie like Star Wars: The Force Awakens, Iron Man 3, or a Daniel Craig James Bond movie, Vanity Fair just created a faux credit sequence that reads like a receipt.
Now we can actually see how much that Key Grip makes.
Being a hypothetical movie, it's obviously an approximation, but it's interesting to see the monetary hierarchy in the movie business.
Here are a few examples:
Director: $4 million
Executive Producer #1: $1.1 million
Executive Producer #2: $1.0 million
Producers: $1 million
Top-Billed Writer: $3.25 million
Other Writers: $900,000, $250,000
Director of Photography: $900,000
Production Designer: $779,688
Lead Actor #1: $12 milion
Lead Actor #2: $4.5 million
Lead Actor #3: $1.5 million
Dialect Coach for Lead Actor #3: $45,800
Assistant #2 for Lead Actor #1: $34,000
Parking Coordinator: $35,040
While the Vanity Fair credits do illustrate interesting tidbits of the film industry (star-cameo can net $75,000?), its politically correct un-gendered terminology for job titles (all genders are "actor") does mean that no light is shed on the controversies regarding the Hollywood pay gaps for women.
As Jennifer Lawrence wrote last year in Lena Dunham's Lenny newsletter, she—and most women—are paid less than male counterparts, even if they've received the most coveted award for acting—a golden statue of a man—and are a huge draw at the box office.
But wow, you can get $65,884 for just holding a boom!