How to Stage a Career Comeback Like Muhammad Ali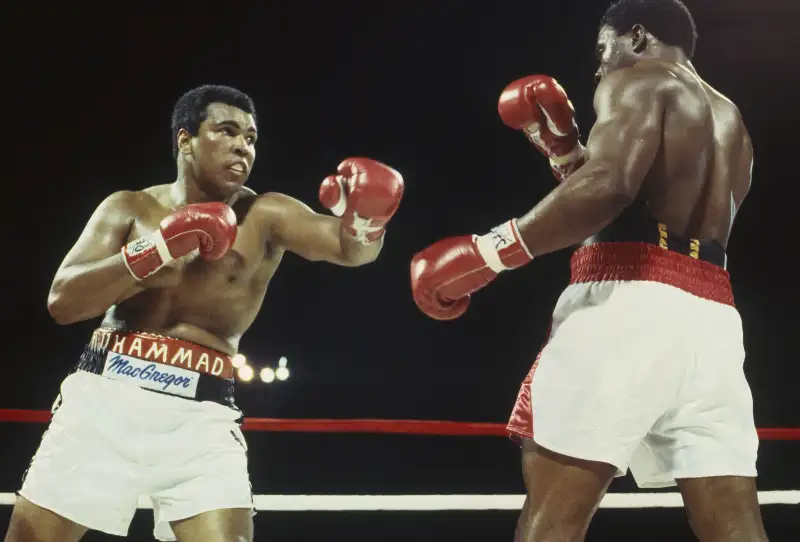 Focus on Sport/Getty Images
Former boxer Muhammad Ali has died at the age of 74. Born Cassius Marcellus Clay Jr. and named the greatest heavyweight boxer of all time, he was the first three-time heavyweight champion, with 37 knockouts to his credit. But Ali was a lot more than just a guy who could punch—among other things, he was also master of re-invention.
Ali's celebrity and persona were so imposing that it's easy to forget his professional struggles, many of which were daunting. But it's important to give as much attention to his losses as his victories, because the way he got back up after every knockout sets a good example for those of us who have found ourselves at a mid-career impasse, with few options.
His professional boxing career began in 1960, and in 1964 he made international headlines by beating the unbeatable Sonny Liston in a major upset. While the heavyweight champion of the world, he converted to Islam and took the name Muhammad Ali, embarking on a career in which he successfully defended his title over and over again.
But it all came to a screeching halt in 1967, when he was drafted into the armed forces. Unlike Elvis Presley, he refused to go.
"I ain't got nothing against no Viet Cong," he said at the time. "No Viet Cong never called me ni**er."
It was a brave, principled stand, and it resulted in him being stripped of his title in every state in America. He also had his passport revoked, effectively ending his career at its peak. He was 25.
Ali appealed his draft evasion conviction, taking it all the way to the U.S. Supreme Court. It was finally overturned in 1971, but by then Ali was 29 years old and had missed what should have been his peak years as an athlete. Could he still deliver the way he had in his prime? Could he deliver at all?
At first, the answer was no. In March 1971, he challenged then-heavyweight champion Joe Frazier in what was dubbed "The Fight of the Century." Ali lost the bout, his first professional defeat. But he had gone all 15 rounds, and his comments to reporters after the fight that Frazier "would have licked me quicker because I wasn't as strong as I am now" showed a man who had decided that losing had not ended his career. It just meant his resurgence would take a little longer.
Over the next two years, Ali fought again several times, finally facing Frazier again in a 1974 rematch. Frazier had lost his heavyweight title to George Foreman, and this time, Ali won the bout by unanimous decision. He was now poised to face Foreman and reclaim the title that was taken away from him seven years earlier.
Foreman and Ali faced off in Zaire in a fight nicknamed "The Rumble in the Jungle." Foreman was heavily favored to win – he had one of the hardest punches in heavyweight history, and that punch had taken away Frazier's title. Furthermore, Ali was now 32 years old, and simply didn't float like a butterfly or sting like a bee any more. The younger, scrappier fighter was long gone.
For much of the fight, Ali leaned against the boxing ring's ropes and let his opponent thrash him mercilessly. Ali, who had been conserving his strength until Foreman depleted his, eventually began punching back, and hard. By the eighth round, an utterly spent Foreman was on his back, knocked out by a man who had been thought too old to win. Ali had regained his title by knockout, and had done it by relying on strategy, as only an older, more experienced fighter could.
"I'll admit it," Foreman would later say. "Muhammad outthought me and outfought me."
READ NEXT: The 21 Most Valuable Career Skills Now
Ali retired from boxing in 1981 and was diagnosed with Parkinson's Disease in 1984. Even so, he refused to fade away into a life of falling asleep in his recliner in front of the Golf Channel. Instead, he re-invented himself as an elder statesman, doing everything from acting as a guest official for WrestleMania to visiting Iraq in 1990 to meet with Saddam Hussein and successfully negotiate the release of 15 American hostages. He may not have been able to box any more, but he could still find an opening, still outthink his opponent, and still wouldn't stay down.
To anyone who saw him fight or verbally spar with reporters, Ali was a larger-than-life figure. Even after years of illness and physical decline, he somehow seemed impervious to death. Nevertheless, this overlooks an important point. Muhammad Ali's strength wasn't invincibility. It was his refusal to stay down.
Few athletes have had their careers pronounced dead the way his was, only to see the doubters silenced and proven wrong. There's an important lesson in that for the rest of us: We're only down when we tell ourselves to stay down.
Even if we find ourselves running into professional brick walls due to age, changing technology, or a changing workplace culture, there's always an opportunity for someone who refuses to be defined by defeat.
Daniel Bukszpan is a New York-based freelance writer.