Test Drive the Fun and Affordable Mustang GT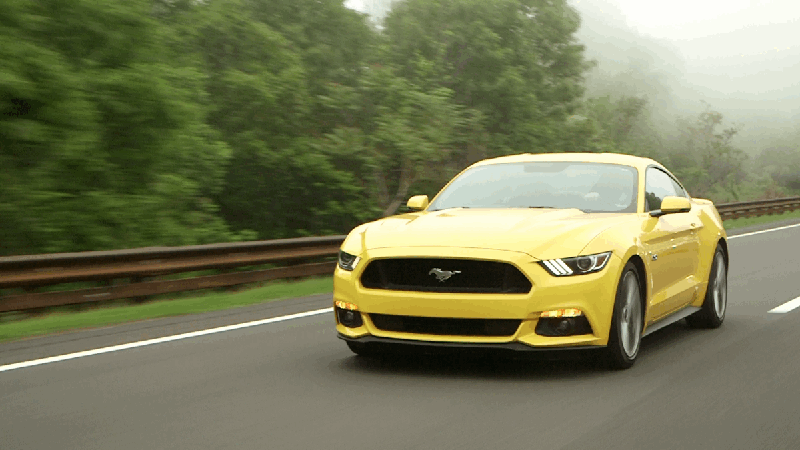 When Carroll Shelby was asked by Ford in 1964 to build a GT version of its new Mustang, the race car builder didn't hide his derision. "I don't know. It's a secretary's car," he told Lee Iacocca, according to Go Like Hell, a very readable history of Henry Ford II's obsession with beating Ferrari on the track. Shelby was right in that Ford created Mustang as much for young women—a schoolteacher bought the very first one—as for hot rodders. Still, The Deuce paid Shelby's bills, so Ford got what it wanted.
And what Ford got was epic: the Mustang GT350. Shelby would also build the equally famous Cobra Mustang, early versions of which now trade for north of $1 million. Although Mustang has had its ups and downs (say, the 1980s), Shelby's racing heart still beats today in the 2015 version of the GT, the latest in the 50th anniversary year of the Mustang.
What Shelby first created was nothing pretentious, just a stunning amount of engine jammed in that puny Pony body. The first GT350 used a modified 289 (about 4.8 liters) small-block V-8 that pushed out 305 horsepower. The current GT lives up to the legend, putting forth 435 hp out of a 5.0-liter V-8. Unlike the original GT, this one has a back seat, although it's quite useless.
What I've liked about the last couple of GTs is that toeing the gas pedal on one of these things is like kicking the dragon. The GT is a firebreather. No, it's not quite as fast as a Corvette, but at half the price it has more than enough fury in it to make you giddy as the speedometer jumps toward 100 miles per hour.
Likes its tamer six- and four-cylinder versions, the GT has been redesigned to be a global automobile. All earlier Mustangs were made in the U.S. and exported. Ford now wants to be able to build the Pony Car around the world. That necessitated some changes, and a challenge. As Mark Fields, who is now CEO, told me during the design process, the biggest challenge his team got from Ford chairman Bill Ford was, "Don't f--k it up."
They didn't. The 2015 Mustang is lower and wider than the fifth generation, with that distinctive Mustang fastback rear deck. But a couple of thing had to change. For one, the new model has independent rear suspension in place of the stiffer, solid axle in the back that racers favored. But after making that switch, Ford then realized that the front-end had to be changed too. It was. The result seems to be much better handling in the curves and, certainly in the 3.2-liter version, a much smoother ride—although it's never going to be buttery in a Mustang GT. It's just not made for that.
As is typical of Mustang, you can get in the car at fairly low price—$36,000 in the V-8 GT with a six-speed automatic—and then decide how much racier you want to get, in both style and performance. For instance, there's a limited-slip rear axle option and a bigger brake package that real racers favor. You can add Recaro racing chairs for an extra $1,700. That helped pushed our test GT up to $46,000. The car also comes with toggle-switch operated steering and driving modes: normal, sport, track, and rain/snow. The gauges also allow you to track your acceleration and race performance.
Not going to take it on the track? That's okay. Most Mustang owners won't, but driving down the road, everyone will certainly think you are.