How California's Wildfires Are Affecting the Wine Market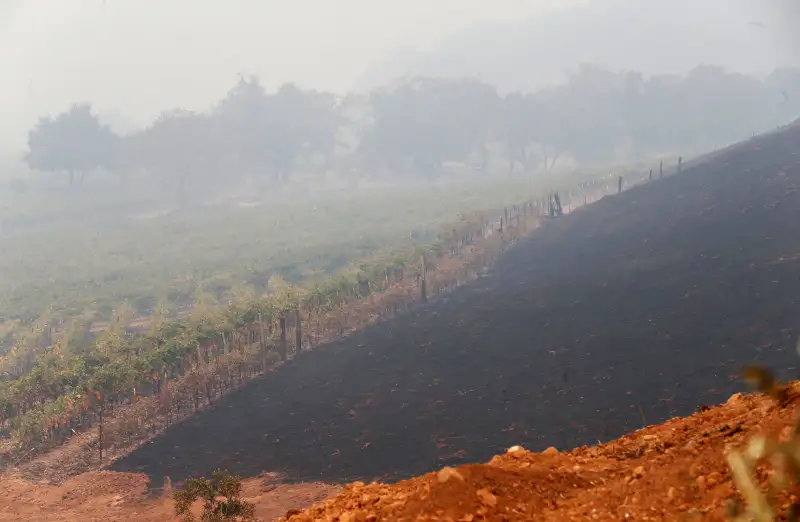 The wildfires burning in and around California's Napa Valley have now left 23 dead, 3,500 homes and businesses destroyed, and 170,000 acres scorched.
Many fear that California wine country will be devastated as well. But the impact on the broader market for California wines might not be as severe as some people think.
That's because the area traditionally thought of as California's "wine country" actually makes up only about 10% of the state's wine production, according to Stephen Rannekleiv, Global Sector Strategist for beverages at Rabobank. And these vineyards, from Napa, Sonoma, and Mendocino counties, produce wines that are almost exclusively at the high end of the wine rack.
Rather, it is the San Joaquin Valley in central California where the bulk of the state's vineyards grow — approximately 60%, he said.
The fires "are not going to have a significant impact on overall wine availability," Rannekleiv told Money. "If you are a general consumer, it's not going to have marked impact. But if you are a connoisseur and a fan of Napa, there may be some [popular] vineyards that have been affected."
The main difference between the two regions comes down less to quality than basic supply and demand, Rannekleiv said. The coastal region has reached the limit of how much more land can be turned into vineyard, making land (and thus production) more expensive. The coastal region also has a stronger brand and perception of quality behind it. Land in the San Joaquin Valley, on the other hand, is both more abundant and higher-yielding.
As a result, whereas Napa grapes will sell for $7,000 a ton, grapes from the San Joaquin Valley might go for $400 a ton. In general, Rannekleiv said, if a wine costs less than $25, or if its label says simply "California" instead of specifying Napa, Sonoma or Mendocino, it is likely from San Joaquin.
The toll from the fires continues to climb. Wine Spectator reported at 1 p.m. Pacific Standard Time Wednesday that there were 22 major fires in the state, with two new fires having sprung in in Sonoma County.
Among the California wineries located in the heart of the disaster area is Napa Valley's Signorello Estate, which has been destroyed by the fires. Justin Sternberg, chief operating officer of Epic Wines, which is based in Santa Rosa, Calif., and distribures Signorello Estate, said in an email that it was still too early to tell the immediate and mid-term impact on the Napa wine industry because fires are still burning. He noted that Signorello, like many other wineries, stores its completed wines offsite, so disruptions to sales are not anticipated for now.
"Our attention at this time is focused on the safety of both our staff as well as our winery partners," he said Tuesday.
Megghen Driscol, a representative for Napa-based Chimney Rock Winery, said their facilities had, somehow, been spared, despite being near the heart of one of the fires. But she told Money Wednesday that the Napa wine community is still in "shock" at what the fires have wrought. She noted many towns are still being evacuated, and that some wineries remain inaccessible — the Chimney Rock team actually had to hike in to assess their damage.
"It has been absolutely horrific — unlike anything I've ever experienced," she said, adding she has lived in the region for 20 years. "Someone used the word 'apocalyptic,' and when you look at the scenery, it's true. It's been devastating."