The Billionaire Doctor Who Just Bought the Los Angeles Times Is Being Sued By Cher and Has a History of Controversies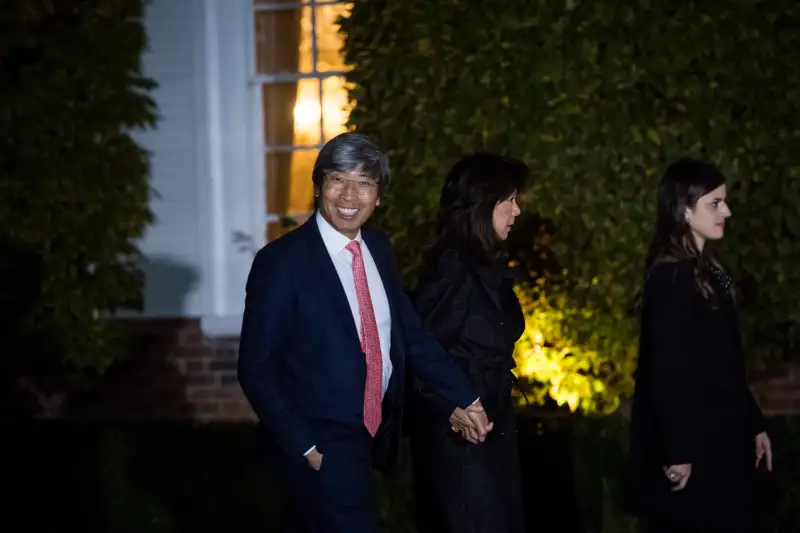 Jabin Botsford/The Washington Post—Getty Images
Patrick Soon-Shiong is no longer the world's richest doctor.
But the multi-billionaire still wields considerable influence over the country's pharma landscape—and now its media one, too. This week, Soon-Shiong, one of the richest men in California, purchased the Los Angeles Times and several other California newspapers for $500 million.
With a net worth of $8.6 billion, Soon-Shiong currently occupies the 170th spot on Bloomberg's list of world billionaires. But his career is riddled with controversy and shows that the climb to the top of the wealth heap often involves a monomaniacal commitment to aggrandizement that some would say tramples over ethics.
Forbes said Soon-Shiong has "a deep streak of P.T. Barnum showmanship—and a talent for pissing off investors and colleagues alike."
'Changing the World'
Soon-Shiong, 65, was born in South Africa where his Chinese parents fled to escape Japanese persecution during World War II. He attended medical school in Johannesburg and moved to Canada several years after graduating to complete his training. According to Fortune, he "published widely and won prizes for surgery and research" while in Vancouver, eventually catching the attention of UCLA's medical faculty. They successfully recruited him in 1983.
During his time there, Soon-Shiong is credited with performing the first pancreas transplant on the West Coast and the world's first pancreatic tissue transplant. The second procedure ended up failing and led to the suicide of the recipient. Soon-Shiong doesn't appear to have addressed the incident publicly.
Soon-Shiong left UCLA in the early 90s to turn his attention to drug development, focusing on improving a cancer drug then-marketed by Bristol Myers Squibb. When the Japanese-owned drug lab Soon-Shiong was working with announced it was selling its U.S. interests, Soon-Shiong was able to broker a deal to buy them out. The resulting firm, known as American Pharmaceutical Partners, went public in 2001 and made Soon-Shiong an overnight billionaire.
Controversial Billions
Darren McCollester—Getty Images for NantHealth, Inc
The IPO came just as Soon-Shiong was settling a suit against his brother, Terrence, and drugmaker Mylan. Both had invested in Soon-Shiong's business, and Terrence accused his brother of "betrayal, arrogance, greed, and personal aggrandizement that resulted in corporate misconduct of enormous proportions." Soon-Shiong ended up paying out $32 million.
In 2002, Soon-Shiong became the subject of a major New York Times investigative piece that probed links between his pharmaceutical company and Premier, a hospital buying group. The Times found Premier was illicitly steering patients toward American Pharmaceutical Partners products (Premier denied any wrongdoing). But the investigation didn't stop Soon-Shiong, who bought out the hospital group, further increasing his net worth.
Investors kept waiting for Soon-Shiong's company to fall apart, especially after it came to light that 75% of patients for one drug trial were from Russia—far from the industry norm. But in January 2005, Soon-Shiong received FDA approval for his company's principal drug, Abraxane, to treat breast cancer. The news sent his company's shares soaring. "Soon-Shiong memorialized his triumph by ordering up a batch of blue plastic paperweights emblazoned with the stock chart," Fortune says.
Three years later, he sold American Pharmaceutical Partners for $4.6 billion in cash to German drug manufacturer Fresenius. Soon-Shiong owned more than 80% of the stock, and his proceeds from the sale totaled approximately $3.8 billion, Bloomberg says. The Los Angeles Business Journal declared him the richest man in Los Angeles—wealthier than any Hollywood mogul. In 2010, Soon-Shiong sold another company for $2.9 billion to German biotech giant Celgene. Soon-Shiong took home approximately $2 billion in cash from the sale and a 2% stake in Celgene, which he is said to still hold today, per Bloomberg.
"He's done some things that have generated controversy," Michael G. King Jr., a biotechnology analyst for Wedbush Securities, told the New York Times in 2010. "But at the end of the day, [Abraxane, the cancer drug] is a good product." Not only has the drug been approved for use in treating breast cancer, it is said to extend the life of pancreatic cancer patients an average of two months.
Today, Soon-Shiong controls two other publicly traded biopharma companies, NantKwest and NatHealth, whose combined value equals about $650 million.
Investments, Philanthropy, Drama
His investments spread farther than medicine and media. In 2010, Soon-Shiong bought out Magic Johnson's $27 million stake in the Los Angeles Lakers, according to the Times.
Outside of those firms and basketball, Soon-Shiong continues to invest in non-profit activities, like a genome mapping project at the University of Utah.
However, Politico recently found that his philanthropical efforts are bound up in his business holdings. "The majority of the expenditures of his nonprofit research organization...flow to businesses and not-for-profits controlled by Soon-Shiong himself, and the majority of its grants have gone to entities that have business deals with his for-profit firms," the publication reported.
He has denied any wrongdoing.
Right now, Soon-Shiong is being sued by singer Cher for fraud. He has denied wrongdoing here as well.
Dined With Trump
Soon-Shiong has recently been courted in the highest echelons of Washington He has met numerous times with former Vice President Joe Biden about his cancer moonshot initiative and with now President Donald Trump during his presidential transition period (he was reportedly being considered for an administration position). Last May, House Speaker Paul Ryan appointed Soon-Shiong to a Health and Human Services advisory committee.
One quote seems to sum up Soon-Shiong's reputation: At an appearance at Arizona State University in 2012, the school's chief is said to have called him "an unshielded nuclear reactor."