Meet the Mysterious Billionaire Whose Social Media Company Has Become More Valuable Than Facebook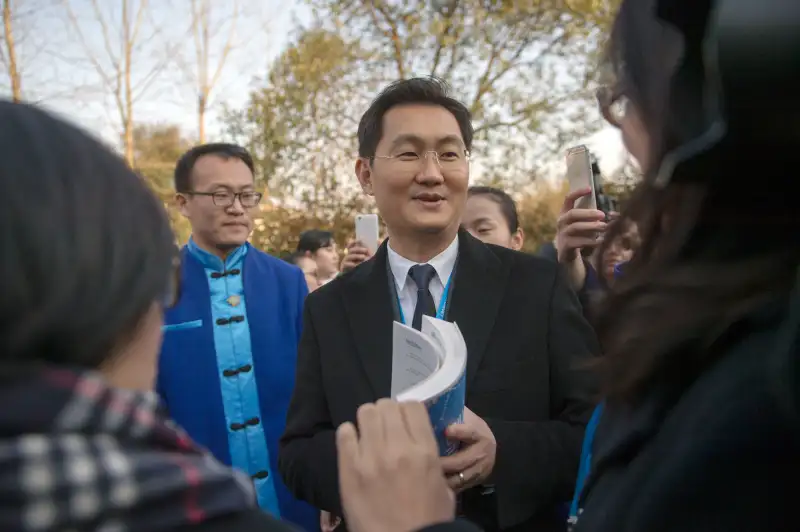 Zhejiang Daily—Zhejiang Daily/Imaginechina
You may not have heard of Tencent. But about 1/7th of the world has.
Last week, the Chinese Internet giant behind social media platforms like WeChat that together count more than 1 billion users briefly surpassed $530 billion in market capitalization — making it more valuable than Facebook.
That has made its founder, a 46-year-old man named Ma Huateng, who goes by "Pony," very wealthy.
Forbes now puts Ma's net worth at $47.8 billion — richer than either Google founder (Bloomberg's billionaire index values Ma slightly lower), and, now, the first Asian to crack Forbes' global top-10 richest list.
This year has been an exceptional one for Ma, thanks to surging stock prices in China. Prior to 2017, Ma was worth $20.8 billion, according to Bloomberg's billionaire index. In 2017 alone, Ma has made $21.5 billion according to the index — 5th-most on the index and second in China only to industrialist Hui Ka Yan, whom Money profiled earlier this year. Five of the top-10 wealth gainers in 2017 have been Chinese, according to Bloomberg.
But it is Ma — no relation to Yahoo owner Jack Ma — who is set to have an increasing presence on the world stage.
"Pony is unique in that he has been one of the most consistent players on the Hurun China Rich List," Rupert Hoogewerf, publisher of the Hurun rich list, which tracks Chinese wealth, told Money in an email. "I can't think of anyone else that has grown so consistently."
Here's what we know about this enigmatic figure.
HUMBLE ORIGINS
Zhejiang Daily—Zhejiang Daily/Imaginechina
Ma's background resembles many of the other mega-billionaires now being minted in China at an accelerating clip — namely, humble. He was born in 1971 and moved three times in his youth as his father sought work, according to Bloomberg; the elder Ma ultimately landed a job as a port manager.
Also like many of China's current tech titans, Ma capitalized on the country's then-virgin Internet sector, co-founding an instant messaging service in 1998 (he'd studied computer science in college). Ma, whose name translates as "horse" in English, named the company Tencent, a play on the Mandarin characters Teng and Xun, which together can mean "galloping message." (It's not clear when Ma, whose Mandarin given name is Huateng, took on the name "Pony," but it is increasingly popular among Chinese to adopt English names).
Ma took advantage of his own invention, meeting his wife through the chat service (they corresponded for three months before seeing each other in person, according to Bloomberg). Many others did too, and less than two years later it attracted $4.4 million in venture capital from one of Hong Kong's largest telecom firms.
'A DRUG'
Niu zai—Imaginechina/Getty Images
Tencent went public on the Hong Kong stock exchange in 2004, and in the same year it launched an online gaming platform. The company became a pioneer in making money off "in-app purchases" — encouraging players to buy things like special weapons or emoticons for pennies each. The platform quickly became the largest in China, and it remains so this day. Anyone who's ever played Honour of Kings, League of Legends, Clash of Clans, or Gears of War has in fact been playing games owned by Tencent. The Chinese government has called Honour of Kings a "drug," and Tencent agreed to limit the amount of time users under 18 could spend on it.
Tencent continued to add value as it doubled down on mobile services. By 2011, Tencent had over $3 billion in annual revenue and $1 billion in profit, and Ma was the 9th richest person in China according to Forbes.
The next year, the company launched WeChat. Unlike its previous offerings, which were mostly catered to a Chinese audience, WeChat became a global phenomenon, reaching more than 100 million users outside China within 12 months; it was the second-most-downloaded app in India for 2013, according to Fast Company.
This year the company's, and Ma's, fortunes reached the stratosphere. Tencent's share price has surged nearly 130 percent as WeChat has approached 1 billion users. It has used its cash to buy stakes in companies the world over, including here in the U.S.: Tesla, Snapchat and Lyft now all count Tencent as an investor.
'SOMEWHAT MYSTERIOUS'
Chonlachai—ShutterstockWeChat is shown here on a
Despite his titanic wealth, Ma remains press shy. He gave his first-ever interview to a foreign journalist in 2011, but revealed little about himself. In 2014, in one of the most in-depth profiles of Ma and Tencent to date, a Fast Company magazine correspondent called Ma "somewhat mysterious," adding he was the "least known multibillionaire in the tech world."
"The one attribute seemingly sanctioned for public consumption–and therefore, the one heard over and over–is that he is a 'computer geek,'" the magazine's Dorinda Elliott wrote. "His personal life is a mystery. Even Tencent analysts in Hong Kong aren't able to say whether he lives there or across the border in Shenzhen, where his company is based–or both."
One employee did note that at the company, everyone was, figuratively, considered on the same rung: "It's very equal here. We all call him Pony!" she said.
Ma has admitted an interest in astronomy. This summer, Tencent invested in startups looking to mine both the moon and asteroids for natural resources.
"We're open to the unexpected," David Wallerstein, Tencent's "chief exploration officer," told Bloomberg. "We'd like to see how far humanity can push the frontier and there are these open questions, what can we do beyond Earth."
Local reports have indicated Ma owns millions' worth of property in Hong Kong, as well as a valuable art collection.
'SCORPION'
More well known is Ma's and Tencent's overall posture — sheer aggressiveness. According to Elliott, Tencent has always had a reputation for copycatting other's products — even its original chat service bore a striking resemblance to an Israeli company's. A popular saying among Chinese startup founders who believe Tencent unfairly jumps on their ideas is "Life, Death, or Tencent" — in other words, if they can't gain traction fast enough, they will either flame out or be captured in one way or another by Ma's company.
"Pony Ma is like a scorpion," one analyst told Elliott. "He doesn't talk much but is always thinking about strategy. He hides in the back and is very focused, and then he strikes."