Nasdaq 5000: Three Reasons "This Time Is Different" Doesn't Fly
Money is not a client of any investment adviser featured on this page. The information provided on this page is for educational purposes only and is not intended as investment advice. Money does not offer advisory services.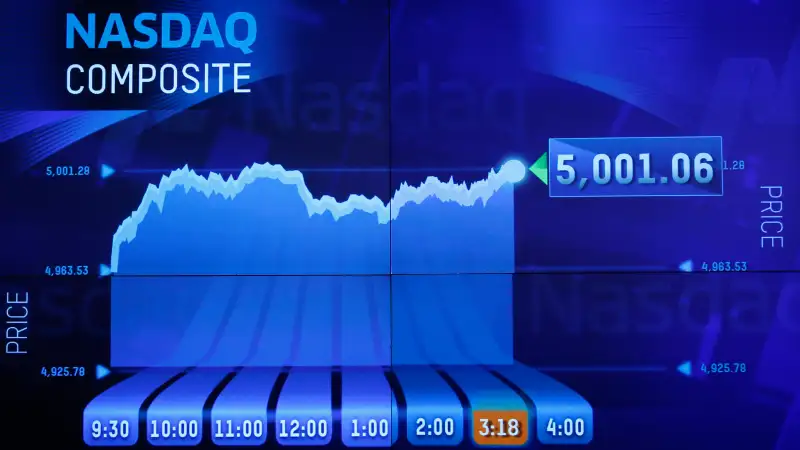 Shannon Stapleton—Reuters
For only the second time ever, the Nasdaq composite index has climbed above the 5,000 mark — 15 years after momentarily accomplishing this feat just before the tech wreck in 2000.
This has led to a chorus of articles about how things are different from a decade and a half ago.
For instance, some have argued that the Nasdaq is not the same tech-heavy index it was in the late 1990s, when tech giants like Microsoft and Cisco Systems dominated the market. Others note that the Nasdaq is a bargain compared to March 10, 2000, when it hit 5048 and the dot.com bubble burst. And still others say there is much less euphoria surrounding the tech economy than in the 1990s.
Really?
Let's explore these arguments.
1) Yes, tech makes up slightly less of this index than it once did. But the Nasdaq is still extremely tech-centric. In March 2000, technology stocks accounted for half the Nasdaq's stock market value, and the top holdings consisted of Cisco Systems, Microsoft, Intel, Qualcomm, and Oracle. And today? Tech is 47% of the index, and the top stocks in the index are Apple, Microsoft, Google, Intel, Facebook, Amazon.com, and Cisco. So have things really changed? Not so much.
2) Yes, parts of the Nasdaq are cheaper than they were in the 1990s. For instance, Microsoft, Intel and Cisco all trade at discounts to the S&P 500. But comparing today's Nasdaq to the Nasdaq of 2000 is sort of like comparing all windy days to Hurricane Sandy. Sure, by comparison things seem calmer.
At a price/earnings ratio of 21.5, today's Nasdaq looks "reasonably" priced compared to its once-in-a-lifetime P/E of 175 in 2000. But it's foolish to make relative judgments against such historically extreme cases, says Greg Schultz, a principal with Asset Allocation Advisors. The fact is, at an average P/E of 21.5, the Nasdaq is still considerably more expensive than the Dow Jones industrial average, the S&P 500, European stocks, emerging market stocks, and the list goes on and on.
3) The tech economy has matured. Yes, there are mature technology companies, such as Microsoft, Cisco, and Intel, which all now cash-rich dividend-paying stocks that yield more than the broad market and trade at decent valuations. But giant mainstream computer-based tech giants are no longer the focal point of the tech economy or the Nasdaq.
Last year, Ben Inker, co-head of asset allocation at the investment firm GMO, pointed out that the euphoria had shifted to smaller health-care and biotech names. He was right. Biotech stocks such as Isis Pharmaceuticals (up 538% since 2013; no profits) and drugmaker Incyte (up 422% since 2013; no profits) are now the hottest part of the Nasdaq. Overall, the Nasdaq Biotech index now trades at P/E of around 50.
Meanwhile, many of the Nasdaq's hottest social and streaming media stocks this year — including Twitter, Netflix — are either profitless or trading at astronomical PE's.
And as Fortune magazine recently pointed out in its cover story, The Age of Unicorns, tech entrepreneurs and venture capitalists only seem to get excited these days if they can create startups that are instantly valued at $1 billion or more.
So how sure are you that the Nasdaq isn't partying—at least a little—like it's 1999?