The Stock Market Is Plunging Again. This Time, It's About Trump
Money is not a client of any investment adviser featured on this page. The information provided on this page is for educational purposes only and is not intended as investment advice. Money does not offer advisory services.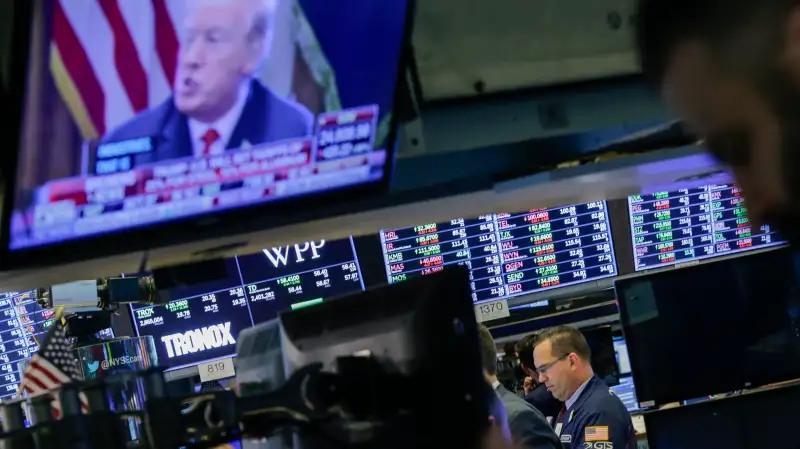 Eduardo Munoz Alvarez—Getty Images
Just when it looked like it was finally safe to go back into the stock market, the bears have come roaring back.
And once again, Wall Street is blaming the White House.
After falling 420 points on Thursday, the Dow Jones industrial average tumbled another 300 points early Friday morning, and is down more than 1,500 points in total since Tuesday afternoon. This week's selling rekindled fears of the early February market plunge, which shaved more than 3,000 points off the Dow.
What's Spooking Stocks This Time?
Stocks plummeted Thursday immediately after the Trump administration's move to impose 25% tariffs on imported steel and 10% tariffs on aluminum to protect U.S. jobs in those industries.
The president said those duties would likely be imposed "for a long period of time."
While domestic steel and aluminum stocks rose on the announcement—shares of AK Steel Holding, for instance, jumped nearly 10%—companies that use steel and aluminum took a big hit on fears that higher costs of the raw materials will either hurt sales (if they are passed onto consumers) or eat into profits (if companies can't pass along the higher costs).
Shares of the automaker General Motors, for instance, fell 4% while construction equipment maker Caterpillar fell around 3%. Many beverage companies that use aluminum cans also took a hit. PepsiCo shares fell 1.5%.
"Steeper tariffs increase the risk of retaliation from trading partners as well as unintended negative effects on the profits of U.S. industries that are heavy steel consumers," said Morningstar analyst Andrew Lane.
In a statement, the U.S. brewer MillerCoors noted that "we are disappointed with President Trump's announcement of a 10% tariff on aluminum."
"Like most brewers, we are selling an increasing amount of our beers in aluminum cans," the company said—"and this action will cause aluminum prices to rise. It is likely to lead to job losses across the beer industry."
So Are Stocks Falling on Inflation Fears Again?
Sort of — but this time, investors have a different spin on how inflation could wreck the economy.
The stock plunge in early February was triggered by fears that the economy was overheating—in part due to the additional stimulus created by corporate and income tax cuts pushed by the Trump Administration.
At the time, the concern on Wall Street was that the accelerating economy would lead to a spike in inflation, which would then require the Federal Reserve to step in and raise rates aggressively to keep prices stable. And that in turn, investors thought, could slam the brakes on the recovery—which is why stocks tumbled.
This time, the concern is more direct. Investors fear that tariffs would not only lead to rising costs for manufacturers that use steel and aluminum, but also trigger a global trade war that raises prices on consumers in general—which in turn would slow economic growth.
Can Steel Tariffs Trigger a Recession?
On their own, no. While steel and aluminum are integral parts of the manufacturing process, aluminum and steel imports represent only around 2% of total imports.
And it's unclear how inflationary those tariffs would ultimately be, since it's not known how long they will last. Barclays Research estimates that at these tariff levels, inflation is likely to rise by an additional 0.1 percentage points, while gross domestic product growth could slip by 0.1 to 0.2 points.
The bigger concern: Are these tariffs just the tip of a global trade war iceberg?
"The risk to the outlook lies in the response of U.S trading partners and whether the administration's decision to impose restrictive trade policies is only the first in a series of moves," Barclays noted in a research report.
Already, U.S. trade partners are weighing in and threatening a response—at the very least, an appeal to the World Trade Organization.
"We will not sit idly while our industry is hit with unfair measures that put thousands of European jobs at risk," said Jean-Claude Juncker, president of the European Commission in prepared remarks. The European Union "will react firmly and commensurately to defend our interests. The commission will bring forward in the next few days a proposal for WTO-compatible countermeasures against the U.S. to rebalance the situation."
What Do Economists Think?
Most economists have been critical of the Trump administration's moves, as they fear the implications of a global trade war.
"Tariffs would probably have the unfortunate effect of both slowing growth and accelerating inflation, and that's not a good thing," Ward McCarthy, chief financial economist at Jefferies, told CNBC. "For this economy, this is the worst possible time to be doing that."
Adam Posen, president of the Peterson Institution for International Economics, was more direct. "This is just straight up stupid," he told CNBC. "This is fundamentally incompetent, corrupt, or misguided."
Brad McMillan, chief investment officer for Commonwealth Financial Network, says that the tariff issue is a real headwind that the markets can't ignore.
"I am not one to overreact—'keep calm and carry on' is my default answer—but this really could be something new and worse than we have seen so far," he says. He notes that the input costs for companies that use steel or aluminum "have just gone up substantially. According to a UBS analyst, Ford's costs just went up by $300 million, while GM's went up by $200 million. Other companies will be similarly affected."
David Kotok, chairman and chief investment officer for Cumberland Advisors, adds that it will take probably take time for the financial and political costs of protectionist policies to show up in the economy and the markets.
"What the markets will do now is difficult to determine," he says. "What Trump will do is impossible to predict. But we do know from history that protectionism results in higher inflation and slower growth over time."