A 100-Year Curse on GOP Presidents Might Explain Why Stocks Are Tumbling
Money is not a client of any investment adviser featured on this page. The information provided on this page is for educational purposes only and is not intended as investment advice. Money does not offer advisory services.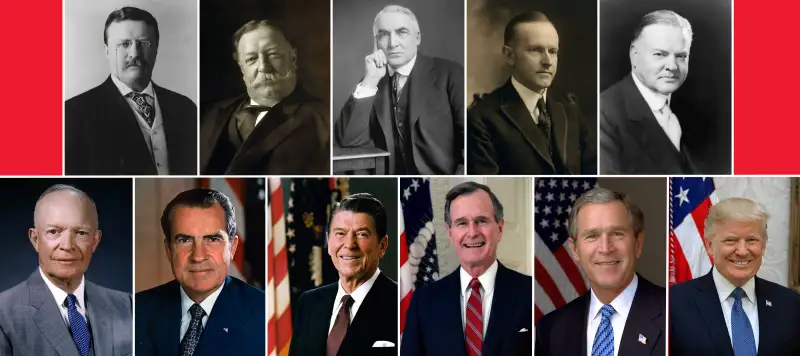 Every Republican president since Teddy Roosevelt has experienced a recession in his first two years in office.
Theories abound as to why the stock market seems to be falling apart — with the Dow Jones industrial average plunging another 1,000 points on Thursday and slipping into an official "correction."
Some think this is a sign investors are scared of rising interest rates and inflation. Others believe the market simply got ahead of itself last year. And still others blame a slew of new-fangled leveraged investment funds that let investors bet on or against market volatility.
But history suggests there could be a simpler explanation.
Call it the GOP president's curse.
"Every Republican president since Teddy Roosevelt has experienced a recession in his first two years in office," says Sam Stovall, chief investment strategist for the research firm CFRA.
In fact, nine of the past 10 recessions in history have begun with a Republican in the White House. And several Republican commanders in chief — Dwight Eisenhower, Richard Nixon, and George W. Bush — have presided over multiple economic contractions.
Since stocks are a forward-looking gauge of the health of the economy — the market has historically begun to slide 7 1/2 months before the onset of a recession — this crash could be Wall Street's way of saying it expects a recession later this year, Donald Trump's second year in office.
Is a recession looming?
Every Republican president since Teddy Roosevelt has experienced a recession in his first two years in office.
If this correction turns into an official "bear market," defined as a 20% loss or more for stocks, that certainly has to be considered. (A correction would be achieved if the Dow falls to 21,293, which is just 2,300 points from where the market was trading Friday afternoon.)
Right now, few economists think a recession is lurking, as jobs are being created at a healthy clip, wages are starting to lift, and economic activity seems to be accelerating, not slowing down.
Stovall himself says "even though the worst (of the selling) may not be over, we are not projecting the start of a new bear market since we don't forecast recession." CFRA projects that U.S. gross domestic product will grow 3.1% this year.
But as a candidate in the 2016 presidential campaign, Donald Trump himself argued that the U.S. economy was on the verge of a "very massive recession," fueled in part on an overvalued stock market. Since his remarks, stocks have become 30% more overvalued, based on traditional market gauges.
At the end of 2016, Pimco global economic adviser Joachim Fels outlined a scenario in which a recession could realistically materialize.
He argued that if the Trump administration passes major tax cuts and boosts public infrastructure spending, the stimulus "could turbocharge an economy that is already at or close to full employment and would likely create significant wage and inflation pressures."
Well, we got the tax cuts and the fear in the market is precisely that inflationary pressures could derail Trump's bull market.
Fels went on to note that if such inflationary pressures met up with "a newly appointed, more hawkish Fed leadership," aggressive actions by the central bank to raise interest rates could trigger a recession.
We just got a newly appointed Federal Reserve board chairman — Jerome Powell, who was sworn into office on Monday, just as the market started to melt down.
It remains to be seen if Powell will end up being "more hawkish" than his predecessor Janet Yellen.
But the market seems to be saying that there's at least a decent chance of that.