Why Cereal Makers Might Be Gloomy on National Cereal Day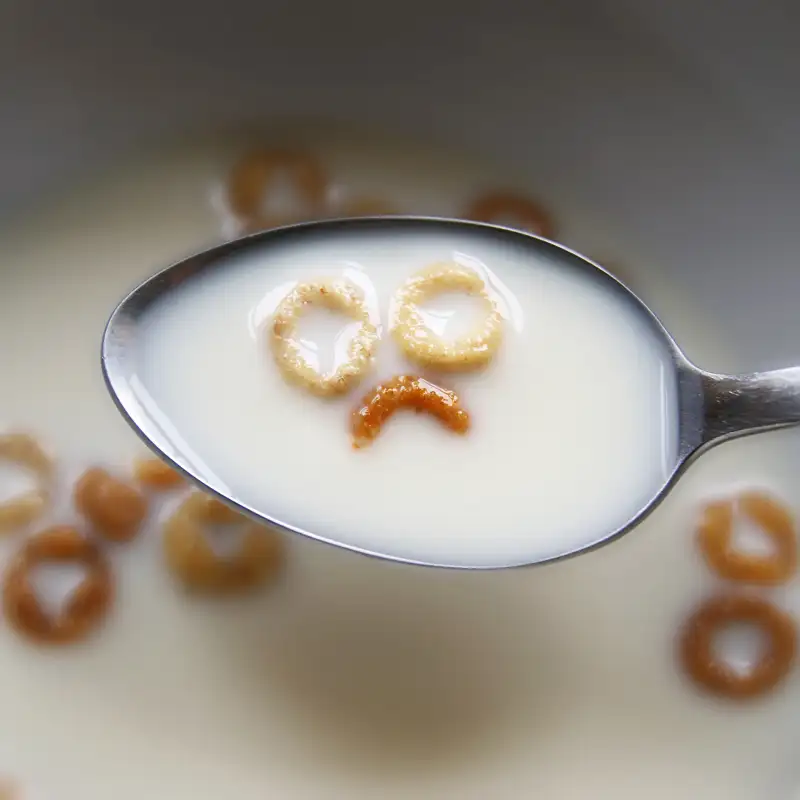 Kelly Bowden—Getty Images/Flickr Select
Even on National Cereal Day—held March 7 annually, in a calendar that's now clogged with fake holidays—it must be acknowledged that the cereal market in America is, well, pretty darn soggy.
Cereal sales have declined for years. Data from Nielsen indicates sales of classic, ready-to-eat cold cereal sales have fallen by a couple of percentage points for the better part of a decade, while items like frozen waffles, yogurt, sausage, and other breakfast favorites have seen sales rise. In 2015, cereal sales totaled $8.75 billion in the U.S., down from $9.6 billion in 2012.
Younger consumers in particular seem to have collectively shifted their breakfast allegiance to items deemed as tastier, healthier, more nourishing, and/or more convenient for on-the-go eating than cereal. The latest indication this is so came in the form of a Mintel survey in which 40% of millennials described cereal as too difficult to eat, what with the need to add milk and the maddening requirement of two hands for consumption. What a chore!
What's just as interesting as how today's changing preferences are causing cereal sales to decline is the story about how cereal came to be the breakfast staple at all. In an interview at Smithsonian.com a few years ago, Abigail Carroll, the author of Three Squares: The Invention of the American Meal, pointed out that the big names in the early creation and marketing of cereal—Sylvester Graham (also of cracker fame), John Harvey Kellogg, and Charles C. Post—had backgrounds in religion, health sanitariums, or both. Cereal, they preached, was a path to health. Post even promoted "all sorts of crazy testimonies that serve as advertisements for Grape-Nuts, where people's lives are saved from chronic illness and they're able to walk again," Carroll explained.
By the mid-'00s, however, few were under the illusion that sugary cereals were healthy breakfast choices for America's (increasingly obese) kids. Kellogg even promised to either reformulate or stop marketing cereals like Apple Jacks, Froot Loops, and even Raisin Bran to kids because they had too much sugar and packed in too many calories.
Read Next: Lucky Charms & 9 Other Supposedly Irish Things That Aren't Remotely Irish
In recent years, the big cereal companies have launched multiple missives to stop the decline of cereal. They've played up the nostalgia angle, periodically bringing back Boo Berry and other monster cereals that were part of many Gen X childhoods. They've marketed cereal as the perfect option for dinner and late night snacking, rather than have it limited to the breakfast hours. They've dropped artificial flavors and colors for many cereal brands. And they've tried to reach out in all sorts of ways to try to win over today's picky, hard-to-pin-down millennials—including the special Cheerios Snapchat filter introduced for National Cereal Day 2016.
Will any of these tactics move the needle, or spoon if you will, and get cereal back in America's breakfast bowls on a grand scale? Perhaps unsurprisingly, Kellogg said that 2016 is indeed the year that cereal sales will stop sliding. After tweaking products and adding ingredients like sprouted grains and quinoa to make its cereals healthier, Kellogg CEO John Bryant recently told analysts, "We actually expect our U.S. cereal business to grow slightly—a couple percent—in 2016," according to the Wall Street Journal.
If this winds up being true, then the next National Cereal Day will probably be much happier than the current one.