These Are the 10 Best Doughnut Shops in America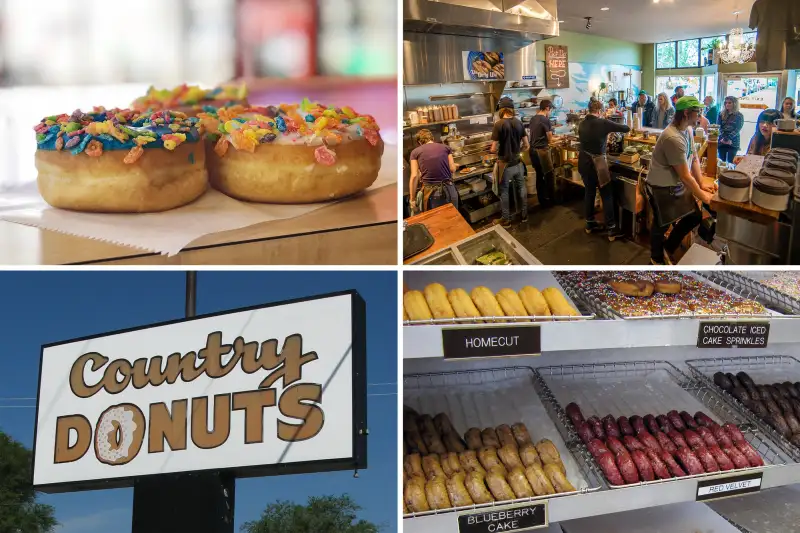 (clockwise from top left) courtesy of David Heng—Kolache Bar, Pip's Original Donuts & Chai, courtesy of Country Donuts (2)
Whether you spell it "donut" or "doughnut," you know you need it: the perfect complement to your morning cup of joe.
Krispy Kreme and Dunkin Donuts typically hog the attention when it comes to the sweet treat, you may be able to find even better doughnuts at your local mom and pop bakery. That's why, in honor of National Donut Day 2018—which is Friday, June 1—Money partnered with Yelp to put together a list of America's best-loved local doughnut joints. (The Yelp algorithm factors in both the number of positive reviews and an eatery's star rating; to ensure we had coast-to-coast winners, we limited our picks to one per state.)
The doughnuts served up by the winning shops include quirky vegan varieties, candy-coated specials, traditional Polish-style paczkis, and no-frills-but-darn-good plain doughnuts.
These are the best doughnut shops across the U.S., according to Yelp's picky reviewers.
---
1. BJ Cinnamon
Folsom, California
BJ Cinnamon rose to fame last year after both BuzzFeed and Delish noticed that Yelp reviewers had called it one of the best bakeries in the country.
"We were totally not expecting that," store owner Barbara "BJ" Pho told Sactown Magazine at the time. "The first few weeks were crazy. The people who work at Bank of America across the street were making bets on how long the lines would be each day."
The family-run business makes each of their doughnuts and pastries from scratch, and bakes over 600 of their signature cinnamon rolls every weekend. The no-frills shop serves its pastries on simple paper plates, and the family's customer service helps make customers feel welcome from 5 a.m. to 5 p.m.
Though BJ Cinnamon takes its name from its massive, glazed Gourmet Cinnamon Rolls, which start at $2.95, you can get sprinkled Cake Donuts and Raised Donuts for $1. If you want the best of both worlds, try the Cinnamon Roll Donut for $1.75.
---
2. Daddy's Donuts
Kenmore, Washington
A robot-themed shop that specializes in cups of mini doughnuts, Daddy's Donuts is a child's dream come to life. The store is lined with robot figurines and stuffed animals, with a TV that plays children's shows and movies.
Among the store's many whimsical Daddy's Combo creations, which cost $5.50 apiece: Robot Roberta, which tops a cup of mini doughnuts with chocolate sauce, Oreo cookies, whipped cream and a robot ring; Tayo Tornado, topped with maple glaze and fresh bacon; and the Coco-Loco, which includes chocolate and tres leche drizzle with toasted coconut.
You could also enjoy a few plain, cinnamon sugar or powdered sugar mini doughnuts without toppings for $5 a cup.
---
3. Purple Glaze Donuts
Asbury Park, New Jersey
Purple Glaze's owner, Jacki Sharpe, opened this store in the New Jersey beach town of Asbury Park with her son three years ago, after retiring from 25 years in higher education—vowing to help the community through donations and fundraisers.
The store's namesake is a bright blueberry glazed doughnut with purple sprinkles that sells for $1.65. For just 35 cents more, upgrade to a "fancy & filled" doughnut such as the Pucker (with vanilla icing, sweet and sour sugar topping, and lemon cream filling); the Mint 2B (chocolate icing, mint chocolate chips, mint drizzle); or the Ring of Fire (local hot pepper jelly filling made by nearby business Holly Jolly Jams).
The store also has a robust vegan selection, with options like Chai Me a River and Mango Tango, for $2.25. Since the store is located walking distance away from the New Jersey shore, grab your doughnuts and walk along the beach to get the perfect National Donut Day Instagram picture.
---
4. Avon Donuts
Pontiac, Michigan
Family-owned Avon Donuts has been at its Pontiac location for over 30 years. The small shop has just five seats and regularly sells out of its most popular doughnuts; if you want to get there early, note that the store is open most days from 4 a.m. to 3 p.m.
With prices ranging from $1 to $2 per doughnut, Avon serves up flavors like the Caramel Apple, Maple Bacon Extreme (with bacon slices on top), Glaze Blueberry Cake and the Lemon Drop.
The store also sells paczkis—Polish-style filled doughnuts that are a Michigan staple—on a yearly basis. On Paczki Day, right before Lent, get to Avon early to get $2 pastries filled with raspberry, lemon, apple, custard, and more fillings. Other limited editions Avon offers throughout the year include candy corn-decorated doughnuts for Halloween, summertime peaches and cream doughnuts, and even blue and green sprinkled treats that celebrate the infamous Michigan vs. Michigan State rivalry.
---
5. Daily Donuts
Graham, North Carolina
Daily Donuts owner Polo Moeuy arrives at his shop, just 30 minutes West of Chapel Hill, at 10 p.m. to make doughnuts for the next day, he told Fox8—cutting, frying and glazing each by hand.
Daily Donuts has one of the widest menus on this list, with dozens of varieties of regular and filled doughnuts, plus handfuls of specialty items and pastries. Regular doughnuts like the maple glaze and blue sprinkles varieties cost 95 cents, while filled doughnuts—with options including strawberry, lemon, cream cheese and vanilla cream—are $1.15.
---
courtesy of Country Donuts
6. Country Donuts
Crystal Lake, Illinois
As you stand in line waiting for a pastry, you can watch through the large glass window as Country Donuts employees roll and cut every doughnut by hand. The store is open 24 hours a day—perfect for both your early morning breakfast needs or your late-night sweet tooth.
Country Donuts, which has been an independent doughnut store since 1974, specializes in basic doughnuts "done right," without the machines or crazy flavor toppings, says co-owner Scott Offord. You can choose from a massive selection of doughnuts that sell at just $1.10 per piece—with flavors including honeydew cake, black raspberry Bismarck and chocolate iced angel cream.
---
7. Duck Donuts
Virginia Beach, Virginia
You're the boss at Duck Donuts, a store that allows you to customize your pastry by picking coating choice, toppings and drizzle—all for $1.30 apiece. Coating options include glazed, cinnamon sugar, powdered sugar, and various icing flavors; toppings include more typical sprinkles plus wild cards like bacon pieces and Oreos; and drizzles include blackberry, hot fudge, raspberry and salted caramel.
Looking for a more filling breakfast? Grab the bacon, egg and cheese sandwich, served between two slices of a single doughnut. You could even get a doughnut sundae, with a scoop of ice cream atop the doughnut of your choice.
---
8. Pip's Original Doughnuts & Chai
Portland, Oregon
Much like its home city, Pip's Original Doughnuts & Chai delivers a quirky take on tradition. Selling its fare out of both a brick-and-mortar shop and a small van, Pip's offers four varieties of doughnuts—honey & sea salt, Nutella & sea salt, cinnamon & sugar and "the dirty wu" with all the works—for $4.75 each.
The shop then pairs the sweets with Indian and Thai inspired teas, sold for $4.25. The Ginger Rodgers tea pairs ginger, nutmeg, and thai chile with Assam black tea, while the Emmylou combines masala chai with lavender, chamomile and chrysanthemum.
---
9. Kolache Bar
Houston, Texas
Kolache Bar not only sells doughnuts (for only 70 cents each!) but also kolaches and klobasniky, Czech pastries that hold fruit or meat within wrapped dough. Signature kolache variations include the $1.80 Tex-Mex with egg, ham, cheese, jalapeño and salsa, and the $2.75 Country Boy with smokey beef and pork.
The quality ingredients help Kolache Bar stand out from other bakeries and chains, says store owner David Heng. Heng says he sleeps only four hours most nights to ensure he gets in at 2:30 a.m. to prepare pastries for the day, he told Money. Many customers are regulars, he notes: "I see their car and I immediately know what order they want."
---
10. Donut King
Minneola, Florida
The name of the store may be Donut King, but the central Florida shop also sells po' boys, jambalaya, and burgers alongside the $1 doughnuts. Despite the low prices, these doughnuts are massive, six inches across. The best part? You can get your grub without leaving your car through the shop's drive through window.
Store owner Lance Johnson had been making doughnuts since he was 14 with his father, who owned Tastee Donuts in Titusville, Florida. Johnson followed in his dad's footsteps and opened his own family-run shop in 2008.