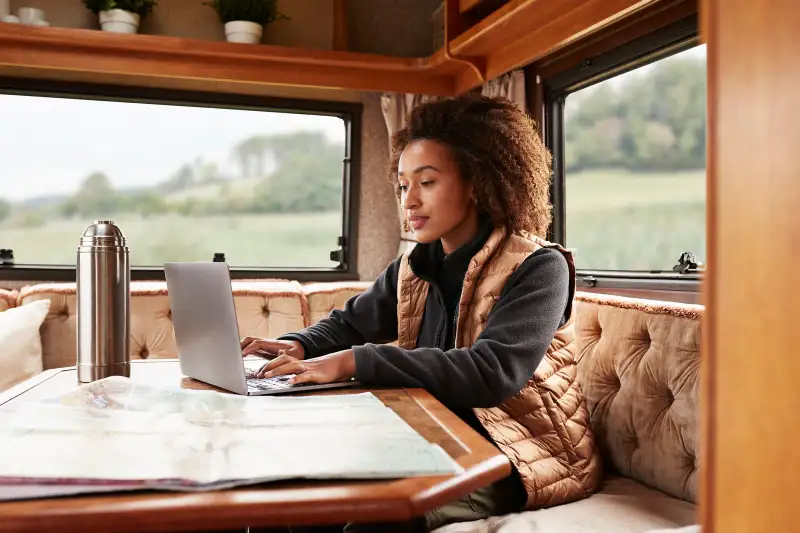 If you own a recreational vehicle (RV), you know that there are specific needs to consider when looking for insurance coverage.
Nationwide ranks as one of Money's best RV insurance providers. The company offers basic insurance coverage and a variety of discounts. It also offers various add-ons like vacation liability, roadside assistance, safety glass replacement and towing.
Read this review to learn more about Nationwide's RV insurance and see if it's right for you.
Best for a variety of discounts
Whether you use your RV for vacations or as a permanent place for your home or business, Nationwide offers many discounts:
Multi-policy: a discount for combining your boat, home, life or other vehicle policies
Multi-vehicle: a discount when you bundle two or more of your ATVs, boats, motorcycles, snowmobiles or scooters
RV association: a discount if you're a member of an RV club, such as the National RV Owners Association
RV safety course: a discount for completing an approved state RV safety course like those provided by the RV Safety and Education Foundation
Claims-free renewal: a discount at renewal if your previous policy period was claim-free
Prior insurance: a discount on your premium for maintaining continuous coverage on your RV or camper
Good driver: a discount for driving safely and having no accidents for 36 consecutive months
Paid in full: a discount if you pay your entire premium for your full-term policy when you're billed
It's important to point out that the specific amount of each discount could vary by state and Nationwide does not provide details without submitting a quote request for your particular RV.
Nationwide RV insurance pros and cons
Pros
Many policy coverage and bundles available
Allows customers to review and alter coverage
Cons
Doesn't offer online quotes
Not all discounts listed on the website
Many customer complaints about the claims process
Pros explained
Allows customers to review and alter coverage
Nationwide lets you review and alter your RV insurance coverage whenever you need to. This means that you won't be required to stick to a policy that no longer suits your needs.
For instance, if you have purchased the vacation liability add-on and don't need it anymore because you are no longer traveling, you don't have to worry about sticking out a lengthy contract. Instead, you can simply speak with a Nationwide agent to cancel your coverage and you will no longer be charged.
Many policy coverage and bundles available
Nationwide has a number of optional coverage options that you can add after purchasing an RV insurance policy, including:
Roadside assistance: Nationwide RV roadside assistance offers 24/7 emergency help if you need a tire change, fuel, tow or jumpstart. It also covers trip interruption expenses that happen when you are more than 50 miles away from home.
Safety glass replacement: This pays to replace the windshield for your RV in the event of an accident.
Towing and labor: This covers labor and towing, as well as trip interruption expenses like transportation, lodging and meals.
Replacement cost and scheduled personal effects: Replacement costs and scheduled personal effects is an option that provides more coverage for higher-valued items. It is provided as primary insurance for every kind of RV user. This policy coverage pays before any other policy, which avoids the need to file a homeowners insurance claim if something happens to your RV while on your property.
Vacation liability: This option offers protection if an accident happens while you are using the RV as a temporary residence. Nationwide will provide up to $10,000 in coverage with any pleasure-use RV that has physical damage coverage under both collision and comprehensive coverages.
Cons explained
Doesn't offer online quotes
Nationwide does not offer online RV insurance quotes. You must call Nationwide at 1-877-669-6877 or talk to a local Nationwide RV insurance agent to receive a quote.
Not all discounts listed on the website
Many available discounts are not listed on Nationwide's website, and some only come up during the quoting process. As such, you may have a challenging time figuring out how many discounts apply to your RV plan until you talk to a Nationwide agent. This makes comparing different RV insurance plans challenging.
Nationwide's RV insurance policy plans and offerings
As with traditional auto insurance, Nationwide RV insurance covers you in several ways for unforeseen events. Nationwide's plans and offerings include:
Bodily injury liability
Nationwide's bodily injury liability plan pays for bodily injury damages in an accident where you are at fault. It can cover an injured party's income loss and medical bills up to your coverage limit.
Uninsured motorist
Uninsured motorist coverage with Nationwide reimburses you for damages or injuries caused by a driver who does not have any liability insurance. You will get reimbursements up to your coverage limits.
Underinsured motorist
While a driver may be insured, they may not have enough insurance to cover the full damages or injuries that they cause. The coverage protects you by paying the portion of your damages not covered by the other driver's coverage. You will get reimbursements up to your coverage limits.
Property damage liability insurance
Property damage liability insurance helps pay for damages to another person's property or vehicle if you are in an accident that is deemed your fault.
Collision
This pays for damage to your RV in the event that you hit another object or vehicle, your RV rolls over or another vehicle hits you.
Medical payments
Nationwide's medical payments coverage helps pay medical expenses for you, your passengers and your household members due to accidental bodily injury while in your RV, regardless of who is at fault.
Comprehensive
The comprehensive option provides coverage for loss to your RV that is not caused by collision, such as:
Vandalism
Falling objects
Contact with animals
Hail
Fire
Nationwide's RV insurance pricing
On average, RV insurance can cost $500 to $3,000 a year. The cost of RV insurance depends on several factors:
The make, model and value of your RV: Older RVs typically have lower premiums, while newer RV models usually have higher premiums. Travel trailers, camper vans and other types of RVs also have different premiums.
How you use your RV: Commercial and full-timer RV insurance tends to be more expensive than vacational use because of the more continuous wear and tear to the vehicle.
Whether you choose optional coverage: You will pay a higher premium if you choose optional coverage.
The sex, age and marital status of the RV operator: Insurance premiums tend to be higher for people that are more likely to get into accidents, such as male drivers, drivers under 25 or over 70 and single drivers. Check out our review of the best auto insurance for high-risk drivers to learn more.
As you can't get an online quote from Nationwide, you'll have to call Nationwide or visit with a local agent to get an estimate tailored to your situation.
Nationwide's financial stability
Financial stability in an RV insurance provider is vital to trusting that you'll receive payouts and reliable coverage. You can find providers' financial strength ratings from credit rating agencies like Demotech, DBRS, Inc. and AM Best.
Nationwide Mutual Insurance Company, the topmost entity of the Nationwide corporate structure, has a rating of A+ (Superior) from A.M. Best.
Nationwide's accessibility
Availability
Nationwide is licensed in all 50 states. However, the terms and availability of RV insurance plans and packages may vary by state. Also, some discounts may not apply to all policy coverages.
Contact information
You can contact Nationwide RV insurance by calling 1-877-669-6877 on weekdays from 9 a.m. to 10 p.m. EST or on Saturdays from 11 a.m. to 3 p.m. EST.
Alternatively, you can talk to a local Nationwide agent if you prefer face-to-face meetings. Unlike many of its competitors, Nationwide does not have a 24/7 online chat function.
User experience
Compared to its competitors, Nationwide's website is lacking in information about its RV insurance policies. Although Nationwide has a learning center, most of the articles are educational content about other types of insurance, such as auto, home and small business insurance.
Also, Nationwide does not allow customers to view or download samples of standard policies. As a result, customers may have a challenging time understanding whether Nationwide is the best insurer for them.
We also had a tough time finding more information through phone calls. When we called Nationwide customer service to learn more about the company's RV insurance, the agent told us they could not give us any price estimates or even a price range unless we had detailed information about a specific RV.
Nationwide's RV Insurance customer satisfaction
Although J.D. Power did not specifically evaluate Nationwide RV insurance customer satisfaction, it evaluated customer satisfaction ratings for Nationwide's auto insurance products in 2022. According to this study, Nationwide received below-average ratings in the following regions:
California — Nationwide received 787/1000 (the regional average was 820/1000)
Central — Nationwide received 800/1000 (the regional average was 835/1000)
Mid-Atlantic — Nationwide received 829/1000 (the regional average was 839/1000)
North Central — Nationwide received 809/1000 (the regional average was 838/1000)
The only region where Nationwide received above-average customer satisfaction ratings was the Southeast with a score of 850/1000. The regional average for the Southeast was 849/1000.
However, Nationwide has received an A+ from the Better Business Bureau (BBB), indicating that the company has made good-faith efforts to properly address customer complaints.
Nationwide RV insurance FAQ
Is Nationwide good at paying claims?
AM Best has given Nationwide Mutual Insurance Company, the topmost entity of the Nationwide corporate structure, a rating of A+ (Superior). While this indicates an ability to pay out claims, there are multiple customer complaints of not receiving the payouts they expected due to what was stated in their policies.
Is Nationwide credible?
Nationwide is a recognized national brand and is accredited by the BBB, where it holds an A+ rating.
Which states have the cheapest RV insurance?
Nationwide does not supply RV insurance prices on its site or through the phone. You must call the company or talk to a local Nationwide agent to get a customized quote.
How we evaluated Nationwide RV Insurance
We evaluated Nationwide RV insurance by analyzing the following:
The number and quality of RV insurance discounts available
Policy plans and offerings and how well they cater to a range of needs
Financial strength ratings according to A.M. Best
Insurance reviews and ratings from credible third-party sites like the BBB
Summary of Money's Nationwide RV insurance review
Nationwide RV insurance can protect you and cover the cost of your RV if a covered incident happens. Nationwide offers a wide range of discounts, including discounts for multiple vehicles, multiple policies, taking RV safety courses and keeping a safe driving record for 36 months.
However, Nationwide does not offer online quotes or thorough information about discounts online.
Check out our RV rental insurance tips to learn more about your options. If you're using your RV to travel, check out our review of the best travel insurance.