These NCAA Basketball Coaches Made The Most Money Per Win This Season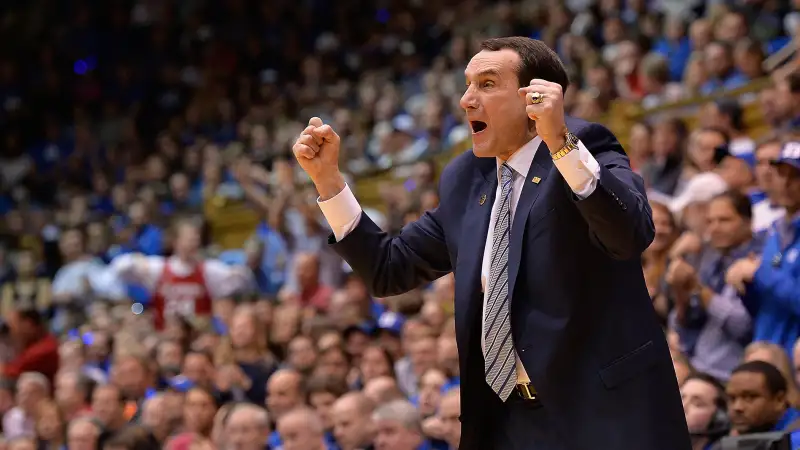 Grant Halverson—Getty Images
March Madness is rife with surprises, but one statistic from the basketball tournament might especially shock you: the tidy sum that the nation's top college coaches took home this season for each win.
A Marketwatch analysis of coaches' salaries and the number of wins they've accumulated this season found that Mike Kryzyzweski, who coaches 4th-seeded Duke, is the most expensive manager of all the teams that qualified for this year's NCAA tournament. Each win under Coach K cost the school more than $260,000. His victory premium was followed by that Kentucky's coach, John Calipari, who cost the school about $244,000 for every W, and Kansas's Bill Self, who ran the tournament favorite more than $165,000 for the team's 30 wins this season.
The best value in college basketball is Nick McDevitt. With 22 wins and a salary of about $114,000, McDevitt's cost the 15-seeded state school just $5,182 a game.
Here are the NCAA basketball coaches who take home the most money for each game they won during the regular season:
| School (Seed) | Head Coach | Salary | Pay Per Win |
| --- | --- | --- | --- |
| Duke (1) | Mike Kryzyzweski | $6.04 million | $262,608 |
| Kentucky (4) | John Calipari | $6.36 million | $244,615 |
| Kansas (1) | Bill Self | $4.96 million | $165,333 |
| Pittsburgh (10) | Jamie Dixon | $3.2 million | $160,000 |
| Michigan (11) | John Beilein | $3.37 million | $153,182 |
| Texas (6) | Shaka Smart | $2.8 million | $140,000 |
| Arizona (6) | Sean Miller | $3.48 million | $139,200 |
| Michigan State University (2) | Tom Izzo | $4.01 million | $137,931 |
| West Virginia University (3) | Bob Huggins | $3.27 million | $136,250 |
| Indiana (5) | Tom Crean | $3.05 million | $122,000 |