How to Watch the 2018 NCAA March Madness Basketball Tournament Online for Free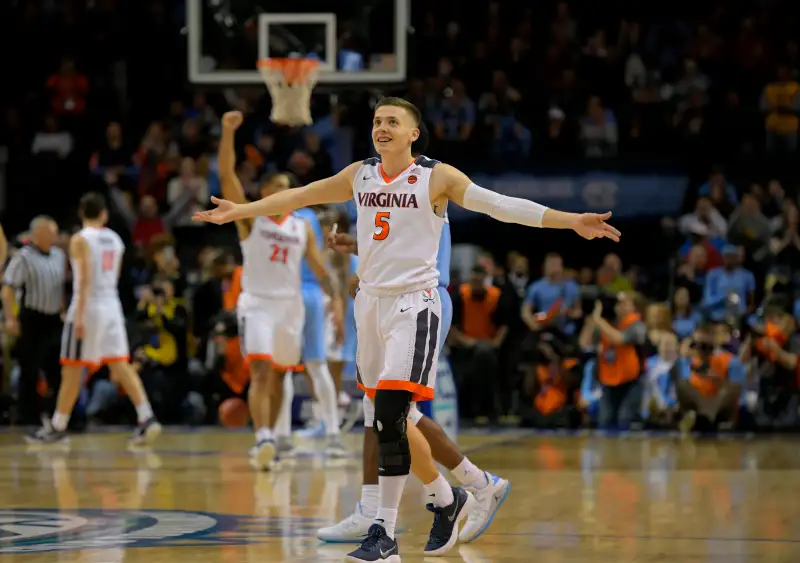 The Washington Post—The Washington Post/Getty Images
The field of 64 college basketball teams is now set for the 2018 March Madness tournament, with games scheduled to start on Thursday, March 15, at 12:15 p.m. ET. Fans have tons of options to watch the NCAA March Madness tournament live on TV, or to live-stream March Madness games on a laptop, phone, or other device, now through the 2018 championship game, set for Monday, April 2, at 9 p.m. ET.
But who should you pick in your office bracket to win the NCAA Men's Division I Basketball Tournament Title? The wonks over at FiveThirtyEight say that #1 seeds Virginia and Villanova have the best chances of winning the title this year.
The experts at Sports Illustrated, meanwhile, are divided in their March Madness predictions, with picks to win the title going to Duke, Michigan State, and Purdue, as well as Virginia and Villanova.
Billionaire investor Warren Buffett is again offering a $1-million-per-year prize for life to anyone at his company, Berkshire Hathaway, who correctly picks the winner of every game in the 2018 March Madness tournament. Unsurprisingly, no one has ever won Buffett's prize: The chances of filling out a perfect bracket have been estimated at up to 1 in 128 billion.
So how can you tune into the big dance for free?
What channel is March Madness on?
The broadcasting of all games in the 2018 March Madness tournament is a tag-team effort. Local CBS stations around the country are airing roughly one-fourth of the games, and the rest of the tournament is being divided up among Turner-owned pay TV channels TBS, TNT, and truTV. Here is a full TV schedule for March Madness 2018.
Games in the first and second rounds are being broadcast on one of the four different channels mentioned above. After that, to watch the Sweet 16, Elite 8, and 2018 Final Four, you must go to either CBS or TBS. Sweet 16 games are divided evenly between the two channels, while the two Elite 8 games on Saturday, March 24, are on TBS, and the two Elite 8 games on Sunday, March 25, are on CBS.
As for how to watch the Final Four, TBS is broadcasting all the games (the two NCAA March Madness semi-final matchups on Saturday, March 31, and the 2018 championship game, starting at 9 p.m. ET on Monday, April 2).
How to watch NCAA March Madness for free on TV
If you have a cable or satellite TV package, it's easy to watch the NCAA basketball tournament for free. Just tune into the appropriate channel—either CBS, TBS, TNT, or truTV.
If you don't have a pay TV package, you should still be able to watch the games being broadcast by CBS. All you need is a digital antenna, which in most of the country will give access to local broadcast channels like CBS at no charge.
How to live-stream March Madness for free
If you don't have access to CBS on a TV, you can still live-stream CBS content to any device of your choosing via the CBS All Access service. It costs $5.99 per month and new subscribers can check out the service for free during a one-week trial period.
The NCAA Fast Break stream also lets fans watch online for free for three hours, before requiring you to log in with a pay TV account and password. Viewers can pick any March Madness game they want to watch live.
As for live-streaming the March Madness games being broadcast on TBS, TNT, and truTV, consider signing up for a streaming TV service such as DirecTV Now, Hulu Live, Playstation Vue, Sling TV, or YouTube TV. These services include Turner-owned pay TV channels in their packages and subscribers can stream local broadcast channels like CBS at no extra charge in most parts of the country.
All streaming TV services have free trials available for new subscribers as well, allowing you to stream to your heart's content for a week or so before being charged the monthly rate. Just remember to cancel before the free trial ends if you are not interested in becoming a paid subscriber.
We've included affiliate links into this article. Click here to learn what those are.