Why Harvard Will Win the NCAA Tournament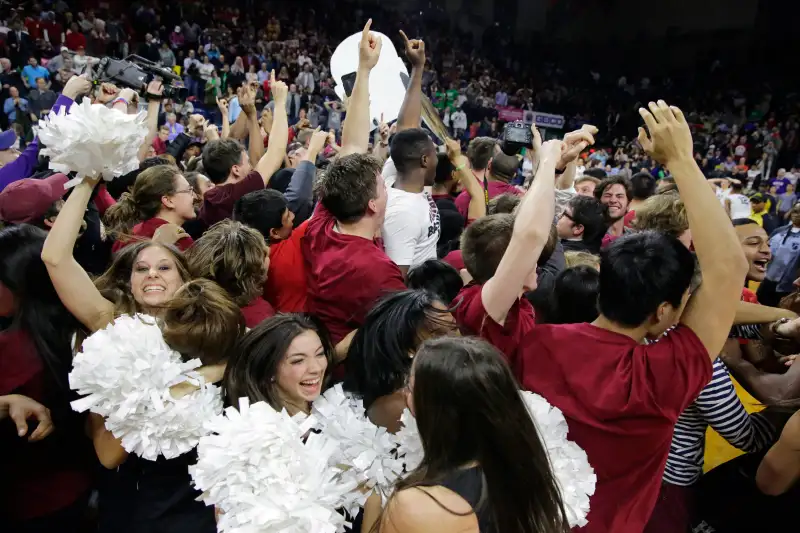 Hunter Martin—Getty Images
For the three weeks known as March Madness, college basketball fans focus on stats like field goal percentages or player efficiency. But we here at Money try to stay sane and pay attention to the numbers that matter over the long term.
So when we filled out this year's NCAA men's tournament bracket, we picked teams based on our Best Colleges rankings, which look at which schools do best in terms of affordability, quality of education, and graduating students into good-paying jobs. In other words, if we gathered these players and their classmates together again in, say, 25 or 50 years, who would likely be on the best financial footing?
This gave us an unorthodox final four of Harvard (6th in our value rankings, while a 13th seed in the tournament), Notre Dame (20th), Virginia (16th), and UCLA (31st), with Harvard besting Virginia in Indianapolis on April 6.
That Harvard is the overall winner is not exactly surprisingly: 97% of students graduate, there have been no recent defaulters on student loans, and the average recent graduate is earning about $55,000 a year these days, according to data from Payscale.com. But the elite private colleges don't dominate in this bracket or in life. Two of our final four are public universities–Virginia and UCLA–which also have graduation rates above 90% and whose recent alumni typically earn about $50,000 a year.
Looking for this year's Cinderella story? Manhattan (40th), the rightful winner of the play-in game against Hampton under our system, is predicted to oust undefeated Kentucky (389th) in the first round and go all the way to the Elite Eight. Another sixteen seed makes history in our bracket, as Lafayette College (28th) knocks off Villanova (114th) in the first round and hangs on until the Elite Eight as well.
There are some squeakers along the way. Schools within 20 places of each other in our ranking are roughly equivalent. But, strictly by our numbers, pricey, exclusive Lafayette edges out public and relatively affordable UC Irvine (32nd) in the Sweet 16 round. Lafayette Leopards tend to graduate into higher-paying jobs than do Irvine Anteaters (a difference of about $8,000 a year, according to Payscale), but they pay much more for their degrees. The average Leopard pays a total of $178,000 (after college scholarships are subtracted) for a bachelor's degree, versus the Anteaters' total bill of about $123,000.
Under our college value selection system, Brigham Young (9th) not only makes the roster of 64 teams but goes all the way to the Elite Eight before running up against unstoppable Harvard. Other notables in our bracket: Perennial basketball powerhouse Duke (32nd) barely makes it past Georgetown (37th) in the Sweet 16 before falling to UCLA. But high seeds like Gonzaga (177), Arizona (99), and Kansas (248) stumble early in the tournament.
To see how your college ranks in the competition of life, check out our full college rankings. Dig into our full NCAA bracket below (click the image to see a larger version).