Neil deGrasse Tyson Bought His First Serious Telescope at Age 14 by Walking Dogs for 50 Cents Each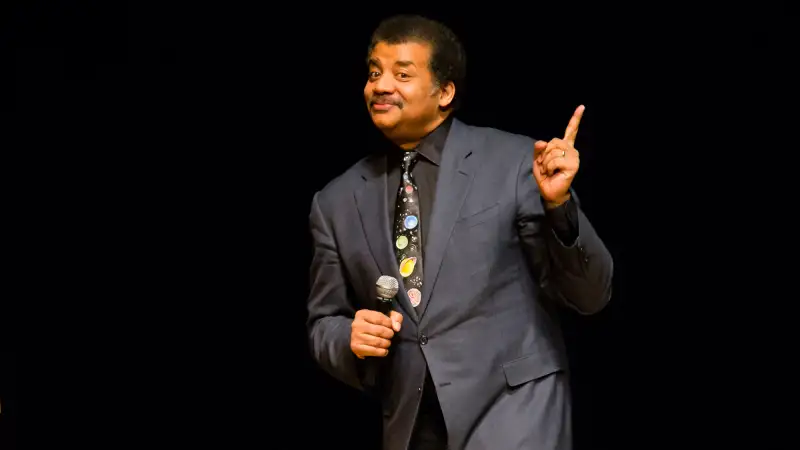 Neil deGrasse Tyson may have his head in the stars, but he got that way by putting his boots on the ground.
The world's favorite astrophysicist and bestselling author also happens to be a master of the side hustle. In addition to his day job as director of the American Museum of Natural History's Hayden Planetarium, he hosts the podcast StarTalk, while his latest book Astrophysics for People in a Hurry is nearing 60 weeks on the New York Times bestseller list — crazy for any book, much less one that details quantum physics and quarks. And September will see the release of Accessory to War: The Unspoken Alliance between Astrophysics and the Military, co-written by Avis Lang. (He also entertains nearly 13 million star gawkers on Twitter.)
Alright, so, fine: Dr. Tyson is now an expert at dispelling the mysteries of the universe. But do his talents translate to money matters? He shares with Money some stories about his early start in the workforce — and the first big thing he ever saved for.
A First Glimpse Into Space

I've known since age 9 of my interest in the universe, and on my 12th birthday, my parents bought me an entry-level telescope in response to that interest. That first telescope cost $50, but I would rapidly outgrow it.
Going Beyond the Basics

My family was extremely frugal middle class. There was a very strong sense of "every dollar you spend needs to matter." So I had my own source of income when I was 13 and I was able to pursue my own interests.
I lived in a big old apartment building [in the Bronx] and I walked people's dogs and earned 50 cents per dog, per walk — and these dogs were walked two or three times a day. This adds up very quickly.
Building Up a Client Base
They would see me with other dogs and they'd say, "Oh, that's a good idea." It was an apartment complex with a lot of common area around it. Suburbanites have a hard time thinking of it this way, but in a city, the building itself is a neighborhood.
On-the-Job Expertise

This was the glory days of dog walking, before there were pooper-scooper laws. Who knew there would later be a law that we have to clean up after our dogs?
You have to make sure the dogs are compatible with each other — if they're not, that changes the dynamic. I'd walk four dogs at the most, and that's if I added my own dog to the mix, which typically I would.
Getting to the Payoff
By the time I was 14, I was able to buy my next telescope, and a camera — although my parents chipped in for the camera, because they knew it would work with the telescope — and darkroom supplies, because I also developed my own film. The telescope cost about $200, the camera was $150, and the darkroom and all those supplies, throw in another $100 to $200.
This wasn't an "oh-my-gosh-what-will-this-do-for-me?" item. I knew exactly what that telescope would do for me. In that sense, it wasn't a surprise. Buying it was a fulfillment. I wanted to buy something that continued to give — and telescopes do.
Purchases That Made History

I still have that camera. It was my first single-lens reflex (SLR) camera — but more importantly, which was true for any modern camera, the lens was removable, so that I could replace it with adapters to mount the camera body on my telescope. That was the whole point.
I posted an Instagram of me taking a mirror selfie with that camera in 1973. Some people are thinking that it may be the world's first selfie. We're still waiting for others to claim the title.
I offered to donate the telescope to the Smithsonian, and they said, "Oh, we don't know if we want it," so I said, "OK, fine." The Kentucky Museum at Western Kentucky University created its own exhibit of the first scientific instruments of noted scientists. That's a hell of an interesting thing to do, and so I donated my telescope to them.
Dog Walker Dreams

I still live in New York City, and any time I see someone in Central Park with six dogs on a leash, I think back and say, "I wonder what he's saving that money for?" Or he could be using it to pay rent!
But I basically funded my own interest in the universe during middle school and high school through walking other people's dogs.