Terry Crews Has an Unusual Strategy for Saving Money — and It Rescued Him From Credit Card Debt and Made Him a Star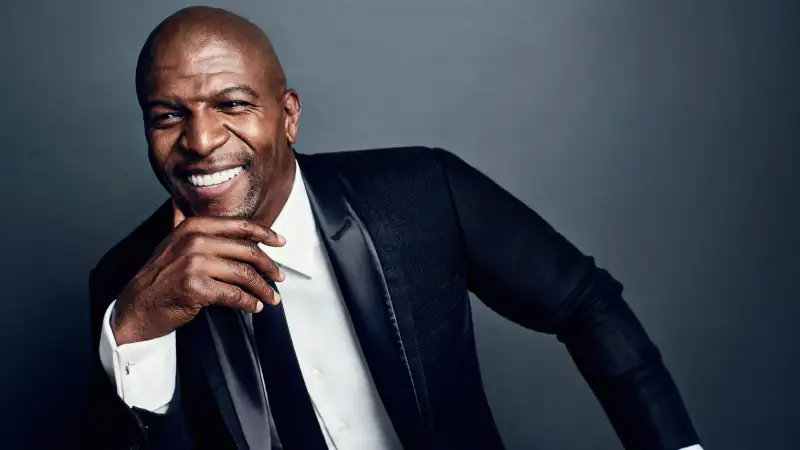 Terry Crews remembers being broke and borrowing money almost a dozen times from a friend, who finally one day said enough's enough. Crews got a day labor job. "They sent me to a factory, gave me a broom, and I swept all day. I got $8 an hour for 8 hours," he says. That moment led to a total mindset shift: "Before, I was begging for money. Now, I'm getting money. Whatever it takes, you can change your situation."
This philosophy has carried 50-year-old Crews throughout his working career, from his days in the NFL, as an artist, and the star of numerous TV shows, including the acclaimed Brooklyn Nine-Nine. He's expanding his repertoire now into a high-end furniture collection and an upcoming children's book that featured augmented reality.
Here, the self-described "most grateful man in Hollywood" discusses the difference between creativity and competition, getting out of credit card debt and his biggest secret to saving. (Hint: Get really busy.)
What's the most important thing you've saved up for?
One of the biggest, best, and proudest things I ever saved for was my daughter's education from NYU. I tell her, "The best gift I probably ever gave you is that you don't have any student loans." I know a lot of guys and girls that are sitting with $150,000 in loans and no way to pay it.
Did you have a separate savings account?
I did, but with the ups and downs of acting, there were times when we had to dig in to it. That's what made me so afraid. There were times when we literally had nothing.
How did you deal with that uncertainty?
Instead of massively saving, I decided I was going to get massively busy. Instead of having one job, I would try to get three. I know a lot of actors who feel like, I have my job, I feel at peace. But I would never feel like that. I said, Let me try hosting, let me try reality TV. I was literally ready to do anything to make sure some money was coming in.
When you were in the NFL, you painted and sold portraits of your teammates. Did you always have this side-hustle mentality?
Always. Growing up, I saw people who only had one thing, and I said, I will never get caught with just one skill. Listen, if my career has to go to Instagram, then I'll be the Instagram guy, and it'll be OK. [Note: Terry has 2.7 million Instagram followers, so he's doing OK on that front.]
I made every mistake you could make with money. Around 2001 or 2002, we got into this mortgage that jumped up after a year. The interest was crazy. We couldn't afford it and ended up losing the house. In college, I got every credit card they would give out. I ran them all up and couldn't pay any of them. I ended up having to take stuff back to the store. I was ashamed.
Television is a notoriously tumultuous industry, yet you've been in three shows that hit the 100-episode mark. How do you explain that?
It was wild because [at one time] I was offered three different pilots. One was Brooklyn Nine-Nine. Another pilot said, We're going to give you back-end [profits], so you're going to be rich if you take this show. But everything in my gut said, Andy Samberg is the future of comedy. And I didn't even know him. I chose Brooklyn Nine-Nine, and the other two shows did not get picked up. We are starting our sixth season right now. You gotta go with your gut. You gotta go with the love, because the money will lead you wrong.
What do you buy now that is a true luxury?
I've reached a spot where I get my shoes made especially for me. I've watched my tastes change. I remember when Red Lobster was the luxury. I was like, Man, we're about to get those biscuits! Where Red Lobster was great before, now I'm going to Nobu.
Were you ever afraid of becoming a starving artist?
You have to settle with the fact that you may be broke. But every big investment is like that. This is why I like entrepreneurs, they usually go broke two or three times. Once you know it's a pattern, then you don't get shocked the first time you lose all your money. The problem is, in America, everyone feels like you only have one shot. I've never felt that way. I've always been an entrepreneur. My job is to try and make something that did not exist yesterday.
What do you do tell actors who are waiting on fame?
There's never been a better time to do what you want to do. Actors always ask me what they should do, and I tell them, You've got Instagram! You can act! There's no better example than Andrew Bachelor. He goes by King Bach. He's all over Instagram and puts together these funny bits with his friends, and now he's super famous to the point where, I was in his movie called Where's the Money. He didn't wait for permission. There's no reason to wait, ever.
Can people stop comparing themselves to others?
I decided to never compete. I'm just gonna create. The best example of this is Steve Jobs with the iPod. First it was records, then it was CDs, but he had a vision to put 10,000 songs in your pocket. And by being creative, you change the way everything is done.
Competitive people are trying to make the best version of something that exists, instead of creating something that has never been.
That's it! It's like Henry Ford said, If I had asked people what they wanted, they would have asked for a faster horse. I get motivated by those thoughts. You have to convince people they want a car.
What makes someone rich?
For me, being really rich is about helping as many people as possible. If your product or business or service serves people, then you are rich. Anything that takes or corrupts or damages, you're gonna be nothing but poor, no matter how much money you think you're making.
Do you ever think about retirement?
I will never, ever retire. My next 20 to 30 years are probably going to be my best time. That doesn't mean I'll act forever, it just means I'll shift to something else. I might go be an artist, or design furniture in Milan, or have my own farm. Who knows? But there's never going to be an end for me. I have too many ideas.
Top image by Benjo Arwas