A Jeopardy! Champ Falls: How This Librarian Beat a Professional Gambler at His Own Game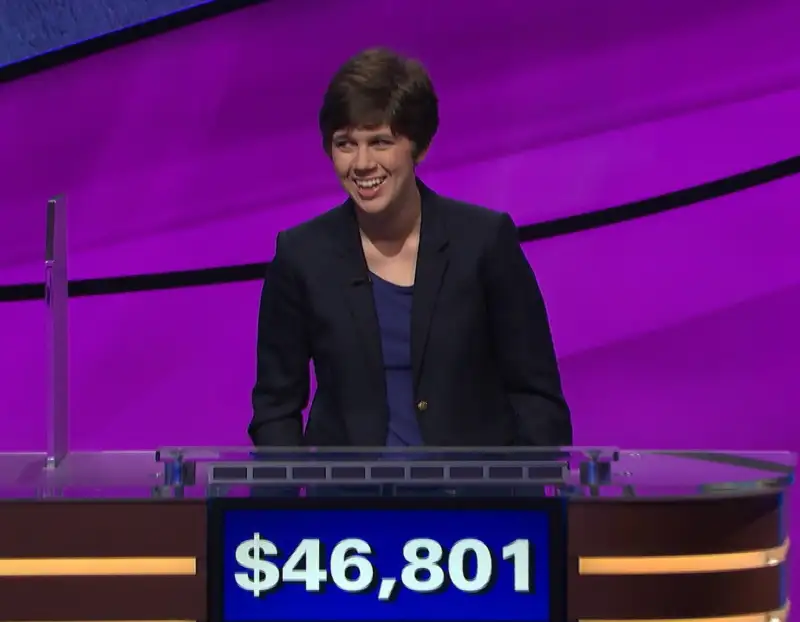 Courtesy of Jeopardy Productions, Inc.
There's a new Jeopardy! champ in town.
Over the last month, James Holzhauer became a household name, winning an astounding 32 days in a row and collecting $2.46 million in winnings.
But on Monday night, a 27-year-old named Emma Boettcher snapped his streak, using some of the champion's very own tactics.
Holzhauer ended his run just shy of beating the all-time winnings record of $2.52 million claimed by Ken Jennings in 2004. It's important to note that Jennings took 74 games to get there. Equally important: Holzhauer will likely owe $1.2 million in taxes on his winnings.
As a professional sports gambler, Holzhauer made a habit of choosing the higher-priced clues first and handling that tricky buzzer with finesse.
On Monday, Boettcher followed suit, betting $7,600 on a Daily Double — and winning. She managed to find and answer correctly both Daily Doubles in Double Jeopardy. Neither contestant answered one clue wrong in the entire game.
Going into Final Jeopardy, Boettcher was up by $3,200 (with $26,600 to his $23,400), and had another stroke of luck — the category related to Shakespeare. Music to the ears of Boettcher, who was an English major.
Even though they both got the answer right, Boettcher made a big bet and her gamble paid off with winnings to the tune of $46,801.
You can watch James Holzhauer and Emma Boettcher face off; the entire episode is streaming online here.
Who is Emma Boettcher?
Currently a librarian at the University of Chicago, Boettcher, like Holzhauer, spent years trying to get face-to-face with Alex Trebek, with her Jeopardy! dream starting back in high school.
Boettcher received a degree in English from Princeton University and wrote her undergraduate thesis on Shakespeare's plays. While working on her master's degree in information science, she wrote her thesis on…Jeopardy! Her 70-page paper analyzed whether a computer could understand if a clue was easy or difficult based on the words and length of the clue.
The deep dive into the show paid off.
Aspiring Jeopardy! contestants can read her paper "Predicting the Difficulty of Trivia Questions Using Text Features," which is available online.
She kept trying to get on the show — despite failing at first.
"When she wants something, she is very focused," her father told the New York Times. Boettcher had four in-person auditions before finally getting on the show. Holzhauer also took awhile to get in the hot seat; he told Money he took the online Jeopardy! test 13 times before appearing.
She practiced under the ideal and rigorous conditions.
Despite all the anticipation and prep, it would be easy to wilt under the bright lights in an unfamiliar studio — but Boettcher planned for that, too.
She practiced answering questions during every episode, using a toilet paper roll holder as a fake buzzer. (Holzhauer reportedly practiced with a mechanical pencil.)
To train herself for the new environment, she even tried wearing different shoes — you gotta be light on your feet, after all.
And she recorded all her scores from playing the show at home…for five years.
She didn't let the pressure get to her.
There are 60 squares on the Jeopardy! board during every game, but Boettcher didn't think about that — or about the fact that she was facing a guy who seemed unstoppable. In fact, her episode was filmed before the world knew about Holzhauer's streak.
"I had already steeled myself to expect the unexpected, just roll with whatever was happening, take one clue at a time," she told the New York Times.
They both get points for good sportsmanship.
Holzhauer high-fived Boettcher after her win and praised her for playing a "perfect game" and offered his advice, and Boettcher said after the game was over, "I turned to the guys and I said, 'I'm so proud of us. This is so rare. Look at what we did.'"
Has there ever been a more wholesome show?
Now the question is whether Boettcher is at the beginning of her own reign. Tune in tonight and find out.