James Holzhauer Has Won $851,926 on 'Jeopardy!' in 12 Games. He Says This Is the Mental Strategy That Helps Him Take Big Risks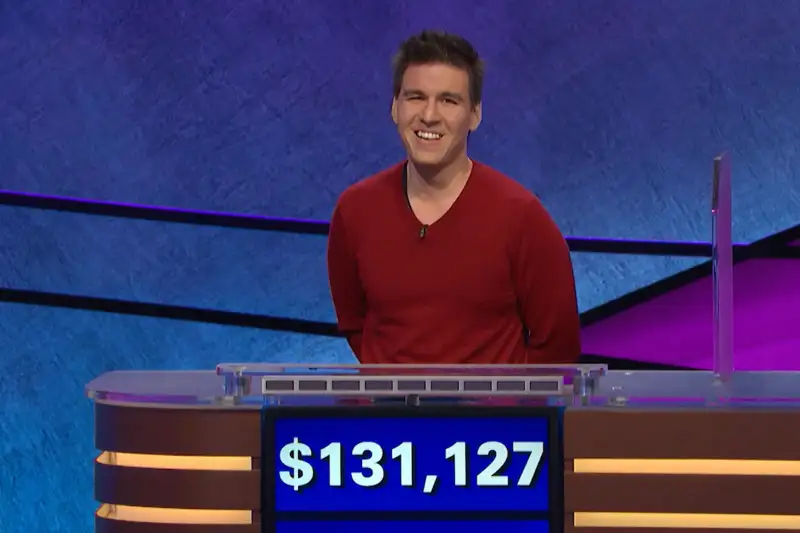 James Holzhauer's hot streak on Jeopardy! isn't just luck. It's calculated.
The Las Vegas-based professional sports gambler has taken big risks — with big rewards — during his 12 consecutive wins on the game show. He has a total of $851,926 in winnings so far, setting the top three single-day performances in Jeopardy! history. (His highest single-day win totaled $131,137.)
Holzhauer's unconventional strategy on the show combines two demonstrable forces: his breadth of knowledge and unabashed betting strategy. Using his skills as a professional sports gambler — a financially risky profession — Holzhauer targets the higher-priced clues rather than pursuing the simpler ones first. He chases Daily Doubles and throws down massive wagers in Final Jeopardy!. And he has perfected the use of the show's buzzer to avoid any hurdles or delays while answering clues.
His stunning gameplay has astounded viewers — and even Jeopardy! legends like Ken Jennings, whose record-setting 74 game streak in 2004 earned him more than $2.5 million. In crushing his competition, Holzhauer may resemble more of a cyborg than human to some viewers. But his strategies and inspiration for the show suggest otherwise. Holzhauer often uses family birthdays or other important dates to determine his massive wagers, and he's chatted with Alex Trebek about how his late grandmother watched Jeopardy! with him growing up.
Money spoke with Holzhauer over email about his sports gambling mentality, investing strategy, and the two biggest pieces of advice his wife gave him before he hit the Jeopardy! stage.
I don't sweat the giant bets for two reasons: one, I lose big bets all the time and it doesn't end my world; and two, I know that I'm a huge favorite to get a Daily Double or Final Jeopardy question correct. Even as a pro sports gambler who's always on the lookout, you just don't get opportunities to make even money bets that will win 80% or more of the time. If I could have reached into my pocket for even more chips to bet on Final, I would have.
Do you have any superstitions? I know you've wagered the date of your daughter's birthday on the show.
I wouldn't say I'm superstitious with my wagers. I just love my family and I have an extremely weird way of showing it. There's no magic way to get used to betting big, you just have to work your way up in stakes.
What bet are you most proud of making?
My greatest sports bet didn't even win: In the 2018 NCAA tournament, I found a prop on how many teams with Wildcats mascots would make the Sweet 16. I determined that the only way I could lose was if No. 9 seed Kansas State defied the odds and advanced. Unfortunately, in the second round, they faced [and defeated] not No. 1 seed Virginia but No. 16 seed University of Maryland, Baltimore County, and they sunk my bet with ease.
Typically I bet whatever the house limit is. It should be close to $3,000 I lost on that particular proposition.
What's your investing strategy? Do you take big risks?
My theory is that in investing, like in sports betting, you need to either have inside information or a superior ability to interpret public information. In the investment world, I have neither, so I hold a diverse portfolio of stocks, bonds, real estate, and cryptocurrencies.
(Editor's note: While financial planners would agree that holding a diverse portfolio of stocks and bonds is a good investing strategy, cryptocurrencies are still a risky bet.)
Your wife has also appeared on game shows, like Millionaire. How did you both meet? Do you practice together for these kinds of shows?
My wife and I met in a volunteer program to teach English in Thailand. She gave me two pieces of advice for going on Jeopardy!: play your best and make sure your nipples aren't showing through your shirt. I went 1-for-2.
You've mentioned using your Jeopardy! winnings to travel the world with your wife. What are your go-to destinations?
I'd love to visit Sicily. Of places I've already been, my favorites are Spain and Japan, and I'd go back to both in a heartbeat.
Was this your first time applying for Jeopardy!? When did you first decide to try out?
I took the online Jeopardy test thirteen times and attended two in-person auditions before getting "the call" to appear on the program. Looking back, I'm glad they waited until I was really prepared for it.