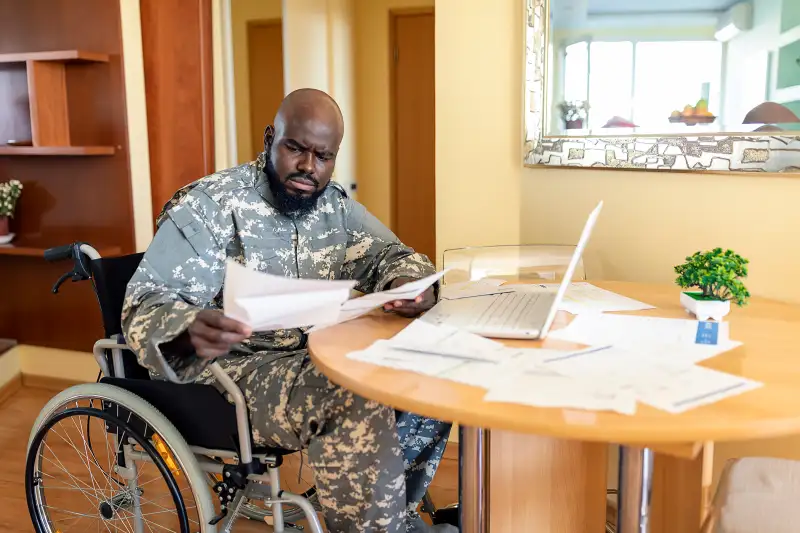 VA loans are exclusive to veterans, active military personnel and their families. It's a government-backed loan program designed to make homeownership more affordable for these individuals by offering flexible financing options with competitive interest rates. Additionally, VA loans do not require any down payment or private mortgage insurance (PMI). These loans serve as an important tool to help those who have served our country gain access to their dream of homeownership.
If you are an active-duty military personnel or a veteran, there are many VA loan lenders out there, including New American Funding. The company offers lower interest rate mortgages with excellent terms exclusive to service members and military spouses.
Read on for our review of New American's VA loan offerings.
Best for Low-Credit Borrowers
New American Funding provides a range of benefits that make homeownership more accessible to U.S. service members, veterans and their spouses. As with all other VA loan programs, New American doesn't require a down payment, and interest rates are usually lower than those of mortgages not guaranteed by the government. Credit score requirements are not published on New American's website, but they do mention on their blog that VA loans are a good option for "buyers with less-than-perfect credit."
Additionally, New American Funding doesn't require any monthly mortgage insurance payments and has no prepayment penalty, meaning borrowers can refinance or sell without having to pay additional fees.
New American VA Loans Pros and Cons
Pros
Good for borrowers with challenged credit
Focuses on lending to minority groups
High BBB rating
Offers a closing guarantee
Cons
APR information and interest rates are not publicly accessible
Unavailable in Hawaii
Pros explained
An option for borrowers with challenged credit
New American Funding's VA loan is ideal for service members and veterans looking to become homeowners without needing perfect credit or a large down payment. Even with a credit score of around 580, you can access a wide range of mortgage loans and low-interest VA loan rates. VA loans also come with a funding fee, which is a percentage of the loan amount that goes toward funding the VA Home Loan program. This fee helps VA lenders to take on customers with lower credit and no or low down payments.
Additionally, New American's VA loan allows you to sell or refinance your home at any time with no penalty or restrictions on cash-out refinances, unlike conventional or FHA loans, which require you to have 20% equity left over after the refinance.
Heavy focus on lending to minority groups
New American Funding is committed to offering clients from all backgrounds a variety of mortgage products and services. Being the nation's largest home loan company founded by a Latina, New American Funding is dedicated to hiring Hispanic personnel and helping minority groups.
This company lends with an emphasis on social responsibility, as special attention is paid to minority groups whose access to financing may be limited by traditional lenders. New American Funding also brings mortgage education to underserved communities and works with them to overcome income, credit score and race-based barriers to attain home loans. This includes the company's Latino Focus initiative, which works to improve the experience of Hispanic clients when obtaining a home loan and its New American Dream initiative, which seeks to increase homeownership in African American communities.
As part of the company's commitment to serving all communities, New American Funding offers FHA, VA and USDA loans designed specifically for first-time homebuyers. It also offers options for adjustable-rate mortgages, fixed-rate mortgages, jumbo loans and more.
BBB accredited with an A+ rating
The company has accreditation and an A+ rating from the Better Business Bureau. This is an indication that it meets all of the BBB's high standards for operating with integrity and fairness. New American Funding maintains a 4.04 out of 5 stars from 606 customer ratings on BBB with an overwhelming number of customers giving the company a full 5-star rating.
Many of the negative reviews seem to be related to customers not being approved for a loan rather than issues with customer service. Even for these reviews, the company is quick to respond in a respectful and helpful manner.
Offers a closing guarantee
This guarantee is available for all VA mortgages processed with New American Funding. The borrower will receive a full refund of their loan origination fee if the loan fails to close within the specified timeline.
Cons explained
APR information and interest rates not publicly available
New American Funding does not provide publicly available information about its APR or interest rates. To get an accurate estimate on the cost of a loan, you must provide contact information for a quote.
Not available in Hawaii
New American Funding is not available in Hawaii. This means that military families seeking a mortgage loan in this state won't be able to take advantage of the company's services.
New American VA Loans Offerings
New American offers a wide range of VA Loans, including 30-year fixed-rate and adjustable mortgages. Below, we explore the types of mortgage loans offered at New American Funding to help you identify which loan is right for you.
VA streamline refinance loan
Also known as the Interest Rate Reduction Refinance Loan (IRRRL), the Streamline Refinance Loan provides an opportunity for veterans and active military members currently carrying VA home loans to take advantage of lower interest rates, reduce mortgage payments and increase overall savings.
If your home has increased in value or you owe less than 80% of its worth, you can refinance. Additionally, a VA Streamline Refinance loan can be done with no money out of pocket. This means you can cover all of the upfront costs of refinancing by rolling them into the total loan amount or adjusting the interest rate.
The IRRRL can also be used to refinance your mortgage from a fixed-rate loan to an adjustable-rate loan, from one type of adjustable-rate loan to another or to convert a non-VA loan into a VA loan.
The table below shows the typical refinance costs.
| | |
| --- | --- |
| Refinancing requirements: | Average cost |
| Loan discount points | 0 to 3% of your home loan amount |
| Appraisal fee | $300 – $500 (could be more for larger homes) |
| Inspection fee | $175 to $500 |
| Title search and title insurance | $400 – $900 |
| Survey fee | $150 – $500 |
| Prepayment penalty | 2% of the loan balance for the first two years and 1% of the loan balance for the third year |
VA purchase loan
New American's VA purchase loans are available to eligible military borrowers with no down payment required. This can be an ideal solution for those who may not have enough funds to cover a large upfront cost.
A purchase loan offers further benefits, such as no PMI requirement or prepayment penalty. With VA purchase loans, borrowers can also finance closing costs up to 4% of the purchase price and receive funds for improvements that enhance the home's value or energy efficiency.
| | | | |
| --- | --- | --- | --- |
| VA loan type | Loan amount | Interest rate | Annual percentage rate |
| 30-year fixed VA purchase | $295,000 | 5.250% | 5.717% |
VA cash-out refinance
A VA cash-out refinance loan can be a great way to use the equity in your home.
With this type of loan, you get a new mortgage to convert some of your home equity into cash. This option may also provide tax benefits since it is typically considered a form of debt consolidation rather than income generation. For example, if you itemize your deductions, you may be able to deduct some of the mortgage interest paid on a VA cash-out refinance. This can result in a lower taxable income and a lower overall tax burden.
VA cash-out rates change daily based on market conditions. The following cash-out rates are current as of April 2023:
| | | |
| --- | --- | --- |
| VA loan type | Interest rate | Annual percentage rate |
| 30-year fixed VA cash-out | 6.750% | 7.103% |
| 30-year fixed VA cash-out | 6.990% | 7.349% |
VA energy-efficient mortgage (EEM)
VA loans for energy efficiency improvements can cover items such as storm and thermal windows, solar heating, cooling systems and heat pumps. These loans are not intended for non-permanent purchases such as appliances or window air conditioning units. VA loans can provide up to an additional $6,000 for qualifying energy efficiency improvements, helping you reduce monthly utility bills while improving the value of your home.
The following energy-efficient upgrades are eligible for the VA EEM Program:
Solar energy systems
Caulking, weather stripping and vapor barriers
Upgrades to furnace and heating systems
New thermostats
Upgraded insulation
Upgrades to windows and doors
Water heater upgrades and insulation
Heat pumps
VA Native American Direct Loan
The Native American Direct Loan (NADL) is a program for Native American veterans and their families that allows them access to the same financial advantages of conventional mortgages, including no down payment or monthly mortgage insurance.
Additionally, the NADL offers the ability to build or purchase a home on federal trust land and make repairs on an existing property. This provides Native Americans with more flexibility in choosing where they want to settle.
New American VA Loans Pricing
New American Funding VA loans offer fixed-rate mortgages with repayment options of 15, 20 and 30 years. The shorter the term, the lower the rate — however, your monthly payments will be higher. For adjustable rate loans, adjustable rate caps can be as low as 2% for initial adjustment periods and 5% for subsequent adjustments.
Borrower credit history is a major factor in determining your New American Funding loan rates. Loan and down payment amounts also affect mortgage rates. Larger loan amounts can result in higher interest rates due to increased risk to the lender. Lenders also consider your debt-to-income ratio.
If you're a low-income borrower, you may be eligible for the Freddie Mac Refi Possible program, which includes a $500 credit toward your appraisal cost and five years of no interest.
The table below shows New American Funding's VA loan rates:
VA loan type
Interest rate
Annual percentage rate

30-year fixed mortgage

5.250%

5.882%

15-year fixed mortgage

5.000%

5.645%

30-year VA cash-out refinancing

6.625%

6.978%

30-year

fixed VA purchase loan

5.250%

5.717%

VA Native American direct loan

6%

6%
New American Funding Financial Stability
New American Funding has seen a recent shift in its Fitch Ratings outlook, a common measure of financial stability, from negative to stable. This upgrade reflects improvements the company has made to its management team and risk environment and investments in compliance management systems. As a result, New American Funding is now better positioned to ensure consumers and businesses access to reliable and secure mortgage services.
New American Funding Accessibility
Availability
Unlike some lenders that offer 24/7 live customer support, New American Funding is more limited. Customers can contact the company Monday through Friday from 8:00 a.m. until 9:00 p.m. CST or on Saturdays from 10:00 a.m. until 2:00 p.m. CST. You can also make payments through your account on New American Funding's website.
Contact Information
You can reach customer support via phone at 1-800-893-5304 or by email: at CustomerCare@NAFInc.com.
You can also use New American's branch locator tool to find a loan office near you. You can review your loan application status or your account through the online portal.
User experience
New American Funding's online portal makes it easy to stay up-to-date on your loan application with real-time tracking. Additionally, you can access various New American Funding loan payment options through a secure online system.
You can also browse the company's Mortgage Resource Center to find information about mortgage payment assistance programs, the latest mortgage news and tips for getting a good VA loan rate.
New American Funding Customer Satisfaction
New American Funding mortgage reviews from customers significantly exceed industry standards for mortgage servicing satisfaction. New American Funding reviews have a 4.90 out of 5 in customer ratings on Zillow based on more than 8,800 reviews. Additionally, it scored 695 out of 1,000 in J.D. Power's 2022 U.S. Mortgage Servicer Satisfaction Study — well above the industry average of 607.
New American VA Loans FAQ
What's the difference between a VA loan and a conventional loan?
A VA loan is a type of mortgage backed by the U.S. Department of Veterans Affairs and is available to qualifying veterans, their surviving spouses and active duty personnel. These loans offer competitive interest rates and no down payment requirements. They also don't require private mortgage insurance. It's important to note that a funding fee can be rolled into the loan amount or paid at closing.
In contrast, New American Funding's conventional loan is not backed by the government and typically has stricter credit requirements than a VA loan. Additionally, these loans usually require a higher down payment and more expensive fees.
What are the benefits of a VA home loan?
When you take out a VA loan from New American Funding, you can take advantage of the following benefits:
Up to 100% financing, even for those with less-than-perfect credit
No private mortgage insurance
Funding fees rolled into the loan
Quick loan closings
No down payment required
Lower interest rates
No monthly mortgage insurance premiums
No prepayment penalty
Reduced funding fees
What are the eligibility requirements for a New American VA loan?
To be eligible for a New American VA loan, you must have a Certificate of Eligibility (COE) and sufficient income. To get a COE, you must be an active service member, veteran, National Guard, or Reserve member.
Spouses of veterans may apply for a VA home loan if they meet specific requirements. If a spouse's partner is missing, is a prisoner of war or if remarriage has not occurred after a service-induced disability or death, they may qualify for a loan.
How do I apply for a New American VA loan?
To apply for New American loans, you must:
Apply for a Certificate of Eligibility (COE) that verifies your eligibility status for a VA loan.
Work with a mortgage specialist to choose the best loan for your needs.
Apply for the loan, either online or with the support of New American's specialists.
Your lender will then take care of the home appraisal process for you.
How we evaluated New American VA Loans
We looked into VA loans from 20 major mortgage lenders to find the best options for veterans and their families. We compared New American Funding mortgage loan reviews and evaluated rates, repayment options, fees, customer service, closing times and additional benefits.
Summary of Money's New American VA Loans Review
Military service members, veterans and military families looking to qualify for a VA loan to buy a house may find New American Funding appealing. You can finance up to 100% of the home's value and take advantage of quick closing times, even with a lower-than-average credit score.
On the other hand, New American Funding does not list its credit and income requirements online. Check out the best VA loans from top mortgage companies if you're looking for a lender that provides in-person assistance or is more transparent about its rates and fees.