New Cars That Cost Under $25,000 Are Becoming Impossible to Find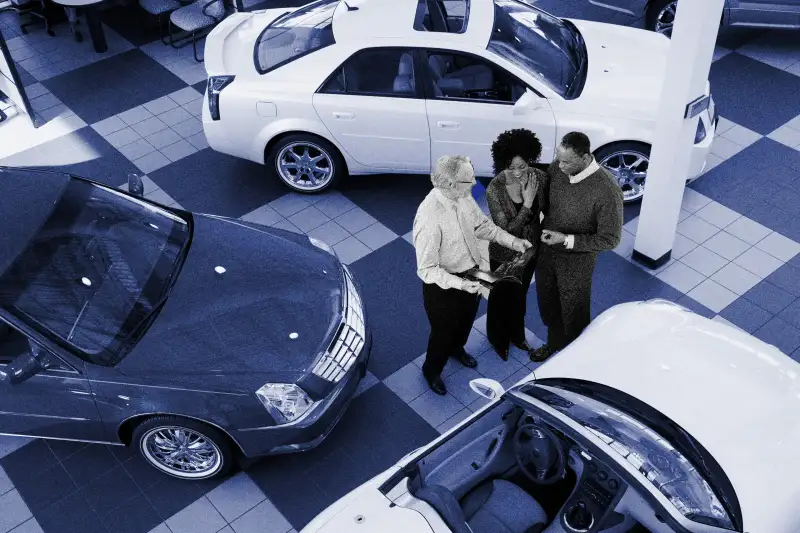 Eddie Lee / Money; Getty Images
Five years ago, it was pretty normal to buy a new car for less than $25,000. But as auto prices surged amid high inflation and supply shortages, vehicles under that cost threshold have become quite a rarity.
Only 4% of new vehicles sold last month cost $25,000 or less, down from 24% in March 2018, according to a report from the automotive research firm Edmunds.
Over this same time period, the average price of a new vehicle increased by nearly $12,000, rising from $35,794 to $47,713.
Inflation isn't the only reason that the typical new car costs a lot more now. Among car shoppers, the appetite grew in the past decade for larger cars with high-end features. The trend was fueled by low interest rates and longer loan terms, which enabled Americans to afford such vehicles, and automakers responded by producing more expensive cars, according to Edmunds.
But now that auto loan rates are sky high — averaging 7% for new vehicle loans — the lack of budget options is a real problem in the car market, making it impossible for many shoppers to buy new.
What the research says
While the number of sub-$25,000 cars has plummeted, Edmunds says the car market has seen "the rise of the $60,000 new vehicle."
Last month, 17% of vehicles sold for more than $60,000, up from just 6% in the same month of 2018.
Over those five years, the share of large SUVs selling for more than $60,000 increased from 54% to 94%. For full-size trucks, the share above $60,000+ increased from 5% to 50%.
Budget shoppers used to even be able to find new cars under $20,000, but Edmunds says this price point is "nearly extinct" now. In March 2018, 8% of vehicles sold for that amount or less. The figure has dropped to just 0.3%.
Bottom line
Cheap new cars have disappeared in recent years, leaving few options for shoppers on tight budgets who are facing high loan rates.
Edmunds recalls that after gas prices shot up in 2008, American automakers "scrambled to make smaller, more fuel-efficient vehicles after being criticized for losing touch with what Americans needed."
While automakers could respond to higher interest rates by producing cheaper cars, it's just as possible they'll continue to focus on higher ends of the market, where customers are more able to overcome interest rates because they tend to have better credit and greater ability to put up cash.
People who are accustomed to buying new cars will likely now consider the used market, but it can be hard to find deals there too: The average price of a used vehicle is above $26,000.
More from Money:
As Auto Loan Rates Soar, the Average Car Payment Zooms Past $700 a Month
There Are Now Only 10 New Car Models That Cost Less Than $25,000