A Definitive Buying Guide for the Cult Favorite Instant Pot — Including the Fancy New 'Instant Pot Max'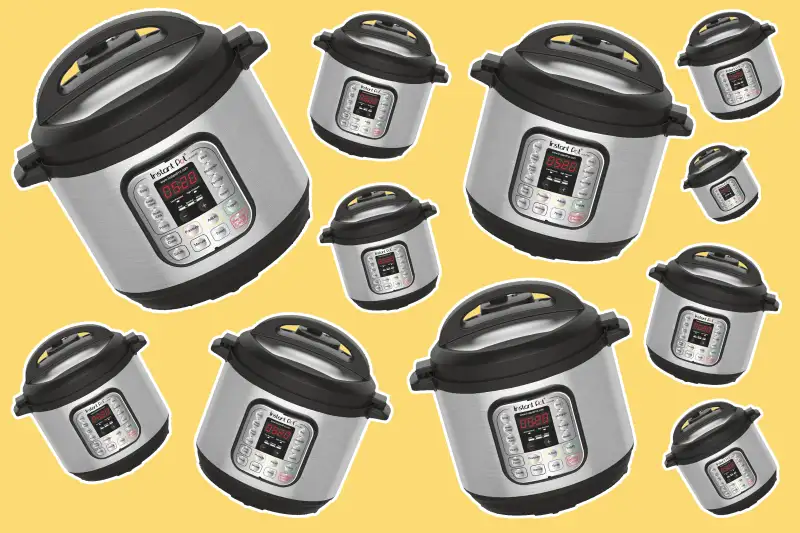 This is big news, people. The makers of the Instant Pot are coming out with a new and even more souped-up version of the wildly popular multi-cooker.
Instant Pot parent company Double Insight says the new Instant Pot Max will make its debut in June. It's intended to be a more full-featured version of Instant Pot's existing lineup, rather than a replacement to its existing cookers. This is a good thing, because the Instant Pot Max, initially available only in a six-quart model according to TheKitchn.com, will cost around $200. That's roughly double the price of the bestselling six-quart DUO60 model (which you can sometimes snag for even less during events like Black Friday and Amazon Prime Day).
The Instant Pot Max will have a few extra bells and whistles for that price, including a touchscreen and a safer pressure-release valve. According to Today.com, you'll be able to use it for canning, since it can reach a higher level of pressure than previous models — 15 pounds per square inch (a.k.a. PSI if you're into foodie lingo), which is the same as stovetop pressure cookers, versus the 11.6 PSI of the current Instant Pot line. This means you won't have to calculate the change in cooking time if you're using a stovetop pressure-cooker recipe, although of course you could avoid this problem by picking up one of the many Instant Pot-specific cookbooks.
This investment in better pressure-cooking makes sense, since many reviews indicate that is the function Instant Pot owners use the most. Some bloggers, like Mike Vrobel of DadCooksDinner.com, have flagged some challenges users have trying to make certain slow-cooker recipes in the Instant Pot. (The gist: Vrobel theorizes that different materials and heating capabilities between the Instant Pot and traditional slow cookers account for the variability that can throw off cooking-time calculations.)
The Max also will have more precise temperature calculation for cooking sous vide, along with an "automatic stirring" feature. TheWirecutter.com explained that this is a little bit of a misnomer: The "stirring" actually comes from brief pulses of pressure-release that agitate the contents inside.
But the introduction of the Max could make it even harder to figure out which Instant Pot is right for you — especially if you have a small kitchen without room to store multiple multi-cookers. Fortunately, food bloggers and writers have done some investigating, putting different Instant Pot models head-to-head to help you figure out which Instant Pot (or Pots!) you should have in your kitchen.
If you're looking for a budget-friendly option, the LUX comes in three different sizes: three, six and eight quarts (a five-quart model has been discontinued). The six-quart LUX60 is $79, compared to the $99 regular price of the DUO60. What you give up for that savings of $20 versus the DUO is a separate low-pressure setting and the ability to make yogurt.
What many people think of as the flagship Instant Pot is the DUO, which comes as the six-quart DUO60 or the eight-quart DUO80, which cost $99.95 and $139.95, respectively. Although both the LUX and DUO come in "mini" three-quart sizes, the consensus among most testers is that unless you're consistently only cooking for one or two people and don't want leftovers, the size is too small to be as useful as the larger versions.
Double Insight says the DUO models can perform the functions of seven different kitchen appliances: pressure cooker, slow cooker, rice cooker, steamer, sauté pan, yogurt maker and warmer.
A step up from the basic DUO is the DUO Plus line, which also comes in three-, six- and eight-quart versions, and adds cake-making, cooking and sterilizing to the DUO's list of functions. Those enhancements, plus a larger screen and more versatile interface, add a $30 premium, with the six-quart DUO Plus retailing for $129.95.
The upgrade to the DUO Plus is the Instant Pot Ultra. Like the others, it comes in three-, six- and eight-quart sizes. If you live in the Rockies or somewhere else with high elevation, the $149.95, six-quart Ultra is probably the Instant Pot for you, since it has a built-in high-altitude adjuster. It also has a whole slew of options for greater recipe customization, and reviewers tout a more modern, user-friendly interface. The Ultra has adjustable temperature controls that allow for sous vide cooking, in theory, but both pro and amateur reviewers say there's too much fluctuation for it to replace a standalone sous vide immersion circulator.
Corrie Duffy of CorrieCooks.com sums up a conclusion many reviewers have come to: The DUO Plus and Ultra are really pretty similar. So if you want more bells and whistles than the DUO offers, you can go ahead and save a few bucks by buying the DUO Plus rather than the Ultra, without suffering too much FOMO.
That is, of course, unless you want to wait a couple of months for the new-and-improved Instant Pot Max model.
We've included affiliate links into this article. Click here to learn what those are.