This Top-10 Medical School Is Now Offering Free Tuition to All Students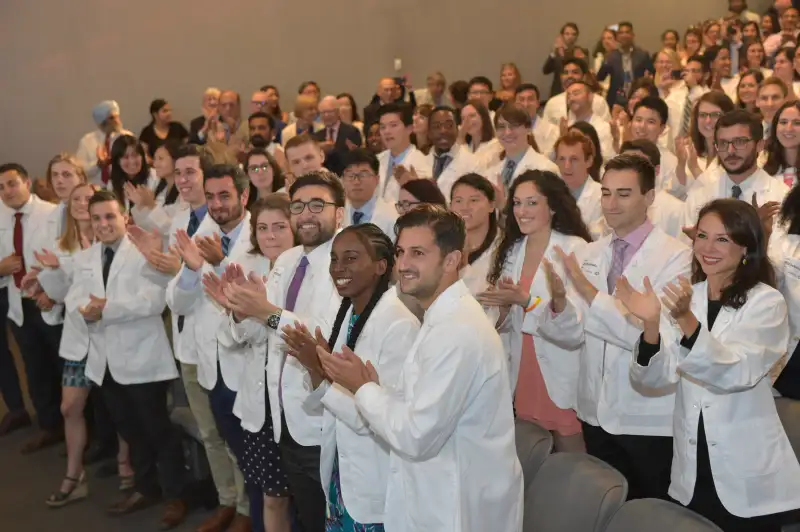 Juliana Thomas Photography
All medical students at New York University will now be able to attend tuition-free — a major first for a highly ranked medical school as it aims to eliminate the burden of crippling student debt for its students.
N.Y.U.'s School of Medicine announced Thursday it will cover tuition costs for all of its students — regardless of their financial standings or backgrounds. Officials made the decision not only to off-set staggering debt for those entering medical fields, but also to attract and retain "the best and brightest students to careers in medicine," the school of medicine said in a statement.
"A population as diverse as ours is best served by doctors from all walks of life, we believe, and aspiring physicians and surgeons should not be prevented from pursuing a career in medicine because of the prospect of overwhelming financial debt," Robert Grossman, the dean of the NYU School of Medicine and CEO of NYU Langone Health said in a statement.
The medical school announced the news at its annual White Coat Ceremony, where students erupted into applause.
Seventy-two percent of graduates from medical school in 2017 graduated with a median of $180,000 in debt, according to data from the Association of American Medical Colleges cited by the university. Professionals from NYU say this enormous debt has influenced medical students to pursue more profitable fields in the profession, rather than less financially generous ones like pediatrics or primary care.
"It addresses both physician shortages and diversity," said Rafael Rivera, the associate dean for admissions and financial aid at the school, in a statement.
The initiative covers the $55,018 in annual tuition costs, the school says, and is effective immediately for all current and incoming students. The median cost of tuition at all private medical schools, like N.Y.U., in the 2017 to 2018 school year was $59,605 — up 4% from the previous year, according to the Association of American Medical Colleges. For public schools, the median tuition amounted to $36,937, according to the organization.
N.Y.U.'s medical school needs a $600 million endowment to help sustain its tuition-free model. So far, the school has raised $450 million of it, with $243 million coming in the last nine months, says Rivera. The plan applies to all 442 of its current medical students, but a number of them in the school's M.D.-Ph.D program have already had their tuition costs covered by the National Institutes of Health.
Other medical schools have relied on donors to help combat the heft costs. In December 2017, a top donor at Columbia University created a $150 million endowment at the university's College of Physicians and Surgeons to provide finanical aid. The University of California-Los Angeles's David Geffen School of Medicine has a similar fund to cover costs for students based on merit.
Student debt is a burden for millions of Americans and expands far beyond just those pursing careers in medicine. Forty million Americans have student debt, and 14% of them owe more than $50,000, a February 2018 analysis from the Brookings Institution says, as Money reported at the time.