5 Ways People Are Boycotting the NFL Because of the National Anthem Controversy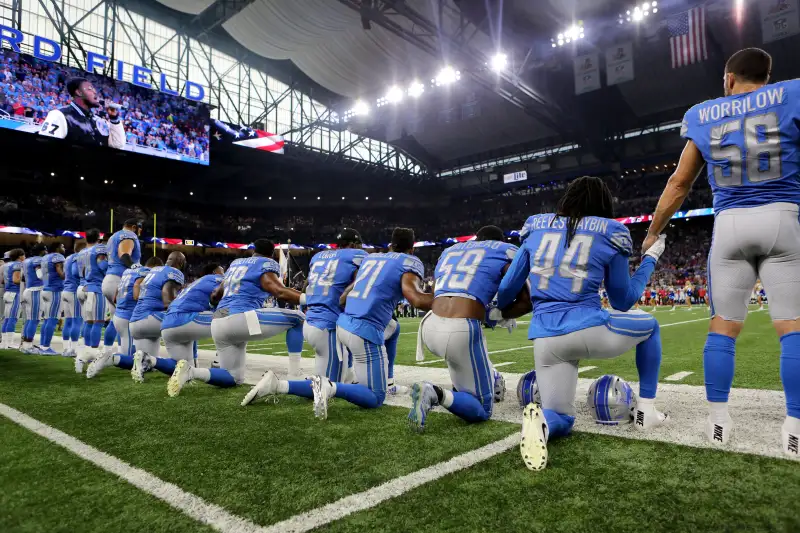 Last weekend's protests, in which NFL players and some entire teams declined to stand on the field while the national anthem played, have sparked boycotts among some fans and businesses around the country.
More than 200 NFL players kneeled or sat for the pre-game renditions of the national anthem on Sunday, and all but one member of the Pittsburgh Steelers remained in the locker room. The protests originated last season, when San Francisco 49ers' then-quarterback Colin Kaepernick began kneeling during the anthem as a way to publicly voice frustration over how African Americans are treated by police.
Kaepernick is no longer employed by any NFL team, and player participation in the protests had been fairly minimal until this past week, when President Donald Trump weighed in on the controversy in a speech in Alabama. On Friday, while campaigning for U.S. Sen. Luther Strange—who has since gone on to lose his Republican primary race to Roy Moore—Trump implored NFL owners to fire players who disrespected the flag, and he urged fans to boycott the game if players didn't stand during the national anthem.
"When people like yourselves turn on television and you see those people taking the knee when they are playing our great national anthem," Trump said. "The only thing you could do better is if you see it, even if it's one player, leave the stadium, I guarantee things will stop."
Trump's remarks were criticized as "divisive" by NFL Commissioner Roger Goodell, among many others, and NFL players responded with bigger-than-ever pre-game protests. The entire Dallas Cowboys team, including owner Jerry Jones, took a knee on the field in a sign of unity before Monday night's game, and then everyone stood, locked in arms, while "The Star Spangled Banner" played.
Overall, NFL TV ratings are down about 10% this season, though it's unclear if there is any "Trump effect" happening. The ratings were actually up 3% overall for this past week's games compared to the same period a year ago.
In a new Cato Institute poll, 61% of Americans say that NFL players should not be fired if they don't stand during the national anthem. A wide range of leaders in politics, sports, and pop culture have come out in support of the players' right to protest as well. Still, amid the anger and confusion, some fans and businesses appear to be following Trump's suggestion that they boycott the NFL. Here's what they're doing.
Refunds for NFL TV Packages
DirecTV customers who say they want refunds for their Sunday Ticket NFL viewing packages because they are upset by the protests are getting their money back, the Wall Street Journal reported.
It is unclear, however, exactly how many customers have asked to get their money back for the normally non-refundable TV package, which costs about $280 for the season.
Bars Stop Broadcasting NFL Games
Bars and restaurants in Massachusetts, South Carolina, Louisiana, Tennessee, upstate New York, and Texas are among those that say they will stop showing NFL games on TV.
"The sole reason that I didn't air the game is because I feel the players disrespected the national anthem and that is something I hold dear to my heart," one bar owner in Louisiana explained after deciding not to broadcast the New Orleans Saints game on Sunday.
Burning Team Gear
People who say they are loyal fans of the Indianapolis Colts, Denver Broncos, Minnesota Vikings, Miami Dolphins, Pittsburgh Steelers, and other teams have been making a show of destroying their once-beloved team jerseys, sweatshirts, jackets, and hats. Videos like this have been making the rounds on social media.
Burning Season Tickets
In a more serious—and costly—display, at least one fan posted a video of himself burning a pair of tickets for next week's game. Brendan Finn, who says he's been a New York "Giants season ticket holder for many, many years," apologized to the team owners and "all the respectful NFL players who still respect the flag and out country," but declared that he couldn't go to the games any longer. "It's a sad day," he said, while burning his tickets.
Paul Bailey, a state senator from Tennessee with five season tickets at the 50-yard line for the Tennessee Titans, said he will simply be leaving his seats empty for the remainder of the season because of the "hijacking of pre-game ceremonies that disrespect our flag."
Meanwhile, the Denver Broncos say that while the team has fielded calls from fans with strong opinions on the subject, none of its 22,000 season ticketholders has asked for a refund.
Targeting NFL Sponsors
Corporate sponsors like Nike, Ford, Anheuser-Busch, Under Armour, and McDonald's collectively spent $1.25 billion on the NFL's 32 teams last year. Now, some are under fire for failing to condemn the player protests. Under Armour in particular has been singled out, with commenters saying they will no longer buy its products, after the company released this statement:
Overall, however, when asked about how sponsors were faring in the wake of the national anthem controversy, an NFL spokesperson said that he "hadn't seen any business impact -- positive or negative -- in the aftermath of the president's comments," according to Bloomberg. He also "wasn't aware of a single [sponsor] that was worried about the weekend's events," Bloomberg reported.