Here's How Much Nick Foles Will Make for Winning the Super Bowl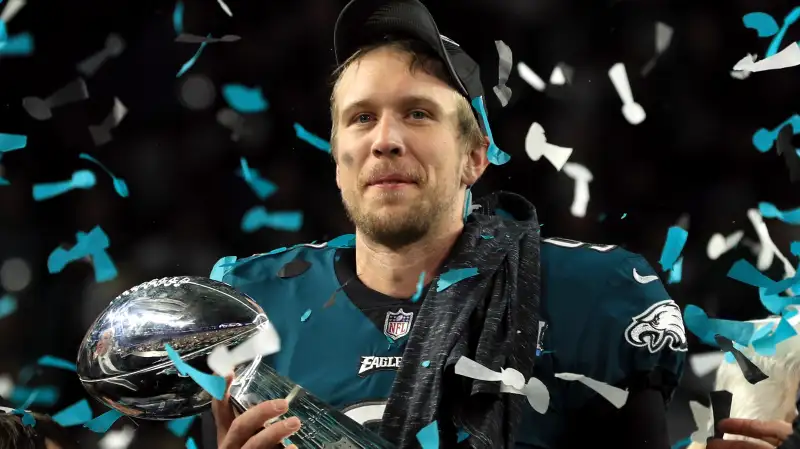 Mike Ehrmann—Getty Images
Five years ago, Nick Foles was set to retire.
But on Sunday, in one of the biggest upsets in NFL history, the Philadelphia Eagle's backup quarterback led his team to a Super Bowl victory against the five-time champion New England Patriots with a final score of 41-33.
Foles, 29, was named the Super Bowl's MVP and also became the first quarterback to both throw and catch a touchdown pass in a Super Bowl. It's also the first Super Bowl win for the city of Philadelphia.
Foles will get a good bit of prize money for the Super Bowl win—but it will be just as much as everyone else on the Eagles.
Thanks to the players' collective bargaining agreement with the league, Foles will make exactly as much as the rest of his team for winning the Super Bowl: $112,000. Each Patriots player—including Tom Brady—gets half that just for having made it to the big game.
That's in addition to the $79,000 the Eagles and Patriots have already made for winning their two previous playoff games.
Last March, Foles, who joined the Eagles as the backup to Carson Wentz, signed a 2-year, $11 million contract with the team that included a $3 million signing bonus, according to pro sports tracking site Spotrac. He earned $4 million for the 2017-2018 season.
Foles also won the Super Bowl MVP award. Unfortunately, the prize no longer comes with a free car, but it does likely mean that Foles will start receiving many more endorsement offers.
One endorsement Foles already has in the bag: Disney. As SBNation reports, the tradition of the Super Bowl champ announcing his trip to Disney World—which is subsequently used in an ad the week after the big game—continues today.