Why Nike Is Losing Its Foothold on America's Sneaker Market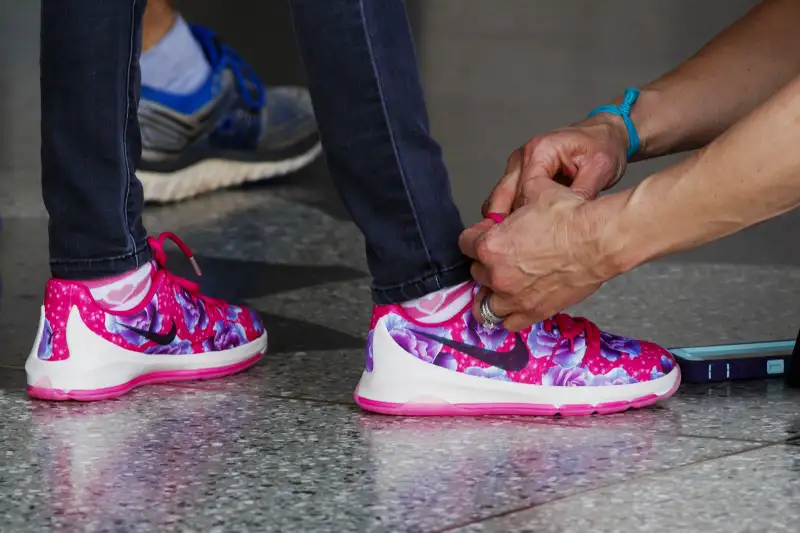 Bloomberg via Getty Images
Nike has long dominated the sneaker market in the U.S., much like its signature spokesman, Michael Jordan, dominated the NBA landscape during the 1990s. In 2013, Nike had an estimated 59% market share of America's retail sneaker sales. Because sales of athletic footwear and "athleisure" have been on the upswing—rising 8% in 2015—it would be reasonable to assume that Nike, the leading brand in the category, would be positively booming right now.
But such is not the case. Nike's stock is down more than 10% in 2016, making it the Dow's worst performing stock. The company released its quarterly earnings report on Tuesday, and while sales were up 8%, future orders growth was exceptionally weak, leading to a drop of as much as 4% in the stock price after hours.
"In the North American region, which comprises the lion's share of Nike's business, futures orders rose just 1% in the fiscal first quarter, compared with 14% growth in the year-ago period," the Wall Street Journal explained. "Analysts typically have monitored futures orders as a way to measure demand for Nike's products."
Here are a few reasons why Nike's stranglehold on America's feet is loosening.
Sneakers for Fashion not Athletics
Nike's bread-and-butter products are sneakers for running and basketball. But more and more nowadays, sneakers are being worn not for exercise but to make a fashion statement—or just for the sake of being comfortable in today's increasingly casual workplaces.
Read Next: Barneys Is Selling $600 Italian Sneakers That Look Like They're Falling Apart
In the NPD Group report noting that athletic footwear sales were up 8% in 2015, researchers pointed out that Nike's core categories actually struggled: "Performance footwear, particularly running and basketball, cooled off in 2015 and we saw a rise in the more casual and retro styles. This will be an important trend to watch in 2016."
Basic, understated sneakers can simply be worn in more places than Nike's trademark colorful kicks. "I couldn't wear [basketball shoes] to a meeting. It's not as accepted," Short Hill Capital Partners' analyst Steve Weiss said to Marketplace. "Whereas a black sneaker with a white sole, Prada makes shoes like that. Every upscale manufacture is making that."
The Old School Factor
The "Classics" category of sneakers boasted a 30% increase in sales in 2015, compared to growth of less than 5% for running and basketball sneakers. Sales of Adidas's throwback "Originals" line were up 60% during the first half of 2016, helping the company to become North America's fastest-growing brand in the year. In particular, Adidas's timeless green-and-white Stan Smith tennis shoes, named for the 1970s tennis star, have been flying off the shelves.
Read Next: 10 Things Millennials Buy Far More Often Than Everyone Else
"We're very much in a retro fashion cycle today," NPD Group analyst Matt Powell said. "Millennials are really flocking to wearing old-school looks."
Celebrity Footwear Choice
Nike still has LeBron James, Serena Williams, and, of course, Michael Jordan, in its ranks of high-profile spokespeople. But increasingly, many A-list names are donning non-Nike brands.
Kanye West, Jay Z, Pharrell Wiliams, and Alexander Wang are among the trendy, influential boldface names associated with Adidas. "Adidas is red-hot right now and retailers can't get enough of it," Edward Jones Analyst Brian Yarbrough said to Reuters.
Under Armour sales have been increasing far faster than Nike partly due to the brand's sponsorship deals with marquee athletes like Tom Brady, Cam Newton, Bryce Harper, and, especially, two-time NBA MVP Stephen Curry. Puma has benefitted from the old-school fashion trend, as well as increased sales of soccer footwear and women's sneakers in general, plus the fact that the company's sneakers are worn by Usain Bolt, the world's fastest man and one of the biggest stars in Olympics history.
Read Next: The Average NBA Player Spends $42,500 a Month, Including Big Bucks on Clothing
Overall, "the slowdown in North America is worse than expected" for Nike, Bloomberg Intelligence Chen Grazutis explained to Bloomberg News. And one of the main reasons for the slowdown is that consumers are turning away from the Nike swoosh and choosing trendier brands. "There is more competition from brands that didn't have the cachet they do now."