Novak Djokovic Just Won the Men's U.S. Open. Here's How Much Prize Money He's Taking Home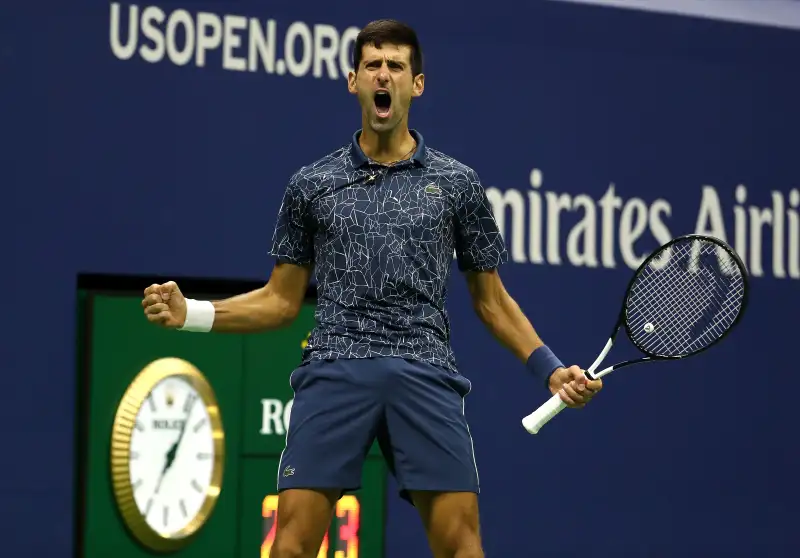 Novak Djokovic beat Juan Martin Del Potro to become the men's singles champion at the U.S. Open Sunday afternoon, solidifying his status as one of the world's greatest tennis players. He also won millions of dollars for capturing the title, walking away with $3.8 million in prize money.
This year's U.S. Open prize pool is worth a record $53 million, almost $3 million more than last year's $50.4 million pool, according to a news release. The $3.8 million payout awarded to Djokovic is the largest check ever given out by the United States Tennis Association and represents a $100,000 increase from 2017. Djokovic walks away with an equal prize to that of Naomi Osaka, winner of the women's final on Saturday — the U.S. Open was the first Grand Slam tournament to award equal prize money to men and women in 1973.
As the runner up, Del Potro received a check for $1.85 million, $25,000 more than Kevin Anderson won last year. Semi-finalists Rafael Nadal and Kei Nishikori were each awarded $925,000 this year.
Although the $3.8 million check is a hefty sum, it makes up only a small portion of Djokovic's lifetime earnings in prize money, which Forbes estimates is $111 million — second only to Roger Federer's $116 million career prize money. Djokovic has also made another $22 million in endorsements this year alone and is ranked 86th on Forbes' list of the world's highest-paid athletes. He was the first tennis player to earn more than $20 million in prize money.
The tennis star has a number of endorsements that boost his net worth. He was released from his contract with Uniqlo last year to accept a five-year deal with Lacoste, on top of his deals with Seiko Watches and ANZ Bank.
Although the U.S. Open is well known for its equal pay between men and women, Djokovic came under fire in 2016 for his comments about the pay gap between men and women's tennis when he said he thought men's tennis "should fight for more because the stats are showing that we have much more spectators on the men's tennis matches," though he also that female tennis players had to fight for the pay they deserved.