Millennials Love to Pay With Credit Cards — But Almost 30% of Them Can't Name Their Interest Rate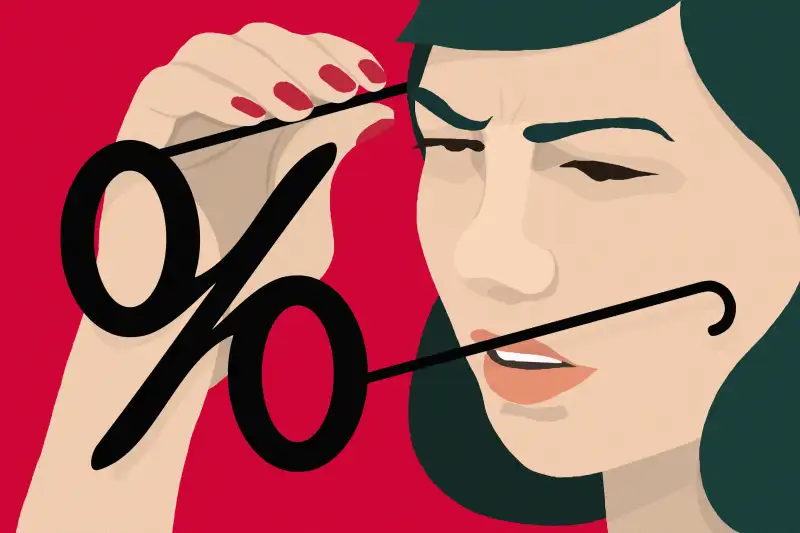 Illustration by Kiersten Essenpreis
Do you know what the interest rates on your credit cards are? If you answered yes, you're more informed than many rewards chasers.
More than 40% of Gen Z, around 30% of Millennials and Gen X, and almost 40% of Baby Boomers say they don't know what the interest rate on their credit card is, according to a new survey by Stash, a micro-investing and banking app.
But it's not like folks don't need to know because they're paying off their bill in full each month and not triggering any interest charges: Americans paid $113 billion in credit card interest last year, up 12% from 2017, and up a whopping 49% from five years ago when the national average was just $76.3 billion, according to MagnifyMoney, a financial product comparison website.
So why do people keep using cards and losing more money?
Americans are caught up in the points and rewards programs offered by credit card companies, with one third of people in debt admitting that they spend on credit for the perks, the survey says. Even though 40% of people say they know that having a credit card hurts their spending, younger Americans in particular see better cards as status symbols. More than half of Millennials and 50% of Gen Z use credit cards as their primary source of payment, according to Stash. Half of Millennials have maxed out a credit card, along with 40% of Gen Z.
Are the rewards really worth it? Maybe not. The majority of younger people using credit cards as their main source of spending are in debt. Total revolving credit card balances in the U.S. hit $1.03 trillion in 2019, according to MagnifyMoney. Many Americans cite their debt loads as the primary reason they're not saving for retirement.
An alternative to credit card rewards is to find a debit card with a points program, says Michael Kremer, certified financial planner at Eagle Strategies, an investment advisory firm based in Fort Worth. If you're in debt but you have no plans to stop using your credit card, you have to pay attention, he says.
"If you insist on using credit cards and not paying the balance off, keep an eye on your rate and look for the opportunity to transfer to a 0% interest rate offer while you're paying it off," Kremer says. "This can save tons of money and will make your payments go towards principle instead of mostly interest."
Another alternative is to consider a cash-secured credit card with a low available limit. These can come in handy if you need to finance a big purchase, but don't want to open yourself up to the slippery slope of extra available credit tempting you to spend. Adopt whatever strategy works best for you to avoid getting into the cycle of debt, Kremer advises.
"Debt is one of the biggest obstacles to building real wealth," he says.