Robocalls Are an 'Epidemic.' This $4 App Blocks Them Before They Ring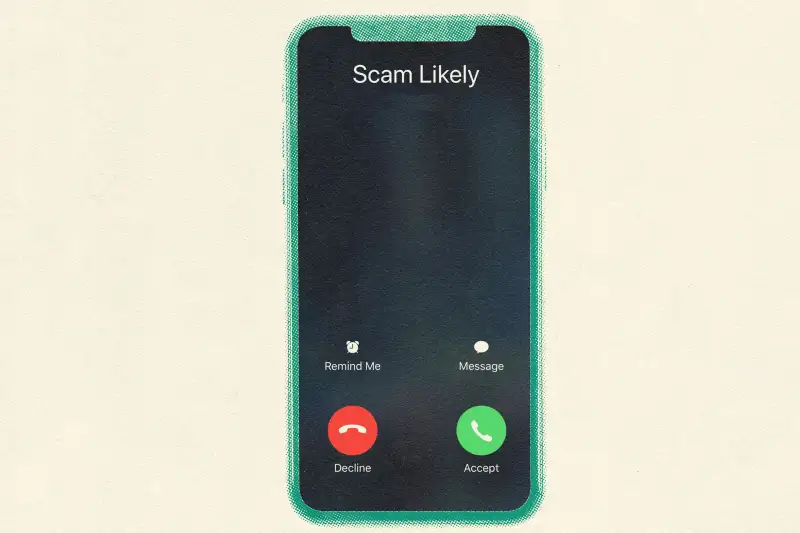 Courtesy of Apple; Getty Images
More than 4 billion robocalls plague Americans every month — and the relentless smartphone spam shows few signs of slowing, despite a recent government crackdown on the practice.
That's why some experts say that a smartphone app is still your best bet to block robocalls. After all, these calls are more than just a nuisance. Americans are projected to lose $10.5 billion to robocall scams this year, up from $8.9 billion the year before, according to a report from Truecaller, a caller ID company.
One popular spam-blocking product is RoboKiller, an app that attempts to put an end to unwanted robocalls.
"Billions of robocalls a month, that's epidemic level," says Ethan Garr, chief product officer of RoboKiller, which has more than 200,000 reviews in the AppStore and a 4.6 average rating from customers who have deemed it "user-friendly" and "totally worth it."
While there are a handful of other popular spam-blocking apps, RoboKiller offers you the option of engaging the scammers and telemarketers through its custom, pre-recorded "answer bots." The bots answer your calls for you and talk directly to the spammers, wasting their time in the process and ensuring the calls themselves never actually ring on your phone. You can record your own custom answer bot or select one from a menu of choices.
Major wireless carriers have been late to react to the onslaught of scams and telemarketers assailing their customers. Part of the reason is because regulations had prevented them from determining which of their customers' calls were legitimate. But a new government ruling allows the networks to decide on their own which of your calls to block. Ian Barlow, the Federal Trade Commission's "Do Not Call" program coordinator, says he is hopeful that allowing wireless carriers to block calls by default will begin to restore consumers' faith in caller ID, so you can correctly identify the spam and choose not to pick up.
While consumers wait for Washington and wireless carriers to ramp up efforts to curb the robocall scourge, finding a reliable smartphone app may be the easiest way to reduce the volume of calls.
The app uses audio fingerprinting technology (a form of audio analysis to detect where the call is coming from) and user feedback to process large amounts of data, so the app's "blacklist" of spammer phone numbers is constantly being updated in real time. Your phone's contact list and the unknown numbers the app learns over time create your approved "whitelist" of numbers that the app allows to ring through, so unknown calls from places like doctor's offices that are not in your contacts are still able to get through, but telemarketers and scammers aren't.
Some of the app's critics say that having bots answer the phones raises the likelihood that your number will be added to more telemarketing lists and potentially increase the number of spam calls you receive. But Garr says even if that happens, the app still ultimately blocks the spam because it answers those calls before they ring through, too.
"If you're getting four to five calls per day, now it's interrupting your time with your family, meetings, it's preventing important calls from getting through," Garr says. "Who hears the phone ring now and goes, I'm so excited?"
RoboKiller costs $3.99 a month or $29.99 for a yearly subscription. You can sign up for a free seven day trial in the AppStore or Google Play store--just remember to manually cancel the service if you decide not to use it, or you will automatically be charged when the free trial expires.
But do you even need to pay for an app if both the federal government and wireless carriers are beginning to increase their actions against robocallers? For now, it's probably still a good idea: first of all, the technology behind robocalling is incredibly cheap and simple to use, says Barlow, making it easy for scammers to stay one step ahead of the entities trying to stem the tide. Also, it's not clear yet exactly how carriers will respond to the new rule allowing them to block robocalls, and whether their efforts will result in significantly fewer spam calls.
Whether or not you choose to pay for an app, the FTC says the best way to avoid being taken advantage of by a spam call is simple: hang up, especially if it's an unfamiliar phone number or you aren't expecting an important call.
"Do not engage with illegal robocalls or unwanted sales calls," Barlow says. "Never give your payment information to someone calling you illegally." If you answer a call and it's a pre-recorded message trying to sell you something or saying it's the government, you should also hang up immediately, he says. As a government agency, the FTC does not recommend specific apps, though Barlow says consumers should consider using one of the hundreds available in app stores. Barlow also recommends adding your phone number to the National Do Not Call registry.
Ultimately, what apps like RoboKiller are trying to do is give you back trust in your phone, says Garr. "Assuming you want to live on this planet, you kind of need a phone at this point."