Obama Proposes Expanding Health Act Subsidies to the Middle Class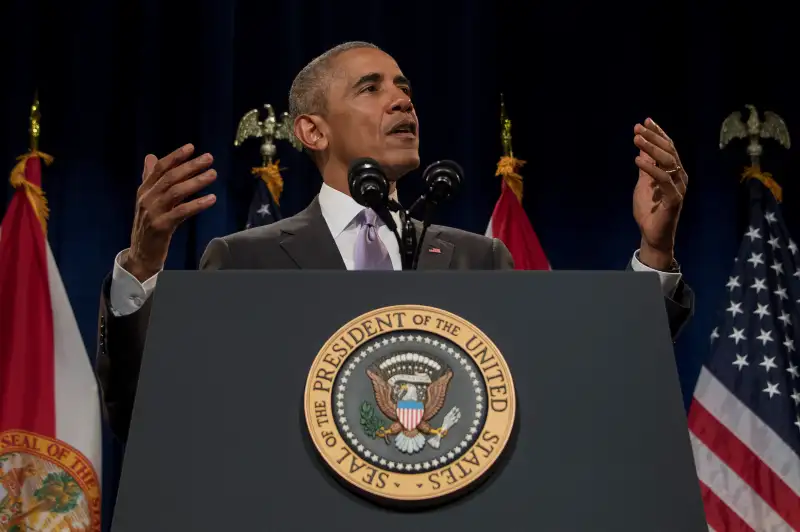 JIM WATSON—AFP/Getty Images
President Barack Obama traveled to Florida's Miami Dade College Thursday to clear up some misconceptions about the Affordable Care Act and acknowledge that more can be done to help cash-strapped middle class Americans cope with rising health care costs.
As premiums rise and insurers drop out of increasingly more markets across the country, Obama felt he had to defend his signature law. He said focusing on the premium hikes ignores that 85% of those who receive health insurance through the ACA exchanges receive a tax credit, which significantly lowers their overall costs. In fact, the average cost of insurance for Obamacare enrollees after the subsidies were factored in was $69 per month in 2014.
Additionally, the negative stories ignore the fact that, as POLITICO writes,
Still, Obama acknowledged that middle-class Americans have health care affordability problems. Just wealthy enough not to qualify for a subsidy (or purchasing individual plans outside the marketplace), many are being stretched thin by rising costs. The Wall Street Journal reports seven to 12 million Americans find themselves in this predicament, and could face double-digit premium hikes in 2017: "By 2014, middle-income households' health-care spending was 25% higher than what they were spending before the recession that began in 2007."
It's worth noting that, earlier this month, the U.S. Department of Health & Human Services estimated some 2.5 million people who do not receive insurance through their employer would be eligible for subsidies if they purchased policies through the marketplaces instead of outside of them.
Read Next: Here's What's Happened to Health Care Costs in America in the Obama Years
Noting that the ACA has cost trillions less than was originally projected, Obama proposed using those funds to expand tax credits to middle class Americans and to more young people to help them afford insurance.
"It will make their premiums more affordable," Obama said. "Everybody will benefit from lower premiums."
He also called for a public option — a government run insurance carrier — for counties that don't offer competitive plan options to consumers, which has become increasingly common, and for the 19 states that have not expanded Medicaid to do so. Reuters notes that any changes would be implemented by his successor in the Oval Office and Congress.
Obama kicked off his speech by detailing what he deems the successes of his signature law, including a historically low uninsured rate and more comprehensive coverage for women and for those with pre-existing conditions.