8 States Where Obamacare Rates Are Rising by at Least 30%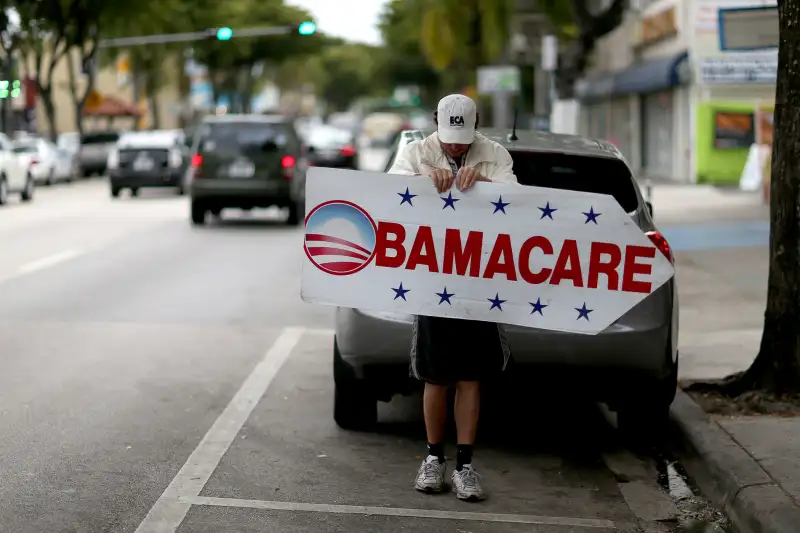 The Affordable Care Act is getting a lot less affordable for many Americans. The landmark law, better known as Obamacare, has meant that 20 million previously uninsured people now have health coverage. Many of them have purchased insurance through state or federally run marketplaces. But insurance companies have been abandoning these marketplaces left and right because they say it's difficult to turn a profit, and the insurers that remain are asking for steep price increases all over the country.
In Michigan, for example, state officials just approved price hikes of 16.7%, on average, for individuals purchasing health insurance in 2017 through the state's Affordable Care Act exchange. Individual buyers can expect average increases of 20% in Colorado, meanwhile, and price hikes of 19% to 43% in Iowa next year.
Such price increases are actually on the low side compared with states like Minnesota and Oklahoma, where individual plans will shoot up 50% or more on November 1, which is when signups for 2017 coverage on marketplaces are opened.
According to the independently run, impressively comprehensive website ACASignups.net, the average increase for individual plans purchased through Obamacare marketplaces will be about 25% next year. This doesn't mean that everyone will be paying 25% more for health insurance in 2017. Not remotely.
The increases don't apply to the vast majority of Americans, who get health insurance through work—and have their premiums partially covered by their employers. The figures cited also don't factor in how most individual plans purchased via Obamacare marketplaces are subsidized by the government. Nearly 85% of the plans purchased through marketplaces receive premium subsidies because those being covered don't surpass certain income thresholds.
The headlines "do not reflect what these consumers actually pay because tax credits reduce the cost of coverage below the sticker price and shopping helps consumers find the best deal," U.S. Department of Health and Human Services press secretary Jonathan Gold said recently, in a statement that's typical of the administration's response to news of skyrocketing insurance prices.
Read Next: Here's What's Happened to Health Care Costs in America in the Obama Years
This is all true. Yet it's also true that for Americans who don't get insurance through work, and who make too much money to qualify for federal subsidies, the cost of health coverage is about to soar dramatically, with premiums sometimes rising $1,000, even over $2,000 for the year. The list below is not comprehensive. It's just a sampling of states where regulators have already approved some astronomical price increases for individual health plans next year.
Alabama: 36%
Individual plan premiums from Blue Cross Blue Shield—the only company offering individual plans in the state in 2017—will rise an average of 36% next year. Roughly 165,000 Alabama residents bought insurance through the marketplace in 2016. The new price hikes come on the heels of BCBS increasing premiums 28% from 2015 to 2016 for individual plans purchased through the marketplace.
Georgia: 32%
Humana sought a price increase of a whopping 65% for individual plans sold on the marketplace in 2017, while other insurers planned smaller increases ranging from 7% to 44%. Altogether, the price increases will average 32% for 2017, according to ACASignups.net.
Illinois: 44%
Throughout Illinois, the price of health care premiums will increase 40% to 50%, on average, for plans purchased on the individual marketplace. Average price increases for mid-level Silver and the lowest-price Bronze plans are both increasing 44% for coverage in 2017.
For an example of how the increases translate to monthly bills for those purchasing insurance on the marketplace, a 21-year-old nonsmoker in Illinois will see the monthly premium for a Silver Plan rise 36% next year, from $229 to $312. That's the equivalent of paying nearly $1,000 extra for the year, from $2,748 in 2016 to $3,744 in 2017. The price increase would be higher for an older (presumably less healthy) individual, especially if that person is a smoker.
Read Next: One-Third of Counties Will Have Just One Obamacare Insurer by 2017
Minnesota: 50% to 67%
"Rising insurance rates are both unsustainable and unfair," Minnesota Commerce Commissioner Mike Rothman said in late September, while releasing the details of individual health plan increases purchased on the marketplace. "Middle-class Minnesotans in particular are being crushed by the heavy burden of these costs. There is a clear and urgent need for reform to protect Minnesota consumers who purchase their own health insurance."
He said that the individual marketplace was "on the verge of collapse," and that the "rates insurers are charging will increase significantly to address their expected costs and the loss of federal reinsurance support." The result is that premiums for the estimated 250,000 Minnesotans who buy individual insurance will rise 50% to 67% in 2017, though many of these individuals will receive subsidies to offset the price hikes. If individuals in Minnesota earn $47,520 or more annually, or families earn $97,200 or more, however, they are on the hook for the entire price increase if they're insured through the state marketplace.
Nebraska: 35%
Individual health insurance rate increases range from 12% to 50% for Nebraskans purchasing on the marketplace in 2017, for an average premium increase of about 35%.
Oklahoma: 76%
Individual Obamacare premiums rose 35% in 2015. That sounds pretty steep, but it pales in comparison to the 76% price increase, on average, the Oklahoma Insurance Commission expects for individual premiums in 2017.
According to HealthInsurance.org, "Oklahoma's average rate increase for the individual market is by far the highest in the country for 2017."
Pennsylvania: 33%
Pennsylvanians who purchase individual Obamacare insurance without subsidies will pay 33% higher premiums, on average, for 2017. As a result, the cheapest plan from Geisinger for a 40-year-old nonsmoker will cost $441 per month next year, up from $247 in 2016. For the year, that's an increase of about $2,300, from $2,964 to $5,292.
Read Next: At Least 1.4 Million Americans Are About to Lose their Obamacare Health Plans
Tennessee: 44% to 62%
For 2017, the state approved individual plan increases of 44%, 46%, and 62% from Humana, Cigna, and Blue Cross Blue Shield, respectively. The state's head insurance regulator approved the price increases in August after describing Tennessee's individual marketplace as "very near collapse."